Sketch: The banality of Ebell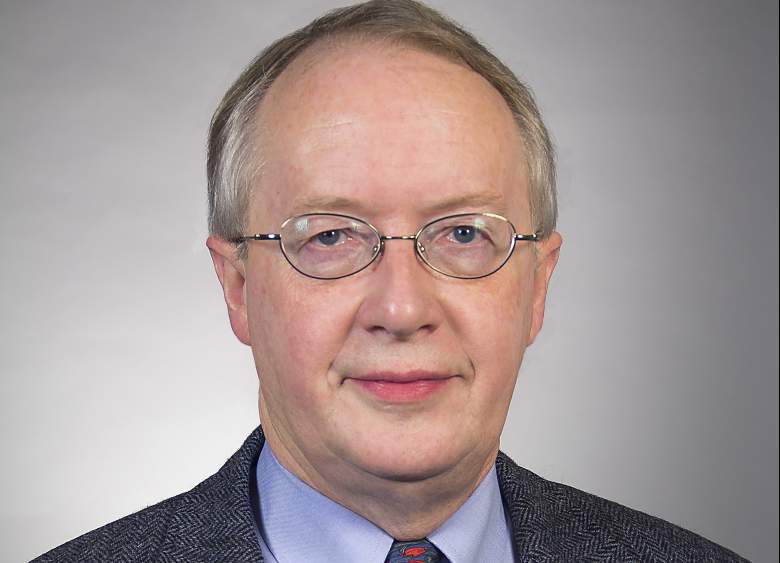 Ebell was spotted outside 10 Downing Street the next day, though apparently met advisers not the Prime Minister
Myron Ebell is perhaps the least Trumpian person you can imagine.
The bespectacled right-wing policy analyst is rather plain, certainly not showy, and seemingly uncomfortable with the spotlight.
A bookworm in a bad suit.
And yet here he is, the belle of the ball at Awards House in the heart of London, surrounded by Britain's leading environmental and energy journalists — and preaching the gospel of Trump.
Read our live-tweet thread here
Ebell gained notoriety after Trump's improbable victory, when suddenly everyone noticed that a climate change denying zealot was staffing the incoming Environmental Protection Agency, and writing up a blueprint for the years ahead.
So Ebell is suddenly the Trump-whisperer, one of the few people in the world able to speak the President's language on energy and climate.
Except, it turns out, he doesn't. He hasn't said two words to Trump. He's never met the man.
Myron Ebell has never met Donald Trump

— Zachary Davies Boren (@zdboren) January 30, 2017
So when he says with certainty that Trump will rip up the Paris climate agreement, or get rid of the EPA's endangerment finding, he is simply speculating — same as you and me.
But he's learned from the new man at the top, and at the briefing held by the fringe Global Warming Policy Foundation, mimicked Trump's bonkers press conference from the beginning of the year.
There were props, though Ebell's centrepiece – a printed off copy of a 'fixed' climate change graph – didn't have the pizazz of Trump's desk of blank papers.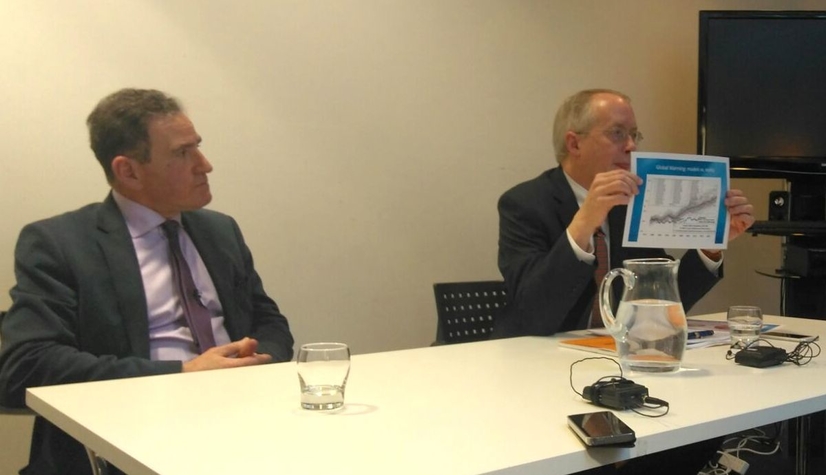 And there was borderline offensive question dodging. Where Trump called Buzzfeed a 'pile of garbage' and CNN 'fake news,' Ebell wouldn't let the FT have a question since it wanted an answer to the BBC's previously unanswered query.
By the end of it, the air was thick with animosity. Ebell had truly brought Trump into the room.
He'd poo-poo'd experts a la Gove, made sweeping unspecific claims about the trade opportunities of Brexit, declared himself a champion of freedom – "that's my special interest" – and the environmental movement "the greatest threat to freedom and prosperity in the modern world".
Ebell, cast asunder as soon as Trump moved into the White House, was ready to pick a fight with any of the pretenders to his throne, the shinier toys in the President's energy policy box.
Ebell: 'If Rex Tillerson disagrees with the President, who's going to win?'

— Zach Boren (@zdboren) January 30, 2017
Future tech genius Elon Musk suckles on the teet of government, while Rex Tillerson better get in line, he said.
If only to grab his one-time yet never-met mentor's attention, he even hearkened back to the infamous 'Chinese hoax' tweet.
China – he said of the President's arch-nemesis – is ripping off gullible westerners by selling them affordable solar panels.
Sorry Myron, I don't think Trump noticed.