Standard Chartered and other major banks financing palm oil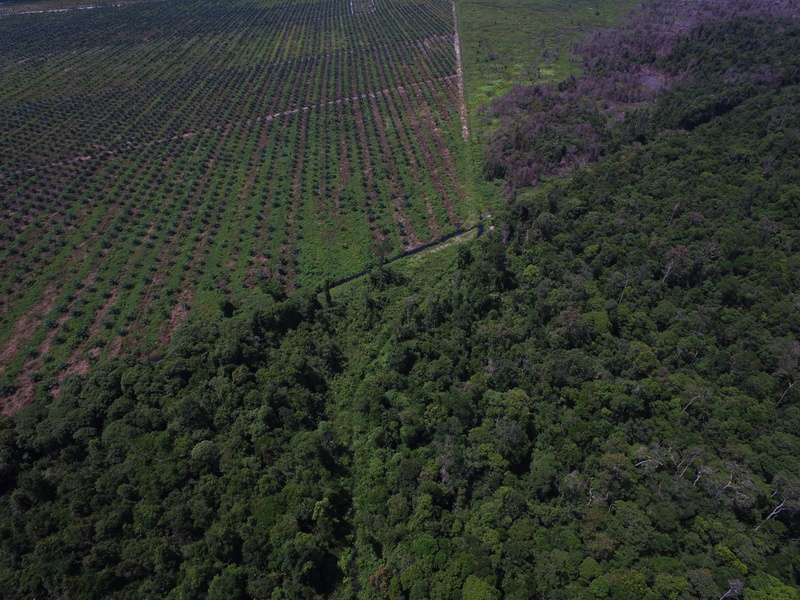 One of Britain's biggest banks is financing companies with palm oil operations that face allegations of causing environmental damage.
Since 2012, Standard Chartered, as well as Australian bank ANZ, Bank of America and Deutsche Bank have helped arrange a series of loans to four companies with palm oil subsidiaries which are facing questions over their sustainability record.
The money went to Noble Group, Posco Daewoo, First Pacific (part of Salim Group), and Carson Cumberbatch.
Palm oil is found in everything from chocolate to shampoo and the vast majority of it (85% by volume) comes from Malaysia and Indonesia, where huge swathes of tropical rainforest have been cut down to make way for plantations.
Read more: Indonesia's new plans to tackle forest fires fall short of Paris agreement targets
In most cases, the loans did not go directly to the companies' palm oil operations, which are the cause of controversy.
All the firms have denied any suggestion that their palm oil operations cause environmental damage.
Loans
The news comes after HSBC pledged to stop financing palm oil companies linked to rainforest destruction, following a Greenpeace report that found the bank helped arrange billions in loans to the same firms.
Noble Group says palm oil accounts for less than 1% of its business. But, Norway's Council of Ethics, which advises the country's massive oil fund, said Noble should be excluded from its investments due to concerns over the environmental record of its palm oil plantations in Asia.
The move was followed by Norwegian insurance firm KLP's decision to exclude Noble from its investment portfolio with effect from 1 June 2015 for similar reasons.
In a statement in June 2015, KLP said: "When a company converts rainforest to palm oil plantations in an extensive licensing area that includes unique flora and fauna, the quality of the conservation assessments underpinning such a move are crucial. In KLP's opinion, the company has failed to satisfactorily explain the omissions which the Council on Ethics has identified in the HCV assessment. As a result, the risk of severe environmental damage is considered to be unacceptably high."
When asked to give a response to this story, Noble pointed to its sustainability action document which states that the company is a member of the industry's sustainability watchdog, the Roundtable on Sustainable Palm Oil (RSPO), and is committed to protecting natural habitats.
Posco Daewoo was another of the recipients of loans from ANZ, Bank of America, BNP Paribas and Standard Chartered. Norway's Council of Ethics also warned that Posco should be excluded from investments because of concerns over "severe environmental damage" at the company's plantations.
In August 2015, the Council said in a statement: "There's an unacceptable risk that Daewoo, and thus also its parent company POSCO, may be responsible for severe environmental damage in connection with the conversion of tropical forest into oil palm plantations in Indonesia."
Posco Daewoo did not respond to a request for comment from Unearthed.
Carson Cumberbatch controls palm oil company Goodhope Asia, which is subject to an outstanding complaint sent to the RSPO alleging that the company's subsidiary PT Nabire Baru "has violated the RSPO principles and criteria for sustainable palm oil production". The company and the complainants have met several times to discuss the allegations. Goodhope did not respond to requests for comment from Unearthed.
Hong Kong-based, First Pacific holds an interest in Indofood which was subject to an RSPO complaint from Indonesian Labour Rights Association (OPPUK), Rainforest Action Network (RAN), and International Labour Rights Forum (ILRF) alleging environmental destruction by its subsidiary PT PP London Sumatra Indonesia Tbk.
But in a response to Unearthed, a First Pacific spokesperson said: "After three independent audits of IndoAgri, no evidence has been found to substantiate those allegations and the company remains fully RSPO complaint."
Indofood chief executive Mark Wakeford has previously told the FT that the company has policies against planting on peat, deforestation and use of child labour.
Banks
Unearthed can reveal that after being contacted about this story, Standard Chartered has said it is reviewing its dealings with the palm oil sector, as well as making a new anti-deforestation commitment.
A spokesperson from bank told Unearthed: "We share the concerns of local communities, governments and NGOs over threats to vulnerable ecosystems from unsustainable practices in the palm oil industry and agree that more needs to be done.
"We have committed to No Deforestation, No Peat and No Exploitation and further measures to set standards, deadlines and verification of compliance among our clients. Working with NGOs and other interested parties, we will continue to advocate for changes leading to a sustainable palm oil sector that supports economic development."
In response to Unearthed, a spokesperson from ANZ said: "Any lending to palm oil is subject to our Forestry and Forests Policy and customers satisfying requirements on no deforestation (high conservation value), peat and exploitation as outlined in our annual response to the RSPO."
A spokesperson from BNP Paribas told Unearthed the bank was reviewing its policy on palm oil. "BNP Paribas is in the process of reviewing its Palm Oil sector policy. It will be released in the coming months."
A Deutsche Bank spokesperson said it was "committed to preventing deforestation".
"Deutsche Bank does not comment on potential or existing client relationships. Any potential transaction involving financing for companies active in the upstream production and primary processing of palm oil is the subject of an enhanced environmental and social review by the bank. As a minimum, we require certification in accordance with the Roundtable on Sustainable Palm Oil (RSPO) or a time-bound commitment to RSPO certification. We are committed to preventing deforestation and have signed both the Banking Environment Initiative Soft Commodities Compact and the New York Declaration on Forests."
Bank of America referred Unearthed to its environmental and social risk policy framework, a portion of which reads: "At Bank of America, transactions where the majority use of proceeds is identified as supporting palm oil production are subject to enhanced due diligence. For these transactions, we require customers whose business is focused on ownership and management of palm oil plantations and operations, including growers and mills, to have their operations certified, or have in place an outlined action plan and schedule for certification.
"We use the Roundtable on Sustainable Palm Oil (RSPO) certification or equivalent certification standards as a minimum requirement of customers, and closely monitor developments relating to the sustainable sourcing of palm oil."
Consumer goods
The palm oil sector is expanding rapidly, with Indonesia looking to double production by 2020 and new concessions being developed in South America and West Africa.
The environmental impact of the industry became a talking point in 2015, when devastating forest fires swept through Indonesia and Malaysia, causing disruption as far away Singapore.
Environmental groups have long linked the expansion of palm oil plantations to increased forest fires in Southeast Asia. This is due to slash and burn techniques used by some growers to clear rainforests and because of the damage plantations cause to peatlands, tropical bogs filled with carbon-rich decomposed organic matter, which make them more vulnerable to fires.
A study published in September 2016 by researchers from Harvard and Columbia universities in the United States found that the haze from the forest fires caused more than 100,000 premature deaths in 2015.