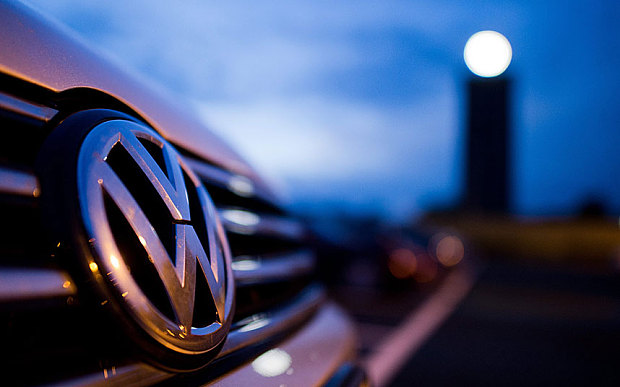 VW admits its fix may not make a difference in the real world
Tests showed little or no difference in toxic emissions after the fix - and Volkswagen knew
VW admits its fix may not make a difference in the real world
Tests showed little or no difference in toxic emissions after the fix - and Volkswagen knew
Volkswagen has admitted that the fix for cars affected by the emissions scandal may not make a difference in the real world, following a leak of internal documents seen by Unearthed and German media.
Correspondence shows that the car giant was aware in 2016 that real world tests on some vehicles showed little or no difference in toxic nitrogen oxide (NOx) emissions before and after the fix.
And a proposal for the fix written by VW  shows that while it will ensure NOx emissions remain within the legal limit in the laboratory, vehicles may continue to emit up to 5 times as much in real world tests.
In their response to Unearthed, Volkswagen stated that emissions after the fix "may decrease" on the road, depending on "a range of factors" but that a decrease "was neither legally required nor what the technical measure were expected to address".
They also said that the emissions figures they publish – based on laboratory tests –  do not represent real world conditions and are designed to allow comparisons between models.
Over a million cars recalled
Volkswagen is currently recalling 1.2million vehicles in the UK – and millions of others across Europe – to "fix" them after it was caught violating emissions rules in the US in 2015. (pdf)
UK chief Paul Willis told parliament last year that the company is spending €6.7 billion on the recall in order to "satisfy customers, regain trust and get these cars fixed."
However real world tests on Audi and SEAT cars did not show "any significant differences" in emissions between software used before and after the fix, according to correspondence between VW and the German government written shortly after the scandal broke out in 2015.
Other correspondence suggests that tests on VW Golf cars did show lower emissions after the fix.
Emissions technology disabled
The documents were submitted to the German authorities, which approved the fix for most European vehicles. However, they do not apply to all affected vehicles as the fix for some was approved in other countries. The UK authorities have responsibility for approving the fix for Skoda vehicles.
VW's proposal – seen by Unearthed and first published by German broadcaster ZDF – also lays out in detail specifications under which VW intended to disable technology designed to reduce toxic nitrogen oxides (NOx) in the real world.
VW specifies that the technology should not be fully operational above altitudes of 1000m, and when the temperature is above 33°C or below 15°C. The average temperature in most European cities is well below this.
While European legislation makes exceptions to allow carmakers to disable such software to protect the engine, legal experts dispute its relevance 
Lawyer Damon Parker told Unearthed: "The continued use of such emissions reduction technology is apparently at odds with evidence given by VW in court that argued that vehicles no longer operate on different modes in the lab than on the road," he added.
Complaints
The fix has also led to complaints from customers some of whom have reported problems with their car since the fix.
Carlos Igano, 40, from Aberdeen, told Unearthed that after taking his VW to be fixed, his fuel consumption went up, the engine became more noisy and the vehicle frequently lost power. His car has spent 3 weeks at a garage since the fix, he added.
He says that "with all the car issues, i'm really scared to drive this car with the risk of having it breaking down on the road".
Some customers are so concerned they are opting out of the fix altogether.
Ian Beaumont, 48, from Godalming, Surrey, decided not to have his VW Golf fixed.
He told Unearthed: "The most important reason we bought it was because we thought it had low emissions. If the fix is not having any effect on the performance or engine wear then why didn't they do this in the first place? I don't trust it."
Volkswagen have denied that such issues are associated with the fix and says that it has no negative impact on car performance.
Lawsuits
The firm accepts it has violated emissions rules in the US and although they are removing software in European vehicles, they dispute that they have broken EU law.
But the German multinational is now  facing a lawsuit from thousands of motorists.
Damon Parker, the lawyer leading the case at firm Harcus Sinclair told Unearthed: "VW's claim not to have broken European emissions legislation is comically inconsistent with its recall of 1.2 million affected vehicles in the UK. If there was no problem, why go to such extreme lengths?"
Read more: Thousands of UK drivers seek claim against Volkswagen
Florent Grelier, clean vehicles engineer at think-tank Transport and Environment, who analysed the documents, said: "Consumers don't care about laboratory tests. They care about what happens on the road and these documents show that under certain conditions VW continued to turn down or turn off technology designed to cut toxic NOx emissions.
"The current flawed car approval system… continues to protect the interests of the car industry instead of the public's health."
Government inaction
The news comes as the government is set to go back to court over its failure to take adequate action to address illegal nitrogen dioxide levels in the UK.
The government is also facing a legal dispute with the EU for failing to take appropriate action to hold VW to account over the scandal.
While in the US the world's biggest car company has faced a criminal investigation and has been forced to pay out billions to consumers, in the UK there have been neither payouts or legal action.
The UK government has supported the fix, which – for most vehicles in the UK – has been approved by German regulators. UK transport minister John Hayes said in April that he is calling on VW to offer a compensation package to UK consumers.
But the Competition and Markets Authority dropped an investigation into the firm.
VW's statement in full:
"The technical measures, which the Volkswagen Group is applying to vehicles affected by the NOx issue, are designed to ensure that there can be no question that those vehicles complied with the relevant legislation. Whilst we do not accept that the vehicles in question breached the legislation, we recognised that our customers did not expect our vehicles to behave in the manner that they did.  As a result, we have designed technical measures which affected UK customers can elect to have implemented in their vehicles.  
However, to be clear, the legislation in question set out limit values for NOx in laboratory testing conditions based on the NEDC cycle. That legislation did not prescribe NOx limits out on the road. The emissions figures that are published for each vehicle are therefore obtained under standardised test conditions using a representative model.  These values were intended to allow a direct comparison between different models from different manufacturers, but do not represent the actual emissions achieved in real world driving conditions. That fact has long been known and is a consequence of the fact that real world emissions will depend on a number of factors, including mileage, journey type, driving style and environmental conditions. This is the case for all vehicles, regardless of the NOx issue and regardless of the technical measures. The deficiencies in the legislation are well understood, and we support moves to develop a legislative testing regime that is more representative of real world driving conditions.
That noted, the technical measures developed by Volkswagen AG take advantage of advances in diesel combustion technology that were not available at the time the affected vehicles were manufactured.  As a result, we anticipate that NOx emissions out on the road may decrease. However, this will depend upon a range of factors, including those noted above, and was neither legally required nor what the technical measures were expected to address.  Further, data published by the UK's Department for Transport ((who tested a range of manufacturers' vehicles including Volkswagen Group vehicles (both affected and not affected by the NOx issue)) indicates that VolkswagenGroup vehicles perform favourably out on the road in terms of real world NOx emissions when compared with other manufacturers' vehicles."  
"We do not manipulate technology designed to reduce NOx emissions in the real world after the fix".