Tar sands pipeline companies oversee hundreds of oil spills
TransCanada, Kinder Morgan and Enbridge have together spilled 63,000 barrels of hazardous liquids since 2010
The companies behind four proposed pipelines that would transport oil from Canada's tar sands have spilled 63,000 barrels of hazardous liquids – including crude oil – from their existing US pipeline network since 2010, according to government data.
Statistics from the US Pipeline and Hazardous Materials Safety Administration (PHMSA) – obtained as part of an investigation by Greenpeace USA – show that oil giants TransCanada, Kinder Morgan and Enbridge have together suffered 373 spills over the past seven years.
Of these, the agency classed 41 as 'significant' — which for crude oil this means that more than 50 barrels were spilled.
This includes the notorious Kalamazoo River oil spill, which polluted 36 miles of river in 2010 and only narrowly avoided contaminating Lake Michigan.
Long-term trend data held by PHMSA also shows the number of significant pipeline incidents increased from 105 in 2007 to a peak of 176 in 2015, though dropped slightly again last year.
A spokesperson for Kinder Morgan told Unearthed the PHMSA data is misleading because it does not distinguish between spills that occur along the pipelines' right of way and those that occur within industrial facilities.
Saving the tar sands
The proposed projects are part of an effort to increase oil production from Canada's tar sands, one of the dirtiest fossil fuel projects in the world, which has been limited by a lack of pipeline capacity.
By improving access to market, approval of one or more of the proposals could help boost the economic viability of the tar sands – which have suffered since the oil price crash three years ago – and incentivise further investment.
Kinder Morgan's Trans Mountain pipeline and TransCanada's Energy East project would transport oil across Canada to the west and east coasts — where it would be shipped to international markets.
TransCanada's Keystone XL and Enbridge's Line 3 replacement project would cross the border from Canada into the US.
Keystone XL has proven particularly controversial, with protests ultimately resulting in President Obama refusing to grant the pipeline the presidential permit required for it to cross the border.
President Trump reversed this decision, signing an executive order days after taking office that fast-tracked the permit approval process for Keystone XL, which was approved by the State Department in March.
The project is currently in the midst of hearings in Nebraska, a state the pipeline would have to cross.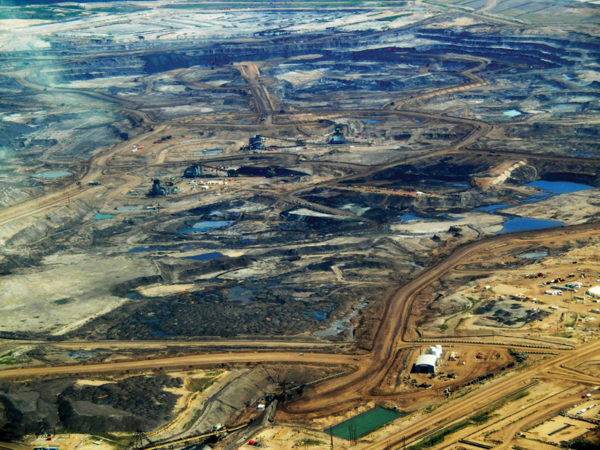 Pipeline safety
Opponents of the proposed pipelines – including 120 First Nations and Tribes – have expressed concern over the additional greenhouse gas emissions resulting from increased tar sands production – as well as environmental and human rights concerns relating to the transport of tar sands oil.
I've been to the Alberta tar sands and seen first hand the destruction that it causes, it's devastating
Speaking to Unearthed, Rueben George – manager of the Sacred Trust of the Tseil-Waututh Nation – said: "I've been to the Alberta tar sands and seen first hand the destruction that it causes, it's devastating. A couple of years ago there was a pipeline spill close to Onion Lake reservation, a brand new pipeline"
Referring to the Canadian government's approval of Kinder Morgan's Trans Mountain pipeline, George added: "They are breaking Tseil-Waututh law and that's why we're suing them."
The companies though, maintain that pipelines are the safest way to transport the oil. A spokesperson for Kinder Morgan told Unearthed: "Pipeline safety is our number one priority, and through the experience gained in almost 65 years of operation, Trans Mountain has developed a mature suite of programs to maximize pipeline safety."
"It's important to note that Canada has one of the most highly-regulated pipeline industries in the world, with laws governing the entire lifecycle of a pipeline. If an incident does occur, companies are prepared with heavily-funded and comprehensive emergency response programs that can clean up all types of oil, including diluted bitumen."
Inevitable spills
According to pipeline incident data maintained by the U.S. Pipeline and Hazardous Materials Safety Administration (PHMSA):
TransCanada was responsible for 13 spills totaling 829 barrels of crude oil since 2010 – largely as a result of two "significant" 400 barrel spills in 2011 and 2016.
Kinder Morgan was involved in 213 spills totaling 21,598 barrels of hazardous liquids. This included 172 spills of refined petroleum products, 35 of crude oil and 6 of highly volatile liquids. 22 were classified as "significant".
Enbridge and its subsidiaries and joint ventures had 147 spills totaling 40,794 barrels of hazardous liquids. Of those spills, 137 were crude oil, 7 were refined petroleum products and 3 were highly volatile liquids. PHMSA classified 17 crude oil spills as "significant."
Long-term trend data maintained by PHMSA also shows that significant pipeline incidents have increased since 2007.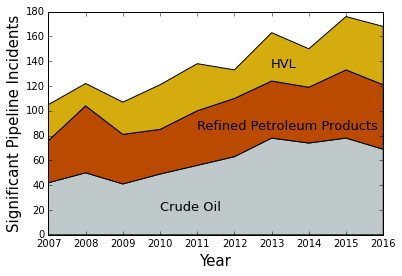 Tar sands oil spills
Included among Enbridge's total is a 20,082 barrel spill of diluted bitumen into Michigan's Kalamazoo River in 2010.
Unlike conventional crude oil, bitumen has the consistency of a thick tar and is too thick to be pumped out of the ground. In order to flow through a pipeline, bitumen must be mixed with light crude oil or natural gas liquids to make diluted bitumen, or dilbit.
According to a 2015 National Academies report, when dilbit is spilled into water, the lighter and more volatile parts quickly evaporate leaving the denser bitumen to sink – making it extremely difficult to clean up.
In the case of the Kalamazoo River – the spilled bitumen sunk to the bottom of the river triggering a years-long, billion dollar clean-up operation that required dredging the river bottom.
TransCanda and Enbridge did not to respond to Unearthed's requests for comment on this story – the article will be updated as and when comment is received