China has already surpassed its 2020 solar target
China's renewables sector is soaring past increasingly ambitious installation targets, but curtailment is still a big problem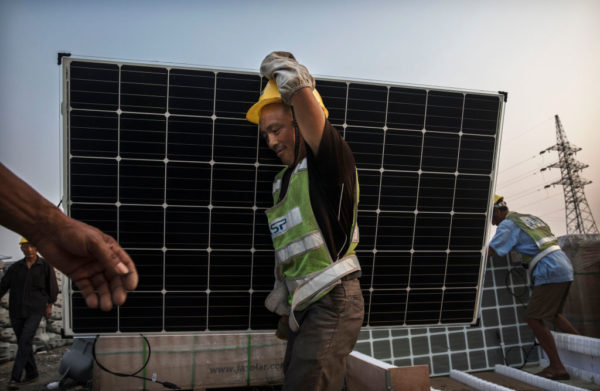 China has more than doubled its end-of-decade solar power target, with new installations dramatically outstripping expectation, according to the government's energy agency.
By the end of July this year, China's solar PV capacity topped 112GW, after installing a stunning 35GW in just seven months — more than twice as much as installed by any other country in all of 2016.
As a result, total solar PV capacity now exceeds the government's 2020 goal of 105GW, set as recently as last year.
This could have created a very confusing situation for the industry – after years of record-setting installations, there was no target to hit – but the National Energy Administration (NEA) responded by setting new, ambitious annual installation targets.
These targets would take capacity to 213GW in 2020 — which is five times larger than current capacity of the United States.
That would mean covering an area of land equivalent to greater London – 1500km2 – with solar panels.
Current growth rates suggest China could even surpass that new, higher target.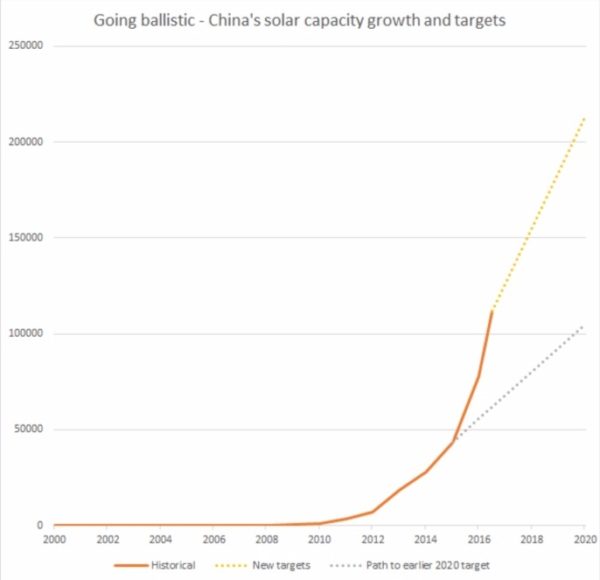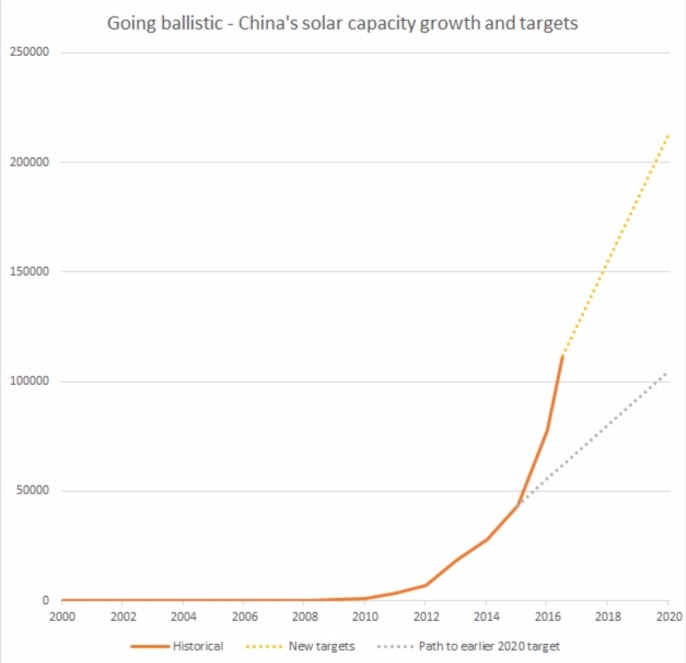 Wind is also doing well
China is on track to install at least 110.4 GW in onshore wind capacity over the next three years. 
This would increase the country's cumulative wind power installation by 2020 to about 264 GW, far exceeding the original target of 210GW set during the 13th Five-Year Plan period.
It's also considerably more than the total wind power capacity of all of Europe (and that's including the UK).
New targets
That's not all the new targets imply.
By 2020, China is aiming to build 54.5GW of large-scale solar projects — PV stations, and agriculture and husbandry combinations.
That alone surpasses the total solar capacity of both the UK and Germany combined.
In addition there will be 8GW of new showcase projects that use higher efficiency solar PV every year.
The new target reflects the huge potential for distributed solar — electricity that is produced at the same spot where it is used. Under the new regulation there are no limitations on the installation of distributed renewables, meaning innovations like rooftop solar panels are on track to soar.
Over the past year, distributed solar installations have shot up.
According to NEA statistics, 7.11 GW of distributed solar PV was added in the first half of 2017, an approximately threefold increase year-on-year.
The astounding growth of wind and solar power in China means that the country is on track to generate Germany's total electricity consumption from these sources by 2020. Generation from wind and solar would amount to around 9% of China's own consumption, up from 5.2% last year.
Curtailment
But it's not all rosy. China's wind and solar power sectors are still battling a huge curtailment crisis.
What is curtailment?
Because renewables rely on the sun shining and the wind blowing, the amount of energy they can produce varies — from very little to a whole lot. But sometimes solar panels and wind turbines stop producing power even when they are able to are able to produce more. Surplus energy is lost — because either the grid isn't equipped to handle it, there isn't any way to store it or other types of energy like coal are given priority.
In the first half of 2017, the national wind curtailment rate stood at 13.6%, with solar curtailment in five northwest provinces at 15.5%.
The NEA's new targets, however, acknowledge the problem and take two key steps to tackle it.
First, provinces with serious wind and solar curtailment problems, such as the western provinces Gansu, Xinjiang and Ningxia, are not permitted to install more capacity.
This should have the effect of nudging these province's governments towards effectively utilising the enormous capacity they have already installed.
And that will mean challenging coal's dominance in the energy mix.
Second, seven provinces, including Beijing and Shanghai, are allowed to install as much solar capacity as they want with the important caveat that the new capacity does not cause curtailment in these areas.
That suggests China could in fact smash its own 2020 solar target. Again.