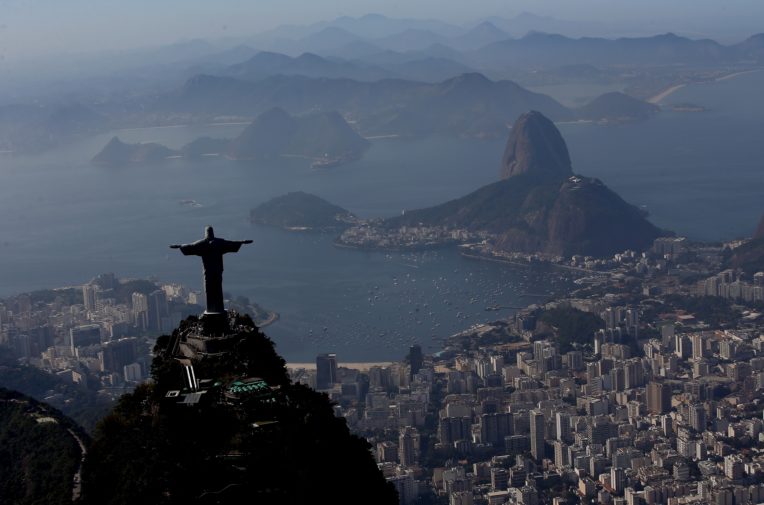 An aerial view of Guanabara Bay in Rio. The area has become a site for oil activity in recent years. Photo: Matthew Stockman/Getty Images
International trade minister lobbied Brazilian government on behalf of BP and Shell
A diplomatic cable - which officials failed to redact - shows that Greg Hands discussed the oil companies' tax and environmental concerns with Brazilian minister
International trade minister lobbied Brazilian government on behalf of BP and Shell
A diplomatic cable - which officials failed to redact - shows that Greg Hands discussed the oil companies' tax and environmental concerns with Brazilian minister
An aerial view of Guanabara Bay in Rio. The area has become a site for oil activity in recent years. Photo: Matthew Stockman/Getty Images
A minister from Liam Fox's Department for International Trade (DIT) lobbied the Brazilian government to smooth the path for BP and Shell to secure oil blocks in the country's controversial pre-salt region, according to a diplomatic cable that officials accidentally failed to redact.
The document – obtained by Unearthed – details a March trip to Brazil by DIT minister Greg Hands. It reveals that, at a "private breakfast" in Rio de Janeiro, Shell, BP and Premier Oil relayed their concerns "around taxation and environmental licensing" to the minister.
The cable states that Hands was then able to raise those issues "directly" with Brazil's deputy minister for mines and energy, Paulo Pedrosa.
With Brazil's Energy & Mines Minister Paulo Pedrosa at our UK Energy Showcase, outlining UK capability in offshore, decommissioning & more! pic.twitter.com/UQBUbrQg5u

— Greg Hands (@GregHands) March 21, 2017
According to the document, Pedrosa then "confirmed that his ministry is already lobbying its relevant counterparts within the Brazilian government".
Brazil's government went on to make a proposal for up to $300bn in tax relief to companies that develop offshore oil and gas in the country.
Shell was awarded three oil blocks to pump oil from the region on October 27th, the same day the Brazilian government awarded rights to BP.
The UK government also welcomed a move by the Brazilian government to reduce "local content requirements" – rules requiring foreign companies to do things like hire domestic workers and use domestic goods to operate in a country – according to the document.
Brazil is seen by the government as an important trading partner for the UK, as the country prepares to leave the EU.
As the cable states "Hands' visit means Brazil is only the third country after the US and Germany to receive all four DIT ministers since the department's creation". Liam Fox visited the country in December last year.
Brazil's massive offshore oil find
There is believed to be billions of barrels of oil underneath a thick layer of salt off the coast of Brazil in the Atlantic ocean. The Tupi was the first of these oil fields to be discovered in 2007, and is thought to contain between 5bn and 8bn barrels of oil. Brazilian politicians hope that the massive oil find can spur economic development. But environmental groups have urged officials to keep the oil in the ground, as it could use up much of the world's carbon budget and accelerate climate change.
In response to this story, a DIT spokesperson told Unearthed:  "the meeting was about improving the environmental licensing process, ensuring a level playing field for both domestic and foreign companies, and in particular helping to speed up the licensing process and make it more transparent, which in turn will protect environmental standards".
The spokesperson added: "DIT is responsible for encouraging international investment opportunities for UK businesses, whilst respecting fully local and international environmental standards. The UK oil and gas industry and supply chain supports thousands of jobs and provides £19bn in goods exports alone."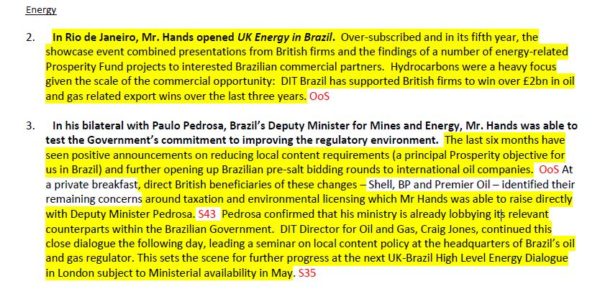 Climate risk
It is has been estimated that 176bn barrels of oil are buried beneath thousands of feet of salt in the Atlantic ocean.
Environmental campaigners have warned that drilling in the region could accelerate climate change and have urged the government to leave the oil in the ground.
But the Brazilian government is reportedly keen to sell off the blocks as quickly as possible, in case global efforts to tackle climate change risk making major new oil projects uncompetitive.
In a statement to Unearthed, a Shell spokesperson defended the company's dealings with governments.

"Shell engages with governments around the world as we seek to meet evolving customer needs and the world's growing demand for energy.
"When dealing with governments, Shell companies have the right and the responsibility to make our position known on any matters, which affect us, our employees, our customers, our shareholders or local communities in a manner that is in accordance with our business principles and local laws."
A BP spokesperson said: "BP has a significant presence in Brazil, employing around 7,000 people and including our major biofuels business, aviation and lubricants businesses and interests in around 20 offshore exploration blocks.
"It is normal for us to have discussions with the UK government, many at the government's request, regarding our businesses around the world, but we do not comment on the details of private meetings. Questions about the detail of Brazil's bidding rounds should of course be addressed to the Brazilian government and authorities."
What is the Freedom of Information Act?
In the UK, the Freedom of Information Act gives the public access to information held by public bodies. That means things like government departments, local councils and universities are obliged to publish certain information about their activities, while members of the public can also make requests for information. You can find out almost anything with an FOI request, from how much money your university makes from library fines each year, to what government ministers are saying to powerful corporations. Find out more here.
Unredacted
DIT officials tried to redact key information from the cable, before sending it to Unearthed under Freedom of Information rules, but sent an unredacted version by mistake.
The document reveals that the British government welcomed moves by the Brazilian government to "open up Brazilian pre-salt bidding rounds to international oil companies".
DIT has heavily supported oil projects since coming into existence in a bid to boost trade post-Brexit. According to the document, "DIT Brazil has supported British firms to win over £2bn in oil and gas related export wins over the last three years".
Following Hands' breakfast meeting with the Brazilian energy minister, DIT director for oil and gas, Craig Jones, who worked on secondment at Shell in 2008, continued to press the case for BP, Shell and Premier Oil, "leading a seminar on local content policy at the headquarters of Brazil's oil and gas regulator" the following day.
International oil companies have long complained about delays to offshore oil projects in Brazil due to licensing rules.
In August, Brazil's environmental regulator, Ibama, rejected Total's study on drilling in the Amazon River basin on environmental grounds, further delaying the project.
While he was in Brazil, Hands promoted British companies at "three large showcase events on energy, mining and water".
The minister opened a 'UK Energy in Brazil' event in Rio, where "hydrocarbons were a heavy focus given the scale of the commercial opportunity". An audience heard about "energy-related
Prosperity Fund projects to interested Brazilian commercial partners".  
The Prosperity Fund is a little known cross-governmental £1.3bn project under the authority of the National Security Council, which "promotes economic reform and growth in developing countries".
Projects supported by the fund are supposed to be environmentally sustainable, but also must support the "strengthening of UK trade and investment opportunities around the world".
COP23 commitments

The news comes after the UK made a series of commitments to tackle climate change at the UN climate conference in Bonn, Germany. These efforts included moves to increase forest conservation across the globe and establishing international partnerships to cutback on coal use.