China ban: Thailand moves to send poor quality plastic waste back where it came from
New policy from Thai government, aimed at cracking down on illegal waste imports, will place added pressure on struggling UK recycling sector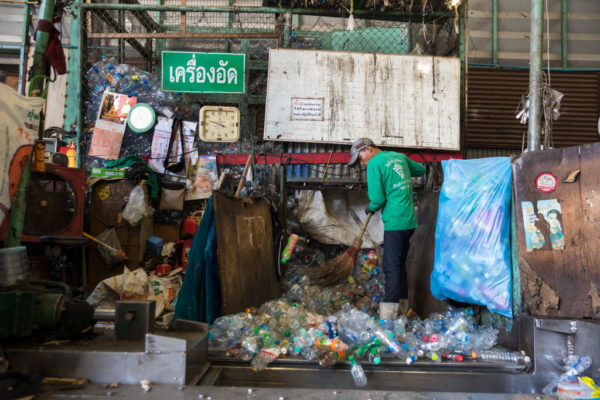 The government of Thailand has pledged to start sending plastic scrap back where it came from as part of a crackdown on illegal waste imports.
The news poses another problem for the UK's beleaguered recycling sector and follows reports of recycling facilities in Thailand becoming overwhelmed by a surge in trash shipments since China's ban on low-quality waste came into force.
An Unearthed analysis of customs data revealed that UK waste exports to Thailand shot up in the first four months of this year: from just 123 tonnes in January to April 2017 to 6,810 tonnes.
The old option for rich nations to ship their waste halfway across the planet is disappearing
According to reports in Thai media, the government has announced new measures to restrict plastic imports, with the country struggling to cope with increased imports of plastic waste since China shut its doors to "foreign trash" in January.
The Thai government will introduce [story in Thai] inspections of all plastics and electronic waste imports into the country and will send waste back where it came from if it's imported without proper description.
Since China stopped accepting plastic waste imports in January, western countries, including the UK have been scrambling for alternative export markets.
Last week, shipping giant APL announced a temporary ban of plastic scrap shipments to three ports (Laem Chabang, Bangkok and Songhkla) in Thailand, in response to "the escalating number of idle shipping containers" at the ports.
Thailand has long grappled with plastic pollution and the death of a pilot whale earlier this month, found in a canal in the southern province of Songkhla with 80 plastic bags in its stomach, drew international attention to the issue.
Erik Solheim, head of the UN environment programme, told Unearthed the news from Thailand was a sign of "the slow motion collapse of a completely absurd and unsustainable business model. We're creating so much rubbish that we don't know where to put it. The solution here is blindingly obvious. We need a dramatic cut in the waste we're generating. It's not just plastics, but also e-waste, construction materials, chemicals and more.
"China, Thailand and many other rapidly developing countries have their own growing waste problems, so the old option for rich nations to ship their waste halfway across the planet is disappearing. Our planet is only so big, but we're running out of landfill and the world's recycling facilities can't keep up."
UK recycling
The move by the Thai government could place added pressure on the UK recycling sector.
Simon Ellin, the head of the UK Recycling Association told Unearthed, the Thai move "will place a strain on the British recycling sector due to the restrictions imposed by yet another export market and the huge costs of repatriation if a shipment goes wrong".
A spokesman for the waste firm Suez said that the China ban had created "backlogs" in Thailand and other countries around the world and that while the UK government is working on a solution to the plastic waste crisis, the Thai move added urgency to the issue.
"Although Suez does not export to Thailand and is therefore not directly affected by this development, it does have the potential to constrain yet another market for the global flow of secondary materials.

"In Thailand, in particular, it would seem that in addition to a prohibition on electronic and plastic waste products, the market is fundamentally constrained by port capacity, which has caused backlogs as material has flowed to smaller ports from China.

"These new barriers to another secondary material market place further urgency on the need to… grow domestic markets, if we are to collectively avoid wasting these commodities in future."
Shutting their doors
As well as Thailand, other countries have moved to restrict imports since the China ban came into force.
Vietnam introduced a temporary ban on plastic scrap shipments earlier this month, as ports in the country became congested due to the number of idle shipping containers.
The Polish government has moved to make it tougher to import waste into the country. While APL wrote to its customers on April 19 to announce a "temporary ban of plastic scrap shipments" from the US and Canada to Malaysia.
Ellin said that his body has warned the government that seeking export markets for waste could not be a long-term solution and that the UK's recycling infrastructure needed investment.
"The restrictions now being implemented in Vietnam and Thailand is demonstrating to the UK that we have not yet seen the full implications of China's restrictions.

"Countries like Vietnam and Thailand simply do not have the port or processing infrastructure to support these huge increases in volumes arriving from across the globe."
After Unearthed broke the story about China banning plastic waste imports, Environment Secretary Michael Gove said in December that Britain had to "stop offshoring our dirt".
Asked to comment on this story, a Department for the Environment, Food and Rural Affairs' spokeswoman said the government's long term vision was to recycle more waste in the UK and that Defra was "working with the waste industry, Environment Agency and local authorities to ensure exported waste is managed to safeguard the environment."