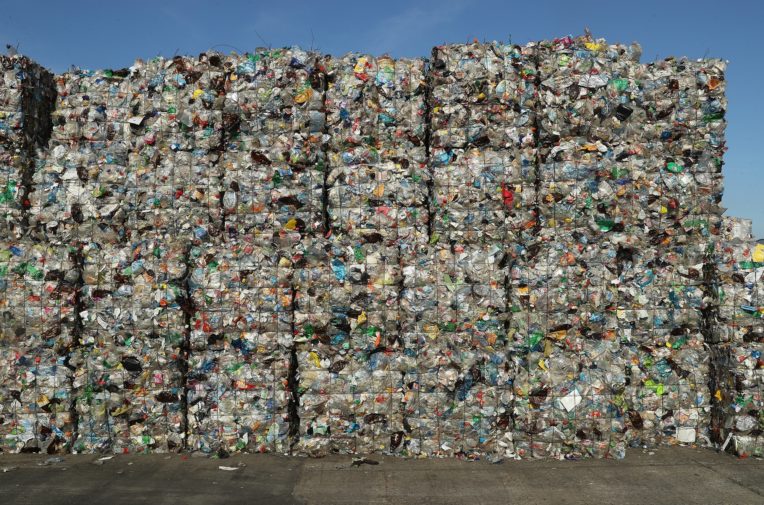 Bales of sorted plastic at a recycling facility in Germany. China has announced it will stop imports of 'foreign garbage', including household plastics and many other types of scrap, from early next year. Photo: Sean Gallup/Getty Images
China's plastic scrap ban threatens 'crisis' for UK recycling industry
UK has shipped more than 2.7m tonnes of plastic scrap to China and Hong Kong since 2012 - but the country now needs to find a new home for its recycling
China's plastic scrap ban threatens 'crisis' for UK recycling industry
UK has shipped more than 2.7m tonnes of plastic scrap to China and Hong Kong since 2012 - but the country now needs to find a new home for its recycling
Bales of sorted plastic at a recycling facility in Germany. China has announced it will stop imports of 'foreign garbage', including household plastics and many other types of scrap, from early next year. Photo: Sean Gallup/Getty Images
A Chinese ban on the import of plastic waste poses major challenges for the UK's recycling industry, which ships more scrap to China and Hong Kong than any other destination.
British companies have shipped more than 2.7m tonnes of plastic scrap to mainland China and Hong Kong since 2012 – nearly two-thirds of the UK's total waste plastic exports, an Unearthed analysis of customs data reveals.
But China has announced it will stop imports of "foreign garbage" from early next year, saying it found imported recycling material was contaminated with "large amounts of dirty wastes or even hazardous wastes".
The rules are still being finalised but appear to include tough quality standards for industrial plastic scrap, and a total ban on plastics from household recycling.
Waste charity Wrap estimates that household plastics to mainland China and Hong Kong account for about a quarter of the 790,000 tonnes of plastic scrap the UK exported last year.
Recycling industry sources told Unearthed the ban threatens to tip Britain's already stretched recycling sector into crisis, as a chronic shortage of capacity to recycle plastics in the UK collides with the near-total closure of the world's biggest market for waste household plastics.
I don't think anybody could hand on heart say some of it might not end up in a landfill site
Councils may be forced to stop collecting some kinds of plastic for recycling, and the situation could endanger the UK's ability to meet its recycling targets. Waste companies are pursuing new export destinations for plastics, but are also considering temporarily burying plastic waste, incineration, landfill, and even converting it into jet fuel.
But environment secretary Michael Gove told MPs last month: "I don't know what impact it will have. It is… something to which—I will be completely honest—I have not given sufficient thought."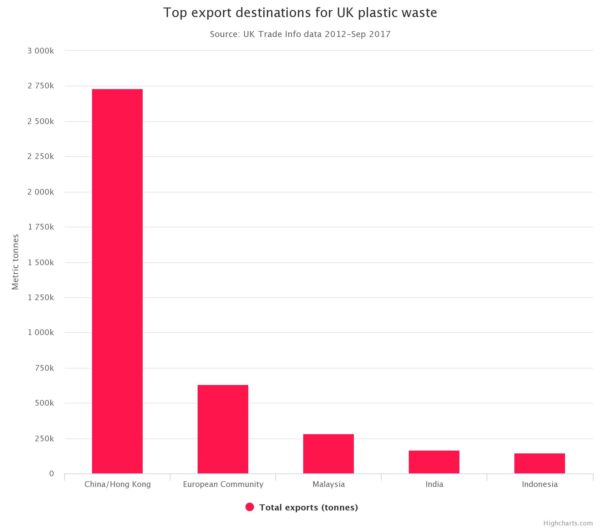 The situation highlights the complexity of disposing with the vast quantities of plastic waste the UK produces each year – in 2016, over a million tonnes of plastic was collected for recycling, Environment Agency figures show. The UK exports around two-thirds of this material, a previous Unearthed investigation revealed.
The ban will also seriously affect exports of waste paper. In September the head of the Resource Association, Ray Georgeson, told a conference: "There is an urgent need for the government to get on the plane to Beijing to take a delegation to China and start negotiating."
Georgeson told Unearthed: "This is a serious, shaky issue for the UK recycling supply chain and it won't be solved by the long-term measures we all know are needed… There will be a bit of a scramble for solutions."
"There's a lot of uncertainty in this," said Adam Read, external affairs director at waste management company Suez. He described a lack of clear UK recycling and waste strategy, shortage of domestic capacity to recycle, uncertainty caused by Brexit and now the China ban, adding: "I think there's an impending crisis," he said.
The company is exploring new destinations, including India and south-east Asia, and discussing ways to increase recycling capacity in the UK. It has even worked on a test project with British Airways to examine whether plastics could be converted into jet fuel.
It is "inevitable" that some plastics will end up being incinerated, Read said – but UK incinerators are also stretched. "I don't think anybody could hand on heart say some of it might not end up in a landfill site."
Warehouse space is likely to fill up quickly, and Read said options being considered include "temporarily" burying plastics in landfills until new solutions are found. "There's no obvious answer," he said.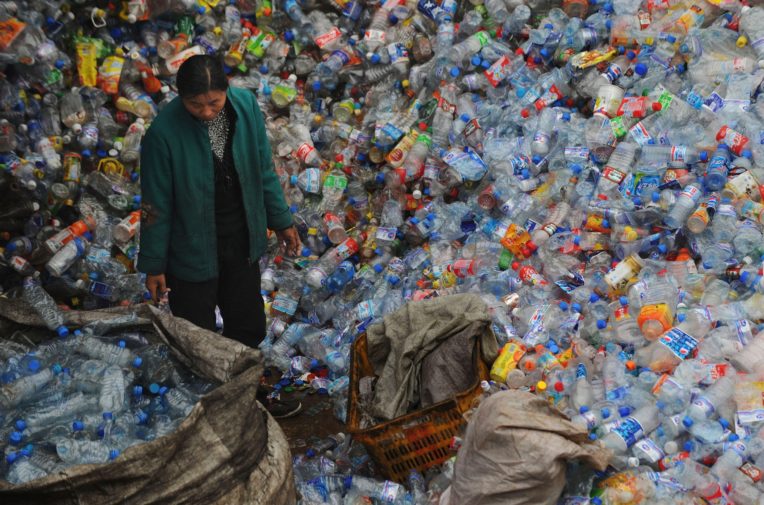 'Double whammy'
Council budgets, already stretched, could suffer, said Lee Marshall, chief executive of  local authority recycling advisory group Larac. "The gate fee at a sorting plant the council pays may increase because the sorting will have to be done to a better standard for new markets, or the price they get for any materials may decrease."
Ultimately, he warned, some councils could stop collecting some hard-to-recycle plastics, such as meat trays and yoghurt pots, for recycling. "While councils don't like turning materials off… if the economics are such that it does cause them a problem, that's a decision they'll have to make." 
The initiative will "undoubtedly" make it harder to meet recycling targets, a spokesman for the Recycling Association said. "However, it should also act as a warning that we need to focus on quality material for both the UK and world market for recyclable materials," he added.
Mary Creagh MP, chair of the Environmental Audit Committee, said: "We know that 55% of our exported recovered plastics and 74% of our exported paper went to China in 2016, yet Michael Gove seemed unaware of the ban which starts in January when he appeared before our committee."
She added: "This ban could mean a double whammy for council tax payers if the price of our exported waste falls and the cost of UK disposal rises. The government should show leadership and invest in more reprocessing facilities at home to re-use these valuable materials, create green jobs and prevent plastic and paper pollution."
Despite signs in 2008 and 2012 that the Chinese market might be restricted, there is no robust plan to cope with the ban, said Stuart Foster of plastics recycling charity Recoup.
A Defra spokesman said: "We are continuing to work with the waste industry and the Environment Agency to understand the impact across the sector of the Chines government's proposed restrictions on waste imports.
"We are also looking at ways to process more of our recycling at home as part of our resources and waste strategy."
Lord Deben, chief executive of recycling company Valpak and former environment secretary, did not believe the ban will have a pronounced effect on the UK.
But he added the UK's market is geared towards shipping plastic scrap abroad. It is often more profitable to sell to Asia than Europe, he said, because "European recyclers demand a standard of basic materials which is higher than the standard of things that can at the moment be exported."
China blamed its ban on poor quality material, saying inspections revealed that "large amounts of dirty wastes or even hazardous wastes are mixed in the solid waste that can be used as raw materials". This "polluted China's environment seriously," it wrote in submissions to the World Trade Organisation.
Between 2012 and 2016, the UK exported 3.8m tonnes of plastic scrap, of which 66% – over 2.5m tonnes – went to China and Hong Kong, data from UK Trade Info shows.
Shipments to mainland China and Hong Kong, which fell in 2016 and 2017 in anticipation of a crackdown, have plummeted since the ban was announced in July, the data shows. In September 2017, they were down by three quarters compared to the previous year. But it still received only slightly less than the entire European Community.
Meanwhile, exports to Malaysia doubled and those to Vietnam more than trebled compared to a year before.
"It is unclear what happens to the waste that is sent to Asia," said Piotr Barczak, waste policy advisor at the European Environmental Bureau.
"EU law says that exported waste should be recycled in compliance with EU standards," he added. "But lack of transparency and traceability means that it might instead be burned, buried or poorly recycled, with serious consequences for the environment and quality of recycled products in those countries."