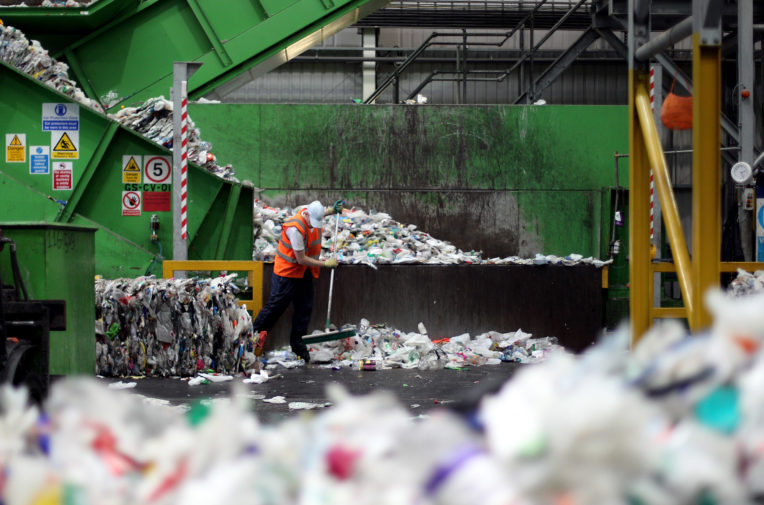 An employee of the Closed Loop recycling plant in Dagenham in London, United Kingdom. Industry sources say the UK lacks the capacity to handle much of its own recycling capacity. Photo: Dan Kitwood/Getty Images
Recycling industry warned Defra 'the clock is ticking' on China plastics ban
Defra wrote that the ban could force a 'paradigm shift' in British recycling, but weeks later Gove told MPs he had not given it 'sufficient thought'
Recycling industry warned Defra 'the clock is ticking' on China plastics ban
Defra wrote that the ban could force a 'paradigm shift' in British recycling, but weeks later Gove told MPs he had not given it 'sufficient thought'
An employee of the Closed Loop recycling plant in Dagenham in London, United Kingdom. Industry sources say the UK lacks the capacity to handle much of its own recycling capacity. Photo: Dan Kitwood/Getty Images
The government was warned in September that hundreds of thousands of tonnes of plastic packaging intended for recycling could have nowhere to go if a Chinese crackdown on "foreign garbage" comes into force, letters seen by Unearthed reveal.
The recycling industry warned officials that 280,000 tonnes a year of plastic packaging waste would be affected by the ban. "No alternative markets are available for these quantities of waste", the documents note.
The changes could lead to a "paradigm shift in the way waste is managed", Defra officials wrote. But over a month later environment secretary Michael Gove told MPs: "I don't know what impact it will have. It is… something to which—I will be completely honest—I have not given sufficient thought."
Gove's comments left Simon Ellin, head of the Recycling Association, "flabbergasted, incredibly disappointed, disillusioned," he told Unearthed.
Labour MP Kerry McCarthy said: "The recycling industry clearly did its best to alert the government to this impending crisis, and the blame for failing to act upon those warnings lies squarely at the feet of Defra." Gove should make an urgent statement, she added.
The Chinese government announced in July that it planned to clamp down on imports of 24 categories of scrap from the beginning of 2018, blaming the contamination of imported recycling material with "large amounts of dirty wastes or even hazardous wastes". The restrictions include a total ban on household waste and very tight contamination limits on waste paper.
Unearthed revealed on Thursday that the UK has shipped more than 2.7m tonnes of plastic scrap to mainland China and Hong Kong since 2012.
Recycling industry sources said the abrupt closure of the world's biggest market for plastic scrap threatened to tip the already stretched recycling sector into "crisis", and could see some plastics dumped in landfill or incinerated.
Almost a quarter of the 790,000 tonnes of plastic scrap exported from the UK in 2016 was household plastic destined for China, an analysis by recycling charity Wrap has found.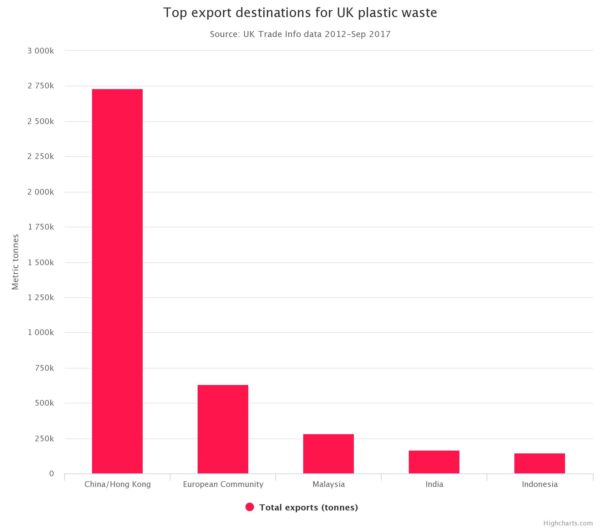 'End up in landfill'
The waste sector is in a "scramble for solutions", said Ray Georgeson, head of the Resource Association. Exports to other Southeast Asian countries, including Malaysia and Vietnam, shot up after the ban was announced, but companies are also considering "temporarily" storing plastics underground, sending some to incineration, and even converting plastics into jet fuel.
"I don't think anybody could hand on heart say some of it [plastics intended for recycling] might not end up in a landfill site," Adam Read, external affairs director at waste management company Suez, told Unearthed.
Letters and notes obtained by Unearthed under Freedom of Information laws show that in September, recycling industry representatives told Defra "at least 50% of the export market would be affected, either from shipments to China directly, or from indirect impacts on markets in other countries."
"Tonnages involved would be in the region of 70-80K tonnes per quarter of plastic packaging waste," the document notes, adding: "No alternative markets are available for these quantities of waste."
Why are we in the scenario where we are massive net exporters of our recyclables?
"If implemented in full the Chinese proposals will result in a paradigm shift in the way waste is managed to both increase the quality of secondary raw materials but also the need to find markets for those materials, including looking at ways of boosting domestic reprocessing," Defra officials wrote.
Defra hosted a meeting in September to discuss the ban, attended by officials from the Department for International Trade and the Environment Agency, and representatives of the waste management industry.
The agenda included discussing approaching the World Trade Organisation to clarify the scope of the ban, and approaching the Chinese government directly.
The Environmental Services Association wrote to Defra after the meeting urging it to engage with local authorities, which are responsible for collecting waste and recycling, over the possible impact of the ban. "I have attended a few local authority events in the last week and there is very little understanding of the Chinese restrictions… Hearing that 50% of capacity is lost could impact on their future waste strategies," a representative wrote.
A week later, the Recycling Association's Simon Ellin wrote to Defra: "I simply cannot stress enough the impact this will have on the UK industry supply chain if these changes are brought in, in their current form." He urged the government to lobby China, writing: "I believe that direct contact with China is absolutely imperative at the earliest possible opportunity."
He added: "the clock is ticking."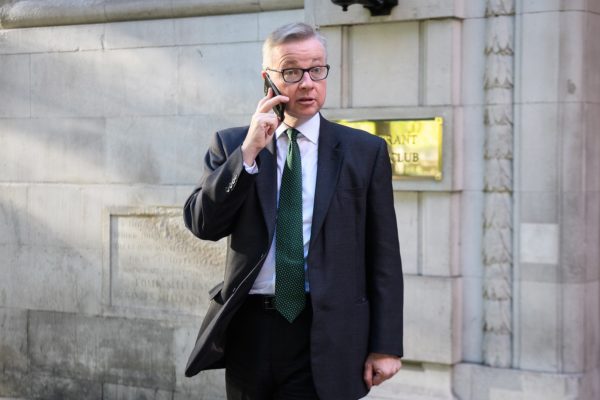 'Sleeping at the wheel'
Ellin told Unearthed: "We were asking them to seek clarification on standards. We were also asking them to make representations to China to say, we're not very happy about their stance, because we have been exporting to China for many years."
Defra raised the matter with the EU market advisory committee, which wrote to China, Ellin said. "Quite what that's achieved, I don't know," he added.
Gove's admission that he had not given "sufficient thought" to the impacts of the import ban showed the issue had "passed him by," Ellin said. "We were flabbergasted, incredibly disappointed, disillusioned, that this is the guy that's supposed to be supporting the UK recycling industry."
The comments were "symptomatic of government's attitude to waste and recycling over a couple of decades, insofar as we don't have joined-up thinking," Ellin said. "Why are we in the scenario where we are massive net exporters of our recyclables?"
"The government have just been caught sleeping at the wheel," he added.
Kerry McCarthy MP said Defra had failed to heed industry's warnings about the potential impact of the ban: "The department has been incredibly complacent about flatlining recycling figures over recent years and an unenthusiastic – even obstructive – participant in EU Circular Economy discussions, and we are still waiting for it to publish its Waste Strategy. China's move has brought all this to a head – and we need an urgent statement from Michael Gove now," she said.
A Defra spokesman said: "We are continuing to work with the waste industry and the Environment Agency to understand the impact across the sector of the Chinese government's proposed restrictions on waste imports.
"We are also looking at ways to process more of our recycling at home as part of our resources and waste strategy. We are in regular contact with the Chinese government via the EU, and UK concerns have been represented at the recent WTO meetings."