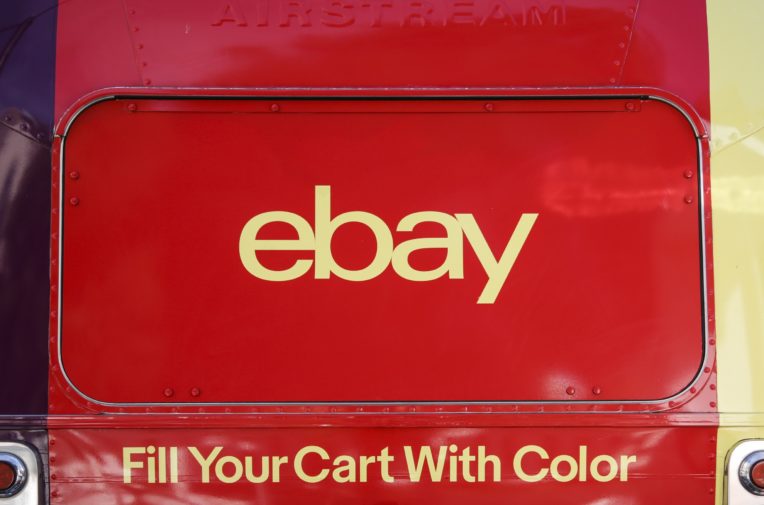 Photo: Kimberly White/Getty Images
We were able to buy illegal and dangerous pesticides on eBay
Trading standards have launched an investigation after Unearthed found illegal pesticides and weedkillers easily available to UK consumers
We were able to buy illegal and dangerous pesticides on eBay
Trading standards have launched an investigation after Unearthed found illegal pesticides and weedkillers easily available to UK consumers
Photo: Kimberly White/Getty Images
An Unearthed investigation has found illegal and dangerous pesticides and weedkillers widely available for sale to UK shoppers on the online marketplace eBay.
Trading standards authorities have launched an investigation and pledged to "halt the sale of illegal biocides and pesticides" after being alerted to our findings.
In test purchases on eBay.co.uk and eBay.com, we were able to buy five different pesticides and herbicides unauthorised for sale in the UK.
They included atrazine, a weedkiller that has been banned across the European Union for more than a decade, and which researchers have found "wreaks havoc" with the sex lives of male frogs.
They also included Chinese "Miraculous Insecticide Chalk", misleadingly labelled as "harmless" to humans and animals – a practice that is specifically prohibited under European law. US environmental regulators have warned that this chalk is "especially hazardous to children as it mimics colouring chalk", and say there have been "hundreds of cases" where children have become ill from accidentally swallowing it.
Ebay removed the listings after it was alerted to them by Unearthed. However, searches on ebay.co.uk on the morning of 25 July – after this story was first published – found that some of the unauthorised pesticides, including insecticide chalk, were again being advertised on the site. An eBay spokeswoman said it would continue to sweep for items regularly, and that removing items "which slip through" was "part of our standard proceedure". 
Michael Warhurst, executive director of the environmental charity CHEM Trust, told Unearthed it was "unacceptable" that eBay had been found "allowing their platform to be used to sell illegal pesticides and biocides".
He added: "This also highlights the need for the government to radically strengthen the enforcement of laws banning the sale of such products, to ensure that they cannot be sold in the UK, whether in shops or over the internet."
'Illegal items'
Westminster City Council is the "primary authority" for all trading standards issues associated with eBay in the UK.
Council cabinet member for public protection and licencing Ian Adams said: "The council takes any allegation of the sale of unlawful goods by companies based in Westminster extremely seriously, and will work with all parties involved to halt the sale of illegal biocides and pesticides.
"We are currently investigating these claims, and speaking to eBay about the listings in question."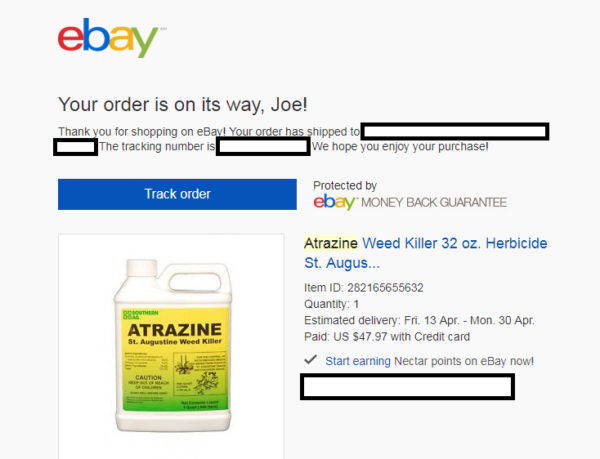 Unearthed understands that the Trading Standards Authority will look into specific listings highlighted in our findings, and work to ensure this is prevented from happening in the future.
An eBay spokeswoman said: "We work closely with the regulators like the [Health and Safety Executive] to ensure that all listings comply with the law. There are blocks in place to prevent the listing of illegal items, and we also constantly monitor our marketplace to enforce this."
Unearthed understands that some of these listings were non-compliant with eBay policies and others had slipped through a filter that should have blocked them from being visible on the UK site.
In the days after Unearthed first approached eBay with our findings, all the listings we highlighted to them were removed from the site. But searches on ebay.co.uk shortly after this story was first published, on 25 July, found that Miraculous Insecticide Chalk and another unauthorised pesticide were again being listed on the site.
An eBay spokeswoman said: "We will always continue to sweep for items regularly in case they are listed maliciously, as in this case. Removing items which slip through is part of our standard procedure."
Ebay.co.uk's pesticides policy states that private sellers are not allowed to sell pesticides, and that no one is allowed to sell pesticides that are "not authorised by the authorities for use in the UK".
Amazon case
The news comes after eBay competitor Amazon was forced, earlier this year, to pay $1.2m in a settlement with the US Environmental Protection Agency (EPA), after allowing third party sellers to market and distribute illegal pesticides to American customers.
According to the US regulator, Amazon removed the illegal pesticides from its site after the EPA began enforcement action against the online retail giant in 2015. Repeated searches by Unearthed found that none of the six products targeted by the EPA were available through Amazon's UK site.
However, Unearthed found two of the products involved in the Amazon case – insecticide chalk and a Thai mosquito repellent called Ars Mat 12 – were widely available for purchase by UK customers on eBay. Both products are also unauthorised for sale in the UK.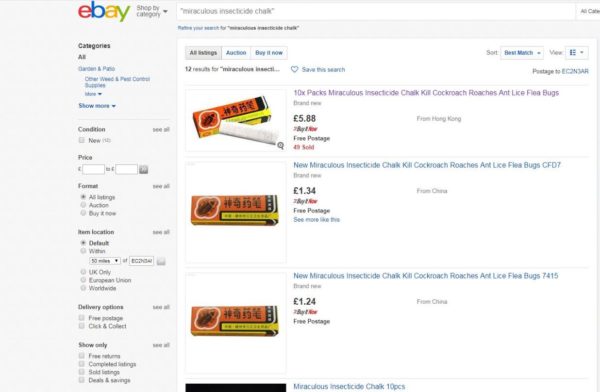 Unearthed also found products containing chemicals that are illegal to use in pesticides anywhere in the European Union. These included a Ukrainian ant powder containing diazinon, an insecticide that has been banned in the EU since 2011 on grounds that it is "very toxic to aquatic life", and an aerosol containing propoxur, a pesticide that is highly toxic to humans and aquatic life.  
But one of the most readily available banned biocides on eBay was atrazine, a weedkiller and pesticide that – controversially – is still widely used in the US, although it has been banned in the European Union for 15 years.
As with the Amazon case in the US, the illegal pesticides available for sale on eBay are offered by third party sellers, based overseas. Ebay earns a commission – typically 10% of the final amount paid – on any items sold through the site; it also charges listing fees to sellers who want to advertise large numbers of items at the same time.
Out of reach
Unearthed's investigation highlights the difficulties posed by online markets for the authorities charged with enforcing UK law on biocides and pesticides.
Under European Union and British law, active chemicals cannot generally be used in biocidal products unless they have been carefully evaluated and approved by the European Commission.
Companies that want to produce or import the chemical for biocidal use need to go through a long and expensive process to provide evidence of its safety and effectiveness. Once a chemical is approved, any products containing the chemical need to go through a UK-based evaluation and approval process before they can be sold in the UK.
It is an offence to make an unauthorised biocidal product "available on the market", punishable by an unlimited fine or up to six months imprisonment at magistrates court, and up to two years imprisonment at crown court.
However, sellers based outside of the EU who market the products through websites like eBay are "effectively out of reach of controls on pesticides and biocides in the UK", according to a statement from the Health and Safety Executive.
Westminster City Council cabinet member Ian Adams said the law did allow trading standards to take action against host platforms like eBay "but only if the host platform has knowledge of an illegal activity and fail to take action."
A spokesman for the HSE, which is the "competent authority" for biocides regulations in the UK, said that the regulations imposed a duty on anyone making a biocidal product "available on the market". The extent to which these duties applied to host websites like eBay "depends on the role they are playing in the supply chain".
He added: "Each case is considered on its own merits and will determine any subsequent enforcement action.  
"Local Authority Trading Standards have the lead in enforcing duties relating to advertisement and supply to consumers.  The [Biocidal Products Regulations] and [Plant Protection Products Regulations] can only place duties on legal entities established within the EU.  All of the sellers referenced are from outside the EU."
This story was updated at 2.30pm on 25 July 2018, to reflect the fact that further listings of illegal pesticides had been found on the site, and to include eBay's response to this finding. 
What we bought
Miraculous Insecticide Chalk
When the Environmental Protection Agency took action against Amazon.com for aiding the distribution of Miraculous Insecticide Chalk in the US, the EPA warned that "children can easily mistake insecticide chalk for blackboard chalk or put it in their mouths" leading to health problems "including vomiting, stomach pains, convulsions, tremors, loss of consciousness, and serious allergic reactions."
The US regulator said it is "aware of hundreds of cases where children have become ill from accidental ingestion of these types of unregistered insecticidal chalk products".
After ordering the chalk on eBay.com, we received two boxes of Miraculous Insecticide Chalk by mail from Cambodia. They were labelled with a customs declaration describing the product as a "magic medicine pen".  The box of chalk itself gave no indication of the active substance in the chalk or its concentration, but was marked "harmless to human being and animal. Safe to use" – language that is specifically prohibited by European biocides law.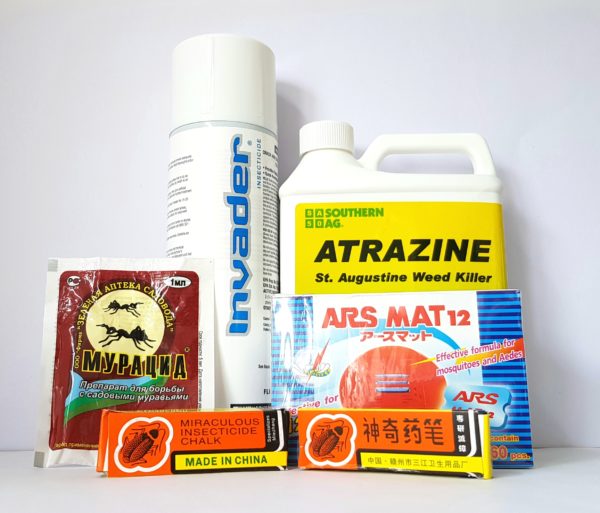 Atrazine
Atrazine has been banned in the EU since 2004, with European lawmakers citing concerns over the chemical's long-term environmental and human health impact, but that didn't stop Unearthed buying it on eBay and ordering it to the UK.
As well as "wreaking havoc" with the sex lives of male frogs, a separate study in 2011 found that women in the US drinking water with low-levels of atrazine experienced hormone irregularities. On the customs declaration on the package of Atrazine,  the item was simply described as "plant care".
Invader insecticide
Invader insecticide contains propoxur, a biocide not approved for sale in the EU which is highly toxic to many bird species, according to this draft briefing by the European Commission.
The National Institute for Occupational Safety and Health in the US states that exposure to propoxur can cause blurred vision, diarrhea, vomiting and muscle twitching. Ebay appears to have successfully removed listings of Invader from its site.
Ars Mat 12
A Thai mosquito repellent called Ars Mat 12 was widely available for purchase by UK customers on eBay, despite not being authorised for sale in the UK. The product contains active substances the EPA says can cause vomiting, palpitations, and blurred vision. We bought it for £5.99, excluding postage and packaging.
Muracid
This Ukrainian ant-killer contains diazinon and was purchased from eBay.co.uk for just £2.20, excluding postage and packaging.  The chemical – which is not approved in the EU for use as a biocide – has been found to have a detrimental impact on wildlife. An EU report recommended that diazinon not be approved, in part due to "the acute risk to insectivorous birds"; "long term risk to insectivorous mammals" and "the high toxicity to aquatic organisms".
This original Unearthed investigation was covered by Press Association and featured on ITV News, Daily Mail, and others.