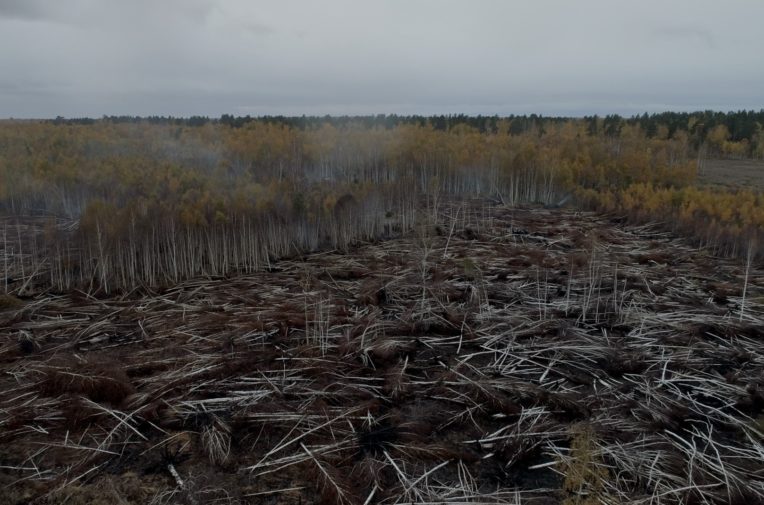 The aftermath of a forest fire near Lake Baikal, Siberia, in September 2018. Photo: Greenpeace
Mapped: Russia's devastating wildfires
Groundbreaking analysis of satellite imagery reveals the human activity linked to vast majority of catastrophic Siberian forest fires
Mapped: Russia's devastating wildfires
Groundbreaking analysis of satellite imagery reveals the human activity linked to vast majority of catastrophic Siberian forest fires
The aftermath of a forest fire near Lake Baikal, Siberia, in September 2018. Photo: Greenpeace
Wildfires that ravaged millions of hectares of land and forests in Russia last year may have been caused by so-called "prescribed burning" – a controversial practice intended to prevent the spread of forest fire.
That's according to a new analysis of 2018's Siberian wildfires carried out by GIS specialists at Greenpeace's Global Mapping Hub, who found that the overwhelming majority of those fires started close to places where people travel, work or live, or to sites of deliberate 'prescribed burnings'.
Across the four regions studied the proportion of fires fitting into this category ranged from 65% in Krasnoyarsk Krai to 99% in Amur Oblast.
In Amur Oblast alone, around a quarter of the fires identified – with a burned area of 2.8 million hectares – were spatially linked to areas where the forestry service had conducted prescribed burnings. The mapping hub said this indicated that the prescribed burnings "either caused fires, or did not fulfil their intended function, which is to prevent the burning of dry forests".
In each of the four regions analysed, a number of wildfires were spatially linked with logging sites, with the total burned area of these fires ranging from 139,000 hectares in Zabaykalsky Krai to 200,000 hectares in Amur Oblast.
How it was calculated
On average, an estimated 2 million hectares of forest are lost to wildfires in Russia each year.
To better understand the causes of these fires, the mapping hub analysed remote sensing data for four huge regions of Siberia – with a combined landmass of 3.9 million square kilometres – that have been the most badly hit by wildfires.
Using a combination of imagery from the Sentinel-2 satellites and hotspot data from NASA's Fire Information for Resource Management System (FIRMS), the GIS experts mapped all 2018 wildfires in these regions with an area greater than 1,000 hectares. The total area burned in these fires was 9.4 million hectares, of which 6.1 million hectares was forest.
They then mapped all identifiable traces of human activity close to the starting points of these fires, including human settlements, logging sites, and roads, as well as forestry service data on the sites of "prescribed burnings". Prescribed burning is a practice intended to reduce the risk of a hot and uncontrollable fire, by setting small fires to burn away potential fuel like leaf litter and dropped branches.
Evidence of human activity close to the starting point of a wildfire does not conclusively prove it was started by humans, but, according the mapping hub, it does indicate a high probability that it was – particularly in very sparsely-populated regions.
You can examine the analysis and its findings in more detail in the interactive map above.