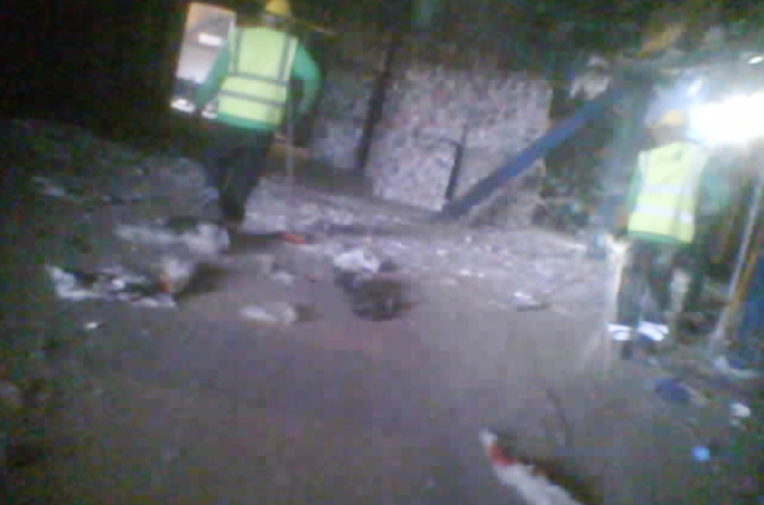 Smugglers Way is the name of this recycling plant in Wandsworth, West London. It's run by the Western Riverside Waste Authority (WRWA), a public body that handles waste for four London boroughs that are home to close to one million people, through a contract with private firm Cory. Photo: Unearthed/the Telegraph
Undercover in a London recycling centre
We went undercover at one of London's recycling plants. This is what we found
Undercover in a London recycling centre
We went undercover at one of London's recycling plants. This is what we found
Smugglers Way is the name of this recycling plant in Wandsworth, West London. It's run by the Western Riverside Waste Authority (WRWA), a public body that handles waste for four London boroughs that are home to close to one million people, through a contract with private firm Cory. Photo: Unearthed/the Telegraph
The conveyor belt is so fast here that workers are told not to look at it straight on, in case it makes them dizzy. 
All manner of household items come through the doors of this recycling plant. Plastic, paper and cardboard are common of course, but many somewhat less recyclable items speed through too: a needle, a drill, used nappies, somebody else's underwear. 
Rats jump on the line as cockroaches skuttle along the floor. 
In this hub for West London's recycling deluge the  time to sort the recyclable from the unrecyclable is sparse: less than two seconds per item. Workers have got targets to meet and – in common with most of the industry – they must do so on pay that is less than the London living wage and without any standard hours of work written into their contracts. 
Depending on which part of the plant they are in, workers must pick 35 to 48 items of waste off the line every minute, leaving the recycling to pass through, to be re-sorted, sampled, and eventually sent out of the plant to a furnace, paper mill, reprocessing or recycling plant.
An undercover reporter working as part of a joint investigation by Unearthed and The Telegraph found staff have a demanding job. Working at speed they are meant to take off both 'non-target' material – like plastic bags not accepted at this plant – and any material which may be contaminated. Unopened clear recycling bags, our reporter was told, should be opened and sorted as the line speeds by.
A worker pulls a plastic bottle off the line and chucks it into the general waste bin next to them. Later, they do the same with some newspapers. Into the same bins black bin waste is thrown, alongside used nappies, sanitary items and toilet brushes, as well as food and garden waste. On a different day, a different worker pulls off cardboard, and then later a milk carton. Others pull off paper or full clear recycling bags that are unopened.. Over several weeks, at least six different workers are filmed appearing to dump items that may be recyclable in the bin. 
Some appeared clear of contaminants but the company which runs the plant and has seen some of the footage claims workers were always acting properly taking off water bottles with clear liquid and even spotting non-target material such as black bin bags in unopened recycling sacks.
"In the clip it looks, to our trained eye, that the two clear bags removed contain black bin bags inside so should not be opened or left on the conveyor belt. In this sort of case, the worker deserves praise rather than censure and we urge readers to look closely at the footage and judge for themselves,"said Dougie Sutherland, CEO of Cory Riverside Energy.
Breaking: Unopened recycling bags picked from the line and sent for incineration as workers battle rats, cockroaches and targets – inside a London recycling centre.

Read our new joint investigation with @Telegraph: https://t.co/P5ct4Wp05G pic.twitter.com/q1RpKPYok9

— Unearthed (@UE) June 26, 2019
Incineration
Smugglers Way is the name of this recycling plant in Wandsworth, West London. It's run by the Western Riverside Waste Authority (WRWA), a public body that handles waste for four London boroughs that are home to close to one million people. It runs the plant through a contract with Cory Riverside Energy, a waste management firm sold in a £1.5bn deal last year. 
Cory say that 87% of what is collected can be recycled, and that 99% of these recyclables are recycled, residents, they assured "can be confident that their efforts to clean and sort their recyclables are not in vein". 
Some of the figures – including the amount of incoming recycling that is contaminated – are audited by the Environment Agency, others in this industry are less transparent making it hard to independently verify the claims. The company declined to share data it holds on how contaminated the bales of ready-to-recycle materials are. 
Waste from Smugglers Way is sent down the river to be burned at one of the UK's biggest incinerators, on the Thames in Kent.
There's a lot of economics around recycling and a lot of money in waste. Companies try and maximise their profit with the minimum amount of effort
Not all the material sent to incineration plants is unrecyclable. According to WRWA and Cory, in 2018/19, 15% of the materials they received was rejected for contamination reasons. Some of this will be rubbish – like nappies – that should never have appeared in the first place. Other items which could, in theory, be recycled may  be too contaminated;for example because they are too dirty and so fall foul of sorting protocols, such as water bottles which aren't empty. 
But because waste is a commodity even some sorted recycling makes its way to the incineration plant. The  WRWA told us that "if on occasion, Cory can't find reputable markets then the material is sent for energy recovery with WRWA's agreement." They say that this is a problem for plastic sacks, pots, tubs and trays, but they say that this makes up less than 1% of the material sent to their facility. However a recent survey of 50 local authorities suggests the issue is widespread. 
"You get a lot of rejects when you go to a MRF because they're making a commodity [recyclate] that's sold and they want high quality," Prof Karl Williams, head of the centre for waste management at the University of Central Lancashire told the Telegraph. 
"Some of these companies end up throwing away a lot of stuff that is perfectly good for recycling because of the process they have for sorting and rejection. Because they're selling it they want to sell it at the highest value therefore the purer the product is the better value they get for it and the more contaminated the lower the value is."
"There's a lot of economics around recycling and a lot of money in waste. Companies try and maximise their profit with the minimum amount of effort." 
Cory Riverside Energy said: "The MRF, in Wandsworth, London, is one of the highest quality, best-run and most modern recycling facilities in the country. We work closely with multiple partners to ensure our health and safety procedures are of the highest standard." Any problems may be greater elsewhere, as Unearthed did not visit any other facilities.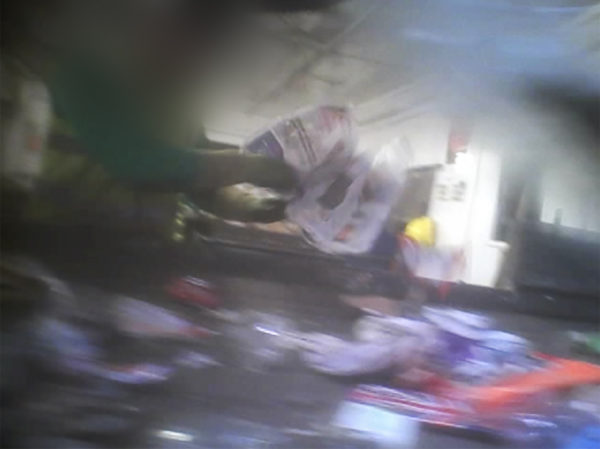 'People working on the frontline of environmental protection'
Indeed the process of sorting recycling is at the heart of the  global waste crisis which has emerged in many forms and in many places. Last month, Malaysia announced it would be returning 3,000 tonnes of unrecyclable plastic waste to the UK, US, Australia and Canada. This week, one of the UK's biggest waste firms, Biffa Waste Services, was convicted of sending illegal waste – including nappies, electric cables and an umbrella – to China. 
Last summer Unearthed found plastic waste from British households at illegal dump sites in Malaysia. At a shut-down recycling facility next to one site, we also found recycling bags that had been ripped open, probably at a UK sorting facility. These bags had the logos of different local authorities stamped onto them, including Hammersmith and Fulham and Kensington and Chelsea. These two councils say they do not ship recycling or waste to Malaysia. Several councils suggested to Unearthed that the bags could have been deposited in another borough and shipped from there. 
The waste for both of these councils is managed by WRWA, alongside waste from the boroughs of Lambeth and Wandsworth. Three councils said they are investigating the issues at WRWA, with Hammersmith and Fulham having begun their investigation before being contacted by Unearthed and Lambeth saying they plan to follow suit. 
Politicians on both sides have also responded to the findings. 
I also don't like it when he's watching….it makes everyone nervous
Chair of the Environmental Audit Committee and Labour MP Mary Creagh told Unearthed: "It is a serious concern that people working on the front line of environmental protection face rats, low pay and insecure work. Council taxpayers want to know that all the plastics, paper and cardboard they place in their green bins are being carefully sorted and recycled and not incinerated. The waste industry must clean up its act, pay employees a London living wage and ensure decent working conditions." 
Environment Secretary Michael Gove told the Telegraph: "through our landmark Resource and Waste Strategy, we are introducing a more consistent set of recyclable materials for collection in England, no matter which part of the country people live in. It's one of many truly game-changing innovations we're bringing forwards to help everyone reduce their waste. Together we can all lighten our footprint on the planet so it can flourish for generations to come."
Rats, liquids and needles
The disposal of recyclable items into waste bins is not the only concern from our reporter's time at Smugglers Way. 
Speed is not the only challenge workers face, although it is a substantial one. They are closely monitored to see that they meet the targets, by cameras that are positioned around the facility and inside the sorting cabins. Sometimes team leaders stand behind staff to assess their speed. 
"I also don't like it when he's watching….it makes everyone nervous," said one worker.
Another, speaking to the reporter, said that if they were worried about not working fast enough, to simply grab whatever is in front of them "like a raccoon".
Another commented that: "there's a lot of carelessness here".
However a team leader told the reporter that "it's better not" to throw recyclable items away because it's a "waste of material".
Workers fear that if they are not fast enough, they will be fired. They believe that multiple colleagues have been fired for that reason, with others given written warnings. 
"If you do something wrong and you will be too slow, (the manager) will ask you to come to the office and she will fire you. She is watching all the time, she has been monitoring us  in the office," one colleague told the reporter. 
But another worker said that they were also being monitored to see that they were picking the right things off the line.
"Maybe you're doing it fast but you're throwing the wrong things, which is worse," they said. 
Cory state that they make it clear to workers that they should not throw recyclable materials into waste bins and that if a worker does not reach "expected, reasonable levels" of performance then a verbal discussion and written record is made. Six of these notices have been issued for non-performance since March, they told Unearthed.. 
There are dangers on the line too. The reporter once opened a bag on the line and an unknown liquid splashed onto their cheeks. Another time, the reporter saw a colleague pick up a needle with a gloved hand. Cory state that all accidents, hazards and near-misses must be immediately reported and that their induction outlines the procedures for dealing with dangerous items. 
Rats are often seen running around work spaces, on the conveyor belts, in the sorting cabins and among the recycling bales. Cockroaches are common too, including in the locker rooms; one worker complains that a cockroach made it home with them in their clothing. Cory state that the presence of pests in the waste management industry are unavoidable and that pest control services visit the plant on a monthly basis.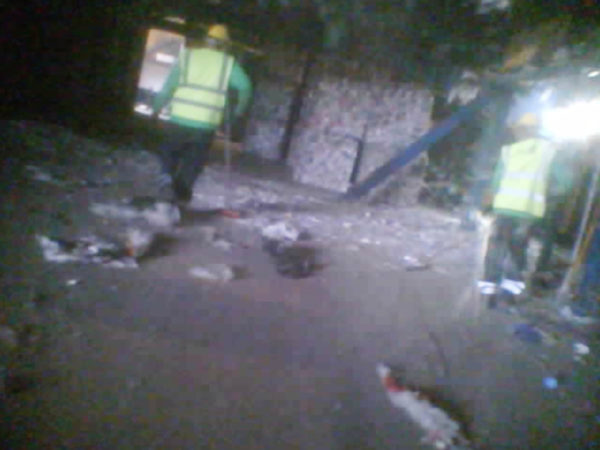 "We have also been conducting our own investigations"
Cory Riverside Energy said:"It's disappointing that an undercover reporter has gone 'behind the scenes' in a facility that already opens its doors to thousands of people every year from the community, schools, competitors and the media."
WRWA said: "WRWA is committed to ensuring that the waste and recyclables delivered by its constituent councils is managed in a safe and environmentally responsible manner. We are proud that the Materials Recycling Facility operated by Cory Riverside Energy (CRE) recycles 99% of the recyclable material it receives and that the non-recyclable material it receives is sent for energy recovery rather than going to landfill."
A spokesperson from Hammersmith and Fulham council said: "We share many of the concerns raised about WRWA which is why we also have been conducting our own investigations. We welcome the work that Greenpeace and the Telegraph have been doing. WRWA are locked into a contractual relationship and as a minority partner we don't have control over WRWA. What happens at WRWA is not transparent to us. Residents have the right to expect that their recycling doesn't end up in the incinerator."
Cllr Cem Kemahli, Lead Member for the Environment, Kensington and Chelsea Council told Unearthed:
"I'm obviously concerned by the findings of this investigation and we are already working to investigate the claims made by Greenpeace and the Telegraph. Our borough does a huge amount to help people recycle correctly – in fact, we have increased our recycling rate for two years in a row – so our residents need to be confident their hard work is not being wasted.
"Our residents also need to be confident their recycling is being dealt with responsibly and safely – we'll provide more information as our own investigation continues."
A Lambeth Council spokesperson said: "These are deeply concerning claims regarding both working conditions for employees, and the quality of recycling services provided. We are aware that one of our partner local authorities has already started their own investigation into these issues, and Lambeth is looking to follow suit.
"Doing all that we can to tackle the climate crisis is a priority for us and adhering to the waste hierarchy is an essential part of that. Therefore, we will be deeply disappointed if our joint contractors are failing in their recycling duties and will look to take swift action."
A Wandsworth council spokesperson said: "We will be discussing the issues raised in these reports with the three other councils that use the services provided by the statutory waste authority and seeking detailed answers to these questions from the waste authority itself. Our prime focus is on ensuring waste is handled correctly and all recycled materials are processed properly."
Additional reporting by Alice Ross.