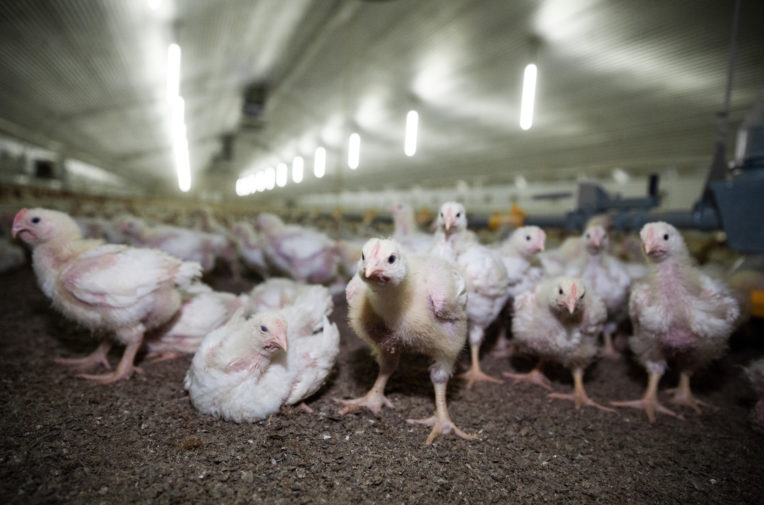 Intensively reared chickens in northern Germany. Around 75% of global soy and maize production is to feed animals, particularly poultry and pigs. Photo: Fred Dott / Greenpeace
Demand for animal feed is driving the hazardous pesticide industry, data reveals
Unearthed and Public Eye investigation finds close to half of highly hazardous pesticide sales in 2018 used for soya and corn
Demand for animal feed is driving the hazardous pesticide industry, data reveals
Unearthed and Public Eye investigation finds close to half of highly hazardous pesticide sales in 2018 used for soya and corn
Intensively reared chickens in northern Germany. Around 75% of global soy and maize production is to feed animals, particularly poultry and pigs. Photo: Fred Dott / Greenpeace
Commodity crops grown mainly for animal feed are a driving force in the global market for hazardous pesticides, analysis of exclusive agrochemical industry data has found.
Unearthed and the Swiss NGO Public Eye obtained and analysed more than $23bn of pesticide sales data from 2018 from leading agribusiness intelligence firm Phillips McDougall, in which we identified $9.9bn of sales of chemicals on the Pesticide Action Network International 2019 list of highly hazardous pesticides (HHPs).
Close to half of those HHPs (44%) were sprayed on just two crops: soya beans and maize. An estimated three quarters of the world's soya and maize production ends up as animal feed for the meat industry, particularly for chickens and pigs.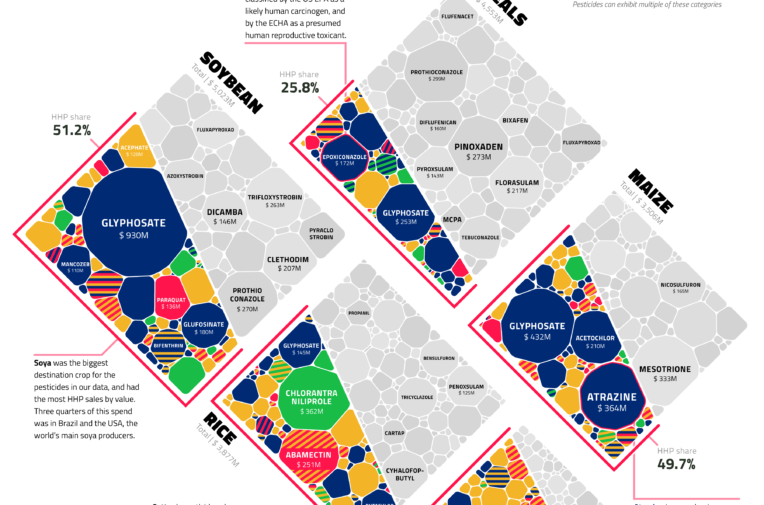 By value, soya was by far the biggest market in our data for pesticides of any kind and for HHPs. More than half of those sales were destined for the vast soya plantations of Brazil.
Larissa Bombardi, a professor of geography at University of Sao Paulo, told Unearthed that the enormous amount spent on pesticides and HHPs for soya in Brazil was driven partly by the enormous amount of land turned over to this monoculture. 
Brazil now has more land turned over to soya than the surface area of Germany. Its soya plantations now cover a record 36.9m hectares, according to the United States Department of Agriculture. The South American country is expected to overtake the US this year as the world's leading soya producer.
Added to this, professor Bombardi said, more than 90% of the soya grown had been genetically modified to be resistant to herbicides like glyphosate, allowing these chemicals to be used more intensively.
She told Unearthed that, in addition to driving deforestation and increased use of pesticides this industry was also having "an impact on food security", because Brazil was seeing a reduction in the amount of land planted with "the four crops that are the basis of national food": wheat, cassava, rice and beans.
"Brazil has been importing beans for ten years," she added. "It's crazy."
The Phillips McDougall data covers only 40% of the total global market for agrochemicals, but that comprises the leading products in the most valuable "market segments" of the pesticide industry. An example of a market segment would be "herbicides for soya in the US" or "insecticides for cotton in India".
So while it does not tell us where all pesticides are used, it does show us which crops represent the biggest markets for major pesticide manufacturers.
Visualisations by Nadieh Bremer / Visual Cinnamon. Additional reporting by Lucy Jordan.