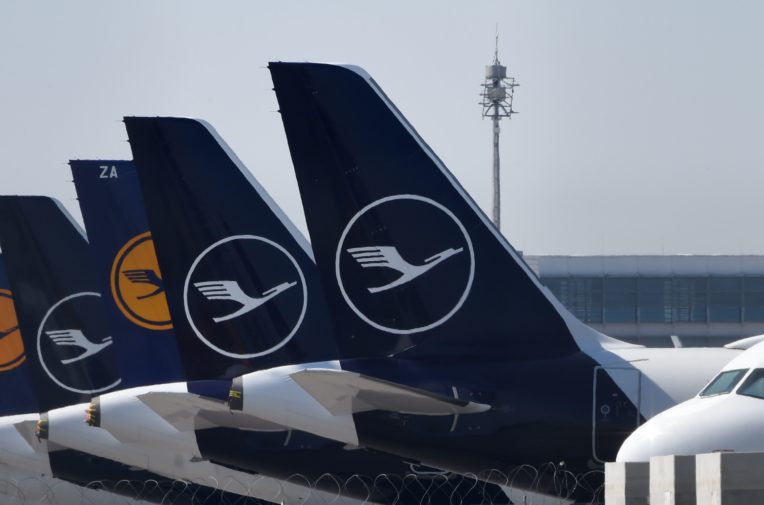 Planes across the globe are grounded as governments limit travel to halt the spread of the coronavirus. Photo: Christof Stache / Getty Images
Documents reveal airline industry plan for tax breaks, subsidies and voucher refunds
Strategy seen by Unearthed includes "aggressive global campaign" to give passengers vouchers instead of cash refunds for cancelled flights
Documents reveal airline industry plan for tax breaks, subsidies and voucher refunds
Strategy seen by Unearthed includes "aggressive global campaign" to give passengers vouchers instead of cash refunds for cancelled flights
Planes across the globe are grounded as governments limit travel to halt the spread of the coronavirus. Photo: Christof Stache / Getty Images
Lobbyists are coordinating a massive effort on behalf of airlines to push governments and airports around the world to roll back environmental taxes and set up bailout funds in the midst of the coronavirus crisis, confidential documents seen by Unearthed reveal.
Even as the world's borders close, a strategy document produced by the airline industry shows it is lobbying for public money to be poured into funds to restart or maintain air travel and for any planned tax increases to be delayed for up to a year.
The document details lobbying strategies for Europe, the Americas, Asia and the Pacific, North Asia, Africa and the Middle East.
An email to IATA members also describes "an aggressive global campaign" to ensure that airlines can offer passengers vouchers rather than cash refunds if flights are cancelled – meaning emissions will increase as passengers re-book at a later date. 
Meanwhile, a letter from an Emirates executive to New York's port authority reveals that America's largest international airline has gone beyond the IATA guidance, asking US airports for tax increases to be deferred until 2022. 
Campaigners are concerned that the aid may last longer than the crisis and would allow the airline industry to receive public support without any undertakings to reduce emissions. 
Governments can't afford to be bailing out polluting sectors without strict green conditions
Jo Dardenne, aviation manager at campaign group Transport and Environment, told Unearthed: "We fear that this list of demands is a way for airlines to reduce charges not only now but also once things go back to 'normal'. 
"Any financial aid to the sector should be conditional on them paying their taxes and committing to governments' plans to regulate the climate impact of the sector. Given the current climate emergency, governments can't afford to be bailing out polluting sectors without strict green conditions."
The IATA also released a position paper calling for rules restricting emissions to be changed. Under a current industry plan, 2019 and 2020 airline emissions would be used as a baseline and airlines would have to offset any emissions beyond them. After a dramatic fall in the level of emissions for 2020, however, the IATA is now lobbying for only 2019 to be used.
A spokesperson for the IATA said the group has estimated airlines "will burn through $61bn in cash during the second quarter – with very little revenue coming in the door to replenish their cash position". 
They added: "IATA previously estimated that at the beginning of the year, airlines had, on average, two month of cash reserves. In this environment, airlines are seeking cost reductions everywhere they can, and IATA is supporting them in this effort."
Global lobbying strategy
The IATA lobbying guidance, which was mistakenly uploaded to the backend of the group's website and removed when Unearthed asked about it, recommends airlines lobby governments and airports for, among other measures:
The immediate reduction of all charges and taxes

Deferral of any planned increases in charges and taxes for 6-12 months

Setting up of funds to help airlines restart or maintain routes

Reducing airport staff numbers to save money rather than using airline charges
It advises a different focus for each global region, noting that European rules on state aid may cause problems, advising airlines to focus on airports in the Americas and stating that governments in Asia and the Pacific tend to have greater influence over their industries.
The global pandemic has had a dramatic effect on the airline industry, which ordinarily emits a significant amount of carbon dioxide into the atmosphere every year. Passenger numbers have fallen sharply as states around the world have placed limits on travel, attempting to halt the spread of the coronavirus.
According to an email sent by the IATA to its members – which also seems to have been mistakenly uploaded to the group's website – the IATA has written to 85 heads of state urging them to provide financial support.
In the US, the government included a $60bn bailout of the industry in its coronavirus stimulus bill but in the UK, the chancellor has warned airlines they will receive only "bespoke" help.
The IATA email gives details of how successful its strategy has been up to this point. It notes the US bailout and says that country's Department of Transportation is "considering" whether to change the law to allow voucher refunds instead of cash. Canada, meanwhile, has allowed airlines to use vouchers.
Besides our general position that those fees should be removed, it's even more important during this time of crisis
In Europe, it notes, 12 countries have expressed support for vouchers but the European Commission has not yet proposed an amendment, which is necessary for the change to be made.
The guidance, meanwhile, suggests that government-owned airports may be more likely to agree to aid measures than privately-owned ones, which will still seek to deliver returns to their shareholders. Emirates' letter, seen by Unearthed, shows the airline following this strategy.
On the rents that airlines generally pay to airports, the IATA guidance argues: "Besides our general position that those fees, which are not linked to any additional service provided, should be removed, it's even more important during this time of crisis."
As well as giving advice to airlines, the IATA guidance outlines its broader lobbying strategy, noting: "All IATA regions have been active to reach out to governments to emphasise the extreme financial pressure on airlines and to ask for relief measures / packages."
No new taxes until 2022
Emirates is the biggest airline in the USA not to benefit from Donald Trump's bailout and it has written to US airports where it operates to request many of the same measures included in the IATA guidance.
While airlines in the USA have been granted a tax holiday by the central government, many airline taxes are administered locally by airports and so would not be included in this.
In the letter seen by Unearthed, Geoff Hounsell, Emirates' vice president of flight operations support, went beyond the IATA guidance, asking for no new or increased taxes or charges until 2022.
Parts of Hounsell's letter are word-for-word identical to the IATA guidance.
Adie Tomer, a fellow at the Brooking Institution, argued that Emirates has little leverage over port authorities. Using the example of New York, he told Unearthed: "New York doesn't need Emirates. Emirates needs New York.
"It's like saying, 'We're not going to serve London or Paris anymore.' No. You need the global business centre."
This is the latest example of industry pushing for environmental measures to be removed to mitigate the impact of the pandemic. Last month, Unearthed reported on the car industry's push for EU climate targets to be delayed.
Neither Emirates nor the Port Authority of New York responded to requests for comment.