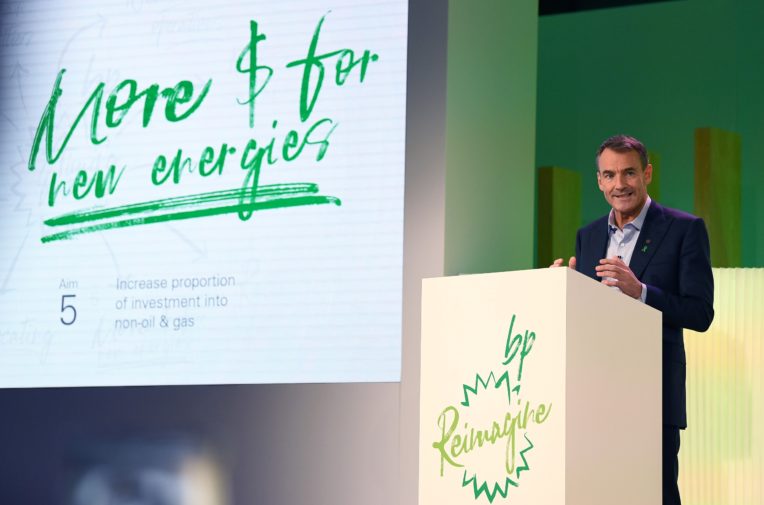 BP put millions of dollars from its 'low carbon transition' fund into companies like a private jet app and a firm using AI to look for oil. Photo: Daniel Leal-Olivas/AFP via Getty Images
BP spends 'low carbon' money on finding and using fossil fuels
Analysis of hi-tech venture capital division reveals it is being used to fund technologies which will increase supply and demand for fossil fuels
BP spends 'low carbon' money on finding and using fossil fuels
Analysis of hi-tech venture capital division reveals it is being used to fund technologies which will increase supply and demand for fossil fuels
BP put millions of dollars from its 'low carbon transition' fund into companies like a private jet app and a firm using AI to look for oil. Photo: Daniel Leal-Olivas/AFP via Getty Images
The oil giant BP has used money from a "low carbon transition" fund to buy shares in companies developing new ways to find and use fossil fuels, Unearthed can reveal.
Companies using AI to help drill for oil, a private jet app developer and a firm generating carbon emissions from fossil fuels to create animal and fish feed are among those to have received substantial investment, alongside investments in clean energy.
BP made these investments through its venture capital unit, which it uses to buy shares in tech companies. The oil giant claims that this unit invests in "a portfolio of relevant technology businesses that will help BP transition to a low carbon economy". 
But Unearthed used the market data platform CB Insights to analyse its portfolio, finding that it has backed companies which contribute to climate change by driving the extraction and unabated use of fossil fuels.
It made its latest investment of this kind as recently as April, just eight days after CEO Bernard Looney, in an update to investors, again claimed that his ambition is "to make BP a net zero company by 2050 or sooner and help the world achieve the same goal".
This was BP's second investment in a company called Belmont Technology, which runs an AI platform nicknamed Sandy.
Sandy analyses particular oilfields to find information that will help engineers to extract oil much more quickly.
Because BP's investments in these firms are private, full data is not available. 
But the available data shows that where it was the only investor, BP spent $95m on shares in companies which help find, extract or use fossil fuels.
As a sole investor, the oil giant put just $31.3m into companies which seek to reduce the use of fossil fuels and $13.9m into firms with no impact on the climate either way.
BP also bought shares where, at the same time, other investors put money in as well. For these, it is impossible to tell what proportion of the total funds BP provided.
Unearthed found that BP has had some involvement in funding rounds worth $382.9m for companies which do seek to mitigate the impacts of climate change. Meanwhile, it had been a co-investor in companies contributing to climate change for funds worth $41.7m and for $42.8m in those with no impact either way.
When Unearthed asked BP to provide more data, the company refused.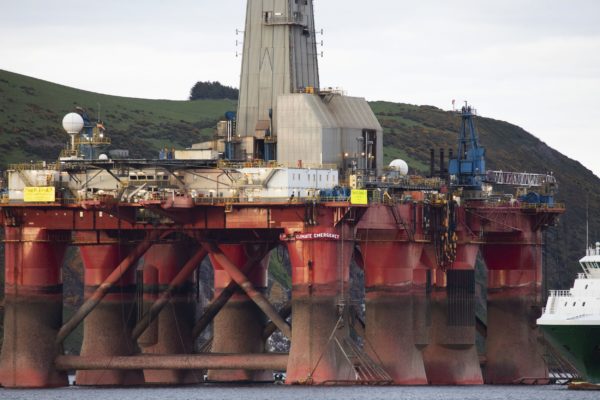 One of BP Ventures' biggest sole investments is with a company called Calysta. BP put $30m into this firm last summer.
Calysta uses microorganisms to convert methane – produced by BP – into animal feed, a technique it says will reduce the demand for land to grow food for livestock.
The company commissioned the Carbon Trust to look into the environmental impact of its product. But Carbon Trust's report found that Calysta's technique would emit far more CO2 than almost any other way of making feed, unless it used biogas to make the food.
Instead of doing this, Calysta has so far partnered with BP to provide methane – a greenhouse gas – for the process. The firm is also now focusing its efforts so far on food for aquaculture, rather than livestock. 
When contacted by Unearthed, Calysta shared part of a new report from Carbon Trust on its product. This showed that in some circumstances, the product would contribute to global warming less than soy protein concentrate or insect meal. In other circumstances, however, it would contribute more.
A spokesperson for Calysta said the product had other benefits beyond emissions: "The world is facing an enormous challenge: it needs more protein to feed a growing population. FeedKind is one of the very few products that can meet this demand head-on without using more of our precious green spaces; without taking more wild-caught fish out of the sea; and by using very little water."
'A new level of audacity'
Other current BP investments include the $20m it put behind the company Beyond Limits, which, like Sandy, uses artificial intelligence to find new places to drill for oil.
AI has been a popular technology with oil companies. Tech giants Microsoft and Amazon use AI and computing power to help them find and access new oil deposits around the world. Google, on the other hand, announced in May that it would no longer help oil companies speed up oil and gas extraction.
A BP spokesperson told Unearthed: "We expect our venturing business to play a vital role in helping achieve this as it invests in game-changing technology companies that can accelerate innovation across the entire energy spectrum.
"We have invested a total of $690 million in over 50 businesses in these areas so far. Around 10% of our total investment has been into businesses operating in the traditional upstream sector as we seek to make it cleaner and more efficient."
The spokesperson argued that its investments in AI fitted into the latter category and also improved safety.
"It is a new level of audacity for Big Oil to team up with Big Data to find more oil and gas and call it a climate investment."
Bronwen Tucker, research analyst at Oil Change International, told Unearthed: "Oil majors have had 30 years to align their business plans with a liveable climate. Instead of doing so, they're using paper-thin claims of climate action that don't stand up to scrutiny – this is just the newest in a long line of examples.
"It is however a new level of audacity for Big Oil to team up with Big Data to find more oil and gas to extract, only to turn around and try to call it a climate investment."
BP Ventures has also invested in Victor, a private jet app which BP exited earlier this year after the company became insolvent.
Launchpad
As well as its venture capital unit, BP has a subsidiary called Launchpad, which is aimed at building businesses. It wants "to build five billion-dollar businesses which tackle the dual energy challenge by 2025".
So far, it has invested in five companies. Three of these support the fossil fuel industry: 
Lytt, a subsurface analytics business focused on minimising risk at oil wells

Stryde, a subsurface imaging company whose primary purpose is helping to explore for more oil

Fotech, which develops fibre optic hardware it advertises as being useful for "hot-tapping pipelines, leaks, perimeter intrusions, moving vehicles, industrial operations, failing mechanical components"
The other two are more sustainable:
Onyx, a predictive maintenance platform for the wind energy sector

VYVE, a carbon management and offsetting app
Fellow oil companies Total, Shell, Chevron and Saudi Aramco all have their own venture capital units as well, which have similarly mixed records with their hundreds of millions of dollars. 
Shell, for example, has put money behind drones used for coal mining. Total put $56m into Booster, a petrol delivery company.  Chevron has invested in a wide range of companies to help it increase the amount of oil it can get out of the ground. Saudi Aramco has bought shares in companies to help it frack difficult places.
Total renamed its venture capital unit 'Total Carbon Neutrality Ventures' last November, saying that the fund would now be "fully dedicated to carbon neutrality".
Since then, it has invested in two sustainable energy companies.
Shell committed last month to becoming a net zero carbon company by 2050. When asked by Unearthed, however, a company spokesperson said it had made no changes to its venture capital investment policy.
BP's own net zero plan was slated in May by an analysis for leading ethical investors. The Transition Pathway Initiative, set up by the Church of England and the Environment Agency, found that its targets "fail to align with the Paris pledges and are far from alignment with 2C or net zero".