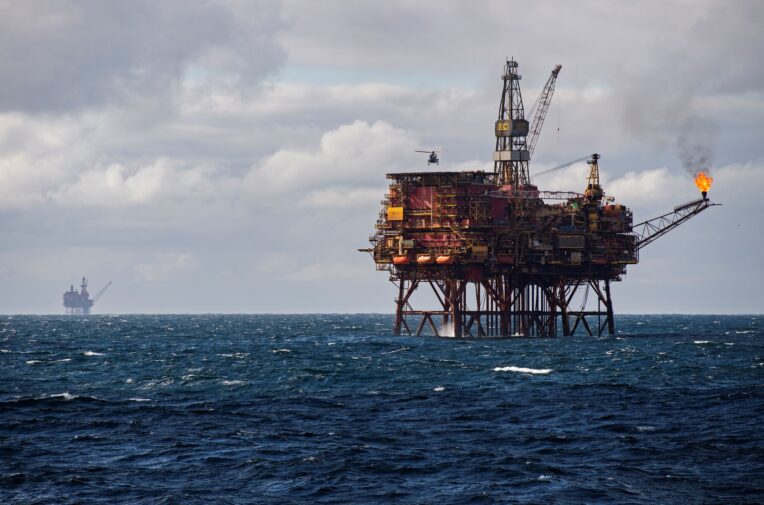 Oil companies are burning huge volumes of natural gas in order to save money. Credit: Marten van Dijl / Greenpeace
Revealed: The North Sea oil giants fueling climate change with millions of tonnes in preventable emissions
Labour calls for flaring ban as documents obtained by Unearthed reveal the companies responsible for the climate-warming emissions spewing from North Sea rigs
Revealed: The North Sea oil giants fueling climate change with millions of tonnes in preventable emissions
Labour calls for flaring ban as documents obtained by Unearthed reveal the companies responsible for the climate-warming emissions spewing from North Sea rigs
Oil companies are burning huge volumes of natural gas in order to save money. Credit: Marten van Dijl / Greenpeace
The British government is allowing oil companies to release the equivalent of a coal power station's worth of greenhouse gases into the atmosphere every year by burning off or dumping unwanted natural gas into the atmosphere, Unearthed can reveal. 
The practice – severely restricted in neighbouring Norway – is sometimes carried out for safety reasons but is more often an attempt to save money by getting rid of gas considered unprofitable to transport back to shore. 
Official documents obtained by Unearthed detail, for the first time, the companies most responsible for the massive emissions emanating from oil and gas facilities in the North Sea between 2015 and 2019, the most recent years for which data is available.  
The top emitters include Repsol Sinopec – a joint venture between Spanish and Chinese state-owned oil companies; French oil giant Total; British oil majors Shell and BP, and EnQuest, a UK-registered independent. 
The government must ban flaring
Together these companies accounted for 43% of the total emissions from burning-off, or directly releasing, natural gas into the atmosphere during this period – practices known respectively as flaring and venting. 
The investigation also found that, since 2015 – when BP, Total and Repsol promised to curb these emissions as part of their commitment to the Paris Agreement – venting and flaring  emissions from their North Sea operations actually increased. 
In contrast to Norway, which banned 'non-emergency' flaring in 1972, the UK does not have strict rules and instead leaves it to the regulator, the Oil & Gas Authority (OGA), to issue consents to vent or flare. The rate of flaring on the UK Continental Shelf is consequently 11 times higher than in Norway and twice the North Sea average, according to the consultancy Capterio. 
Despite this gulf in emissions performance, a new strategy published by the OGA last year, setting out how it will help the government to meet its net zero target, committed to reduce emissions from venting and flaring only "as far as reasonable in the circumstances." 
Ed Miliband MP, Labour's Shadow Business Secretary, told Unearthed: "The Government must ban flaring, except in dire safety emergencies, and stop turning a blind eye to this problem. It is frankly embarrassing the UK's flaring activity is twice the North Sea average, and undermines our international credibility as hosts of COP26."  
"Ministers need to rapidly invest in low-carbon energy through a proper plan for a green economic recovery, supporting the transition to a cleaner energy sector, and crucially securing and creating jobs to tackle the unemployment crisis," he continued.
Why waste gas
The vast majority of flaring occurs when companies are producing oil and do not want to pay for the pipeline infrastructure required to transport the smaller volumes of natural gas in the well  (known as associated gas) to customers on the mainland. Companies also flare in emergencies and when testing new wells.  
Non-emergency flaring during the production phase is known as 'routine flaring' and is highly controversial because it is possible to capture and sell the gas. The Oil & Gas Authority does not require companies to report precisely why they are flaring, making it difficult to fully assess which emissions were the result of routine flaring. 
Venting natural gas is more damaging than flaring because methane is more effective at trapping heat than carbon dioxide during the first 100 years following its release. As a result companies flare more than they vent, although there are still significant levels of emissions from venting.
Major emitters
Between 2015-19, oil and gas companies operating in the North Sea released 20 million tonnes of CO2e into the atmosphere through venting and flaring, with the average annual emissions over this period equivalent to those of a coal-fired power station. 
We are working to achieve zero routine flaring
According to Rystad Energy, a leading oil and gas consultancy, an estimated 77% of emissions from flaring in 2019 were the result of routine flaring. 
The worst performing company was a joint venture between Repsol and Sinopec, which produced 2,132,322 tonnes of CO2e over the course of the five years – more than 10% of total North Sea emissions from venting and flaring. It should be noted that Repsol did not acquire its stake in the joint venture from Talisman Energy until May 2015. 
Repsol Sinopec was followed by Total, which was responsible for 9% of the total emissions from venting and flaring during this period, and then Shell (9%) and BP (7.8%). 
In recent years both Shell and BP have sought to encourage public debate about how individuals can reduce their own emissions – with the latter even launching a carbon footprint calculator that encourages users to "pledge" to BP the amount by which they will cut their climate impact. 
Yet, according to the data, the combined emissions from venting and flaring by the two companies in the North Sea alone were equivalent to 5 million people flying from London to New York and back. 
The first step to reducing your emissions is to know where you stand. Find out your #carbonfootprint with our new calculator & share your pledge today!

— bp (@bp_plc) October 22, 2019
A spokesman for BP said: "We are working to achieve zero routine flaring from our operations by 2030.  Safety issues and unplanned operational events may require the need to flare, but it is always our intent to keep flaring to a minimum."
"Last year, we introduced flare gas recovery technology on our Glen Lyon and Clair Ridge installations in the North Sea, resulting in zero routine flaring on those assets and contributing to a near-45% reduction in flaring across our North Sea operations in 2020 compared to 2019," he continued.
A spokesman for Shell told Unearthed: "Minimising venting and flaring matters to us and we are working hard to tackle this important issue. Every year we publish the overall emissions from our UK Upstream business, which includes gas we vent or flare." 
"Between 2015 and 2019 we achieved a 19% reduction in these overall emissions, and we continue to invest in abatement projects," he continued. 
The data supports this, with Shell's emissions from venting and flaring specifically, falling by almost 50% between 2015 and 2019. 
Emissions data for 2020 was not available at the time Unearthed submitted its environmental information regulations request, but is likely to reflect a fall in overall oil and gas production due to the pandemic.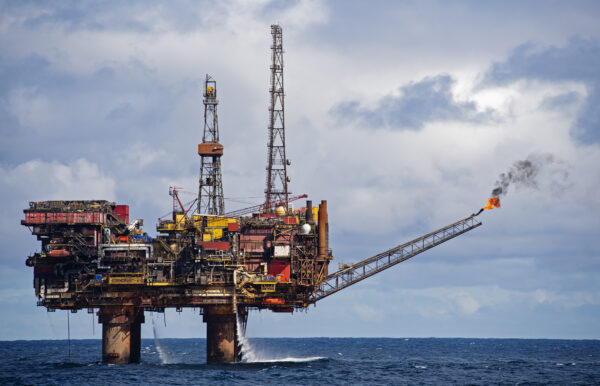 Net Zero
Since the Paris Agreement was signed in December 2015, oil companies have been under increasing pressure to explain how they will help to meet its goal of limiting warming to 1.5°C. 
Up until last year companies were keen to limit their role to reducing emissions from their operations, such as those from flaring, which are known as Scope 1 and 2 emissions. 
In the run up to the Paris talks, a group of oil company CEOs pledged that they would make "eliminating 'routine' flaring and reducing methane emissions" a key focus of their efforts to help tackle climate change.
But in the North Sea, emissions from several members of this group have remained high, with Repsol, Total and BP actually increasing the amount of CO2e they released from venting and flaring between 2015 and 2019. 
A spokesman for Total told Unearthed the company is: "committed to reaching net-zero emissions across its global operations by 2050 or sooner. In the UK we have set ourselves additional challenging interim targets of reducing our CO2e emissions by at least 20% by 2025 and lowering our greenhouse gas intensity to 10 kg/boe by 2030." 
Maximising production
Some European majors, like BP, have recently promised to go beyond Scope 1 and 2 emissions and cut their overall climate impact by reducing the amount of oil and gas they produce. 
However, much of the debate over climate change within the industry continues to focus on extracting oil and gas more efficiently, rather than reducing the amount that is produced. 
The UK's Oil & Gas Authority (OGA) backs this approach, with its new strategy focused on incrementally improving the emissions performance of the companies it regulates rather than limiting future exploration, as recently announced by Denmark.
Norway has a complete ban on flaring
This is because the OGA's overriding mandate is to "Maximise Economic Recovery" of North Sea oil and gas resources, something that was put into law following a formal review into North Sea production by oil billionaire Sir Ian Wood in 2014. 
Labour argues that the Maximising Economic Recovery strategy is untenable because it undermines net zero goals. 
Shadow business secretary, Ed Miliband, told Unearthed that the poor performance on flaring is "yet another example where the hot air from the Government about the climate emergency is not matched by real action, just like them approving a new coal mine, financing fossil fuel projects overseas and the fiasco of their botched green homes grant."
Flaring intensity
The OGA points to an overall drop in emissions from venting and flaring between 2018 and 2019 as evidence of progress. But it also recently revealed that the proportion of associated gas (the gas present in oil wells) that is flared has remained relatively constant since 2012. 
According to Jon Erik Remme, emissions solutions manager at Rystad, the rate of emissions from venting and flaring is higher in the UK than Norway because of the latter's ban on routine flaring: "Norway has a complete ban on flaring except for safety purposes, since the 1970s." 
"So every field that has been developed has been developed with that in mind, that you need to evacuate the gas or compress it and put it back in the reservoir, or have some plan of what to do with it", he continued, "that's been in place for quite some time now, which has led to the very low levels of flaring." 
A spokesman for the OGA told Unearthed it is: "looking to take a robust stance on flaring and venting – through its consents, field development process and project stewardship."
"We have expanded our benchmarking to flaring and venting as it has already been proven to raise performance levels in other areas, such as production and decommissioning cost efficiency, enabling operators to learn from good examples set by others and allowing us to focus our attention and interventions in the right areas," he continued.
The spokesman also pointed to a drop in venting and flaring between 2018 and 2019, but ignored enquiries regarding an 11% increase in emissions between 2015 and 2019. 
A spokeswoman for the department of business energy and industrial strategy (Beis), which oversees the OGA, declined to comment. 
A spokeswoman for Repsol Sinopec told Unearthed the company was committed to achieving net zero and is ahead of its industry peers in tackling emissions, having reduced venting and flaring by 34% between 2018 and 2020.  
"For the period, for which the OGA has been tracking the industry progress in flaring and venting performance (2018 – 2019), our efforts to manage emissions from our flare and vent systems resulted in a 27% reduction against a sector average reduction of 4%," she added.
Extracting CO2
Unearthed can also reveal that some oil companies operating in the North Sea are also extracting large volumes of carbon dioxide from natural gas wells and then releasing it directly into the atmosphere.  
CO2 is present in relatively large volumes in some natural gas wells and comes to the surface together with the methane that companies are targeting. In the UK this gas is vented, whereas Norway has three major carbon capture and sequestration projects, which return large volumes of this CO2 back into the reservoir from which it came. 
Between 2015-19, Total's North Sea operations released 637,598 tonnes of CO2 into the atmosphere – largely from its Elgin field, which it says is comprised of 3-4% carbon dioxide. Shell vented 59,829 tonnes from its nearby Shearwater platform. 
A Total spokesman said: "The figures for the Elgin-Franklin platform between 2015 and 2019 reflect the high levels of production from that platform and also the chemical composition of the gases produced, which required venting." 
"In 2020 we took decisive steps to address this by modifying the platform's process system that led to a 90% decrease in venting and an overall net reduction in emissions by 84,000 tonnes of carbon dioxide equivalent per year. We are also in the preliminary stages of looking at how the remaining emissions from Elgin-Franklin could be transported to shore for processing," he continued.
A spokesman for EnQuest said: "EnQuest's priority is delivering safe results, with no harm to our people and respect for the environment."  
"We expect our group scope 1 and 2 emissions to reduce by around 15% in 2020 compared to 2019 and, looking ahead, we are targeting a further 10% reduction in emissions over the next three years from a year end 2020 baseline, through the implementation of various initiatives," he continued.
The data
Unearthed obtained the data from the National Atmospheric Emissions Inventory (NAEI) – a government agency – through an Environmental Information Regulations request.
The data provided by the NAEI was from the government's Environmental Emissions Monitoring System (EEMS), supplemented by data from the EU Emissions Trading System (EU ETS) database (which is regarded by NAEI as more accurate). 
As noted by NAEI in its response, the EU ETS data does not include figures for "Total gas flared" – as this is considered commercially confidential by the EU. It does, however, include the data for how much CO2 was emitted by flaring. Despite this limitation, we have decided to rely on the EUETS where it differs from the EEMS data and to focus on CO2 emitted rather than total gas flared. This is because, as advised by the NAEI, the EU ETS data is more accurate. 
Similar information requests were made to the Oil & Gas Authority, which initially refused to provide the data and then, following an internal review, provided it as a pdf, copy and pasted from a spreadsheet. The OGA then ignored requests for the data in its original format and subsequent questions about why it had done so.