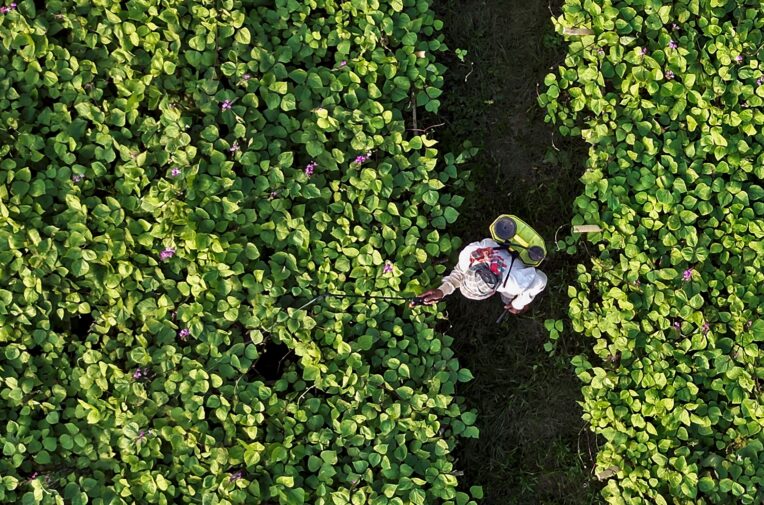 A farmer sprays pesticides in a bean field on the outskirts of Dhaka, Bangladesh, 2022. The country is one of the destinations for EU exports of the banned insecticide chlorpyrifos. Photo: Munir uz Zaman/AFP via Getty
Europe shipping banned pesticide linked to child brain damage to Global South
Three years after banning chlorpyrifos from its own fields, the EU is still shipping the chemical to countries including Tunisia, Bangladesh, and Costa Rica
Europe shipping banned pesticide linked to child brain damage to Global South
Three years after banning chlorpyrifos from its own fields, the EU is still shipping the chemical to countries including Tunisia, Bangladesh, and Costa Rica
A farmer sprays pesticides in a bean field on the outskirts of Dhaka, Bangladesh, 2022. The country is one of the destinations for EU exports of the banned insecticide chlorpyrifos. Photo: Munir uz Zaman/AFP via Getty
European companies are exporting hundreds of tonnes of a notoriously toxic pesticide – banned in Europe because of its links to brain damage in children and unborn babies – to countries in the Global South. 
Documents obtained under freedom of information laws by Unearthed and Public Eye, a Swiss NGO, have revealed that in the second half of last year European companies issued notifications for the export of more than 380 tonnes of banned chlorpyrifos insecticides. The same companies plan to ship similar amounts this year.
The investigation reveals for the first time Europe's continued export trade in chlorpyrifos since its use was prohibited in the EU in 2020. This 'organophosphate' pesticide was banned from EU fields in response to scientific evidence that it caused "adverse neurodevelopmental outcomes in children". 
There are decades of research suggesting chlorpyrifos exposure harms young children and babies in the womb. Studies have linked pre-birth exposure to the chemical to developmental delays, autism, and reduction in IQ; one study found that the greater a mother's exposure to the chemical during pregnancy, the lower her child's IQ at the age of seven. 
It is not fair to poor countries that the health of many should continue to be compromised to maintain the business of a few

– Fernando Ramírez Muñoz, pesticide expert, National University of Costa Rica
Despite these risks, companies continue to export chlorpyrifos from the EU to poorer countries with weaker regulations. Almost all of Europe's 2022 exports of the chemical – sent from Belgium and Denmark by the multinational pesticide companies UPL and FMC – were destined for low- or middle-income countries (LMICs). 
The main destinations were Algeria, Tunisia, Kazakhstan, Bangladesh, Pakistan and Costa Rica. The risks posed by using highly hazardous pesticides in LMICs are "almost without exception" much higher than they would be in rich countries, according to the Food and Agriculture Organisation of the United Nations.
"It is not fair to poor countries that the health of many should continue to be compromised in order to maintain the business of a few," said Fernando Ramírez Muñoz, an academic at the Central American Institute for Studies of Toxic Substances, in Costa Rica. "Chlorpyrifos is banned in the EU because of proven facts, but it seems these facts do not apply in low-income countries."
The EU's behaviour demonstrated a "double standard", added Ramírez Muñoz: "It prohibits the use of this substance in its territories for health reasons, especially in children, but continues with its production and shipment to other countries where it is used for food production, as if in these countries the lives of infants who are exposed to chlorpyrifos have no value."
Loopholes in European law mean that when a pesticide is banned from use in the EU, pesticide companies remain free to manufacture and export it to countries where its use is still permitted. 
The European Commission (EC) has promised to bring forward proposals this year to end this practice, but it remains unclear when the consultation will begin, what the scope of the new law will be, and whether it will be enacted.
Irreversible impacts
The EU banned chlorpyrifos in 2020 after years of campaigning by health and environmental groups. By the time the ban was agreed, various member states – including the UK – had already prohibited its use in their own fields, and studies had found the chemical in the urine of mothers and children in multiple EU countries – even Sweden, where its use had never been authorised. 
This EU-wide ban "finally acknowledged the substance's irreversible impacts for health over a lifetime" and "was an important victory for the health of children and future generations," said Natacha Cingotti, health and chemicals lead at the Health and Environment Alliance.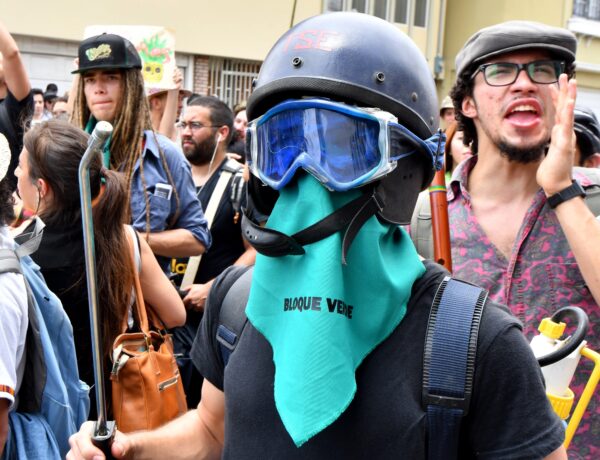 Cingotti, whose NGO was among those leading the campaign for a European ban, added: "Continuing to export this pesticide to third countries is unacceptable, [and is] seriously damaging the credibility of the European Union's global commitments to health and environment protection. 
"The intrinsic properties of a substance are not country-dependent, and people, especially vulnerable groups such as children, deserve the same level of protection everywhere."  
Shortly after the ban was introduced, the EU slashed the maximum amount of chlorpyrifos residue that could be present on imported food to the lowest "limit of analytical determination". In effect, this banned the import into the EU of food containing any detectable traces of the pesticide. 
Semia Gharbi, a Tunisian environmental science expert and chair of the country's Association of Environmental Education for Future Generations, told Unearthed and Public Eye that a shipment of Tunisian oranges was recently rejected and returned by the EU because it contained chlorpyrifos residues. 
In 2022, Tunisia was the second-largest market, by volume, for the EU's chlorpyrifos exports. 
The North African country was the intended destination for 70 tonnes of the chlorpyrifos-based insecticide Pyrical 480, exported from Belgium by Arysta LifeScience Benelux. The Belgian company, a subsidiary of the pesticide giant UPL, plans to send the same amount again to Tunisia this year.
Gharbi said it was "imperative" that the EU practice of exporting prohibited pesticides was banned, and it fit "exactly the definition of colonialism", which was to "legitimise the domination and economic exploitation of territories". 
This situation, besides being ethically and morally unbearable, leads to an imbalance of the market

– Zakia Khattabi, Belgian environment minister
The EC made a promise in 2020 to bring forward legislative proposals this year to ensure chemicals banned in the EU are not produced or exported. Environment commissioner Virginijus Sinkevičius recently wrote to civil society groups assuring them that the Commission was "fully committed" to doing this and planned to "present a proposal to the European Parliament and Council in the course of 2023".
However, the plan faces fierce opposition from the chemical lobby, and campaigners fear the proposal may arrive too late to deliver a change in the law before the next European parliamentary elections in 2024. A public consultation on the plan was supposed to begin in the first quarter of 2023, but it is not yet launched. 
Belgium, the EU's main chlorpyrifos exporter in 2022, supports an EU ban on the export of banned pesticides and is also taking steps to introduce a national ban. In December 2022, Belgian environment minister Zakia Khattabi released a draft Royal Decree that would prohibit various banned pesticide exports from Belgium. 
Noting that Belgium was one of Europe's main exporters of banned pesticides, she said at the time: "This situation, besides being ethically and morally unbearable, leads to an imbalance of the market with unfair competition from third countries who can use certain chemicals.
"There is also a boomerang effect at the expense of the European consumer, who finds imported food on his or her plate that has been treated with these harmful exported substances."
A spokesperson for Khattabi told Unearthed and Public Eye that she intended to update the Royal Decree to include a ban on chlorpyrifos exports during the next stage of the legislative process. The decree is expected to come into force in around six months.
However, a recent investigation by Unearthed and Public Eye into a similar ban in France found that while export bans by individual EU member states have an impact, they also have limitations. In the absence of an EU-wide ban, multinational pesticide companies can adapt to national bans by shifting their export trade to subsidiaries in other member states.
High health risk
One of the few restrictions currently placed on Europe's exporters of banned pesticides is the EU 'prior informed consent' (PIC) regulation. Under this set of rules, an exporting country is required to give importing countries prior warning if it intends to send them pesticides which are banned or severely restricted on its own farms.
This means that every time a company wants to ship a banned pesticide it has to produce an 'export notification' document, to be sent to the authorities in the importing country. Chlorpyrifos became subject to these rules on 1 July 2022. 
Using freedom of information laws, Unearthed and Public Eye obtained every export notification issued for chlorpyrifos shipments in 2022, and most of those issued so far this current year. 
These documents are not a perfect record, but they are the most precise paper trail available for the EU's continuing trade in this hazardous pesticide. 
They show that in the second half of 2022, Belgium was by far Europe's biggest exporter of chlorpyrifos. UPL's Belgian subsidiary notified exports of 349 tonnes of chlorpyrifos insecticides, 91% of the European total. 
These exports were destined for 16 countries, with the main destinations being Algeria, Tunisia, Kazakhstan, Bangladesh and Costa Rica. Other importing countries included the Dominican Republic, Ecuador and Armenia. UPL has already issued plans to ship another 313 tonnes of chlorpyrifos exports from Belgium in 2023. The list of destinations is largely the same, although this year it includes Serbia.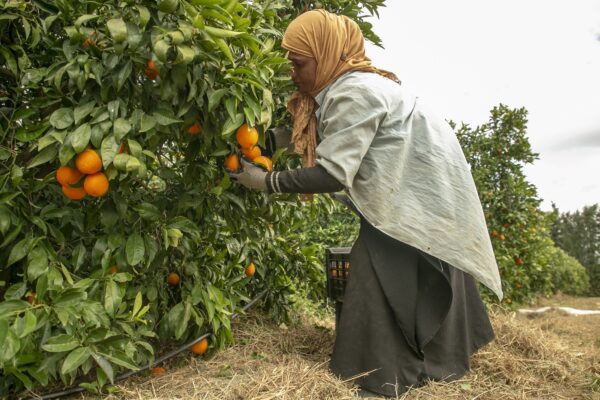 A UPL spokesperson said: "UPL is compliant with all [Belgium], EU and international laws and regulations."
Denmark is also manufacturing and exporting chlorpyrifos-based insecticides, the documents reveal. In 2022, the Danish company Cheminova – which is now a subsidiary of the pesticide giant FMC – notified the authorities of 33.2 tonnes of chlorpyrifos-based exports. Of this, 2 tonnes were destined for Lebanon, and the remaining 31.2 tonnes were for Pakistan. 
So far in 2023, Cheminova has already notified another 55 tonnes of shipments to Pakistan – a country where studies have found that exposure to chlorpyrifos and other organophosphates is linked to increased risk of metabolic disorder, and overuse of these pesticides is so prevalent that dust from farms ends up creating a 'high health risk' in major cities. 
Because chlorpyrifos causes damage to early brain development, this EU-produced pesticide harms the cognitive skills in the next generation

– Philippe Grandjean, professor of environmental medicine, Denmark
A spokesperson for FMC confirmed to Unearthed that the company was "formulating a small volume of chlorpyrifos-containing products" in Denmark.
Since 2021, the use of chlorpyrifos on food crops has even been banned in FMC's home country of the US, which has notoriously permissive pesticide rules compared with the EU. 
However, FMC's spokesperson argued that under the UN Food and Agriculture Organisation's criteria, "chlorpyrifos is not an HHP [highly hazardous pesticide]". 
He added: "Products can be registered [licensed] and effective for use on crops in certain countries as directed on their label, even if those products are not registered in other countries due to climate, crop and pest differences. All crop protection products are rigorously tested and regulated by authorities, and FMC crop protection products are considered safe when used in accordance with label instructions.
"Nonetheless, chlorpyrifos comprises a smaller and smaller portion of FMC's global portfolio."
He pointed out that the figures cited by Unearthed and Public Eye were for the total volume of chlorpyrifos-based pesticides notified for export, and that the weight of the chemical itself that was exported was therefore lower.
The concentration of chlorpyrifos in the insecticides that FMC exports from Denmark ranges from 30 to 44 per cent. 
Philippe Grandjean is a professor of environmental medicine at the University of Southern Denmark, and was one of the scientists who uncovered problems with the industry-funded toxicology that had been used to support chlorpyrifos' authorisation in Europe. 
He told Unearthed and Public Eye: "Because chlorpyrifos causes damage to early brain development, this EU-produced pesticide harms the cognitive skills in the next generation. 
"And given the damage our generation has caused, we need to protect as much as possible the intelligence of future children, as they need to generate smart solutions to all the damage that we have created."
How we did it
Unearthed and Public Eye filed freedom of information requests to the European Chemicals Agency (ECHA) and the Belgian government, in the second half of 2022 and early 2023, to obtain every export notification issued until that point for products containing chlorpyrifos. 
These are documents that companies need to issue before exporting banned pesticides to non-EU countries, under the terms of the EU's Prior Informed Consent Regulation, which is based on the terms of the UN's Rotterdam Convention. 
The documents are issued to the authorities in the importing country before shipment, and indicate the estimated amount to be exported. They are therefore not a perfect record: there are times when the amount ultimately exported is greater or less than the amount on the notification; there are also times when notified exports do not ultimately take place. However, they are the most precise record that exists of the EU's export trade in banned pesticides. 
Unearthed and Public Eye's analysis is focussed solely on the exports of banned pesticides for "plant protection use" in the importing countries. All exports for biocidal or other non-agricultural uses in the importing country were excluded from the analysis.