Tianjin: What happened next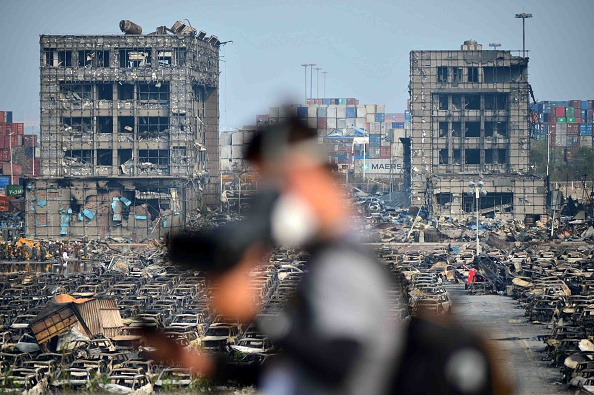 A lot has happened in China since the port city of Tianjin burst into flames seven days ago.
The death count has risen to over a hundred, the number injured stands at several times that, thousands of apartments and buildings have been reduced to rubble — replaced by an enormous crater.
Photos: High-res aerial images of the Tianjin blast crater show unspeakable devastation http://t.co/FpPdhJTGdH pic.twitter.com/YBoQu9cl6c

— Quartz (@qz) August 18, 2015
And, as we wrote last week, all the damage being done didn't simply stop after the city exploded.
It turns out there were really hazardous chemicals involved in the Tianjin tragedy that could yet do further damage.
So here's a roundup of the latest goings-on in the region, which by the way you can receive as part of our morning e-newsletter.
The explosions as seen from space. It's the black-red dot in the middle of the gifs
Chemical companies breaking the law
Ruihai Logistics wasn't the only company storing dangerous chemicals in the blast zone; two other facilities, both affiliated with the state-owned Sinochem Corporation, were chock-full them.
Using remote sensing and spatial analysis, Greenpeace China found that these two were violating Article 19 of the 'Regulations on the Safe Management of Hazardous Chemicals in China' — which says hazardous chemical facilities must be located at least 1000m from public places, transportation networks and residential areas.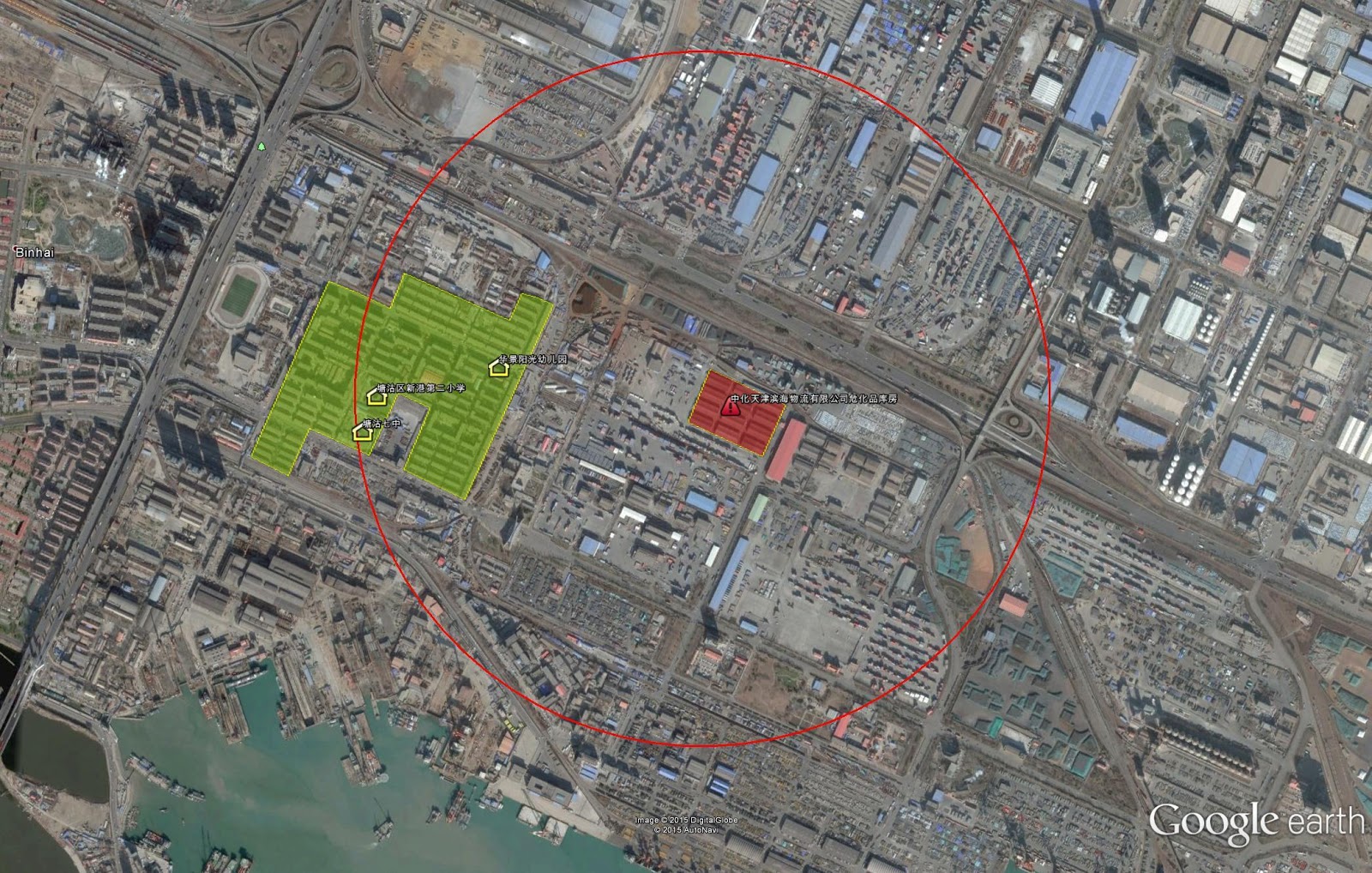 The red bit is a hazardous chemicals warehouse run by the Sinochem Tianjin Binhai Logistics Company. The yellow thing is a major residential area. The circle is the 1000m radius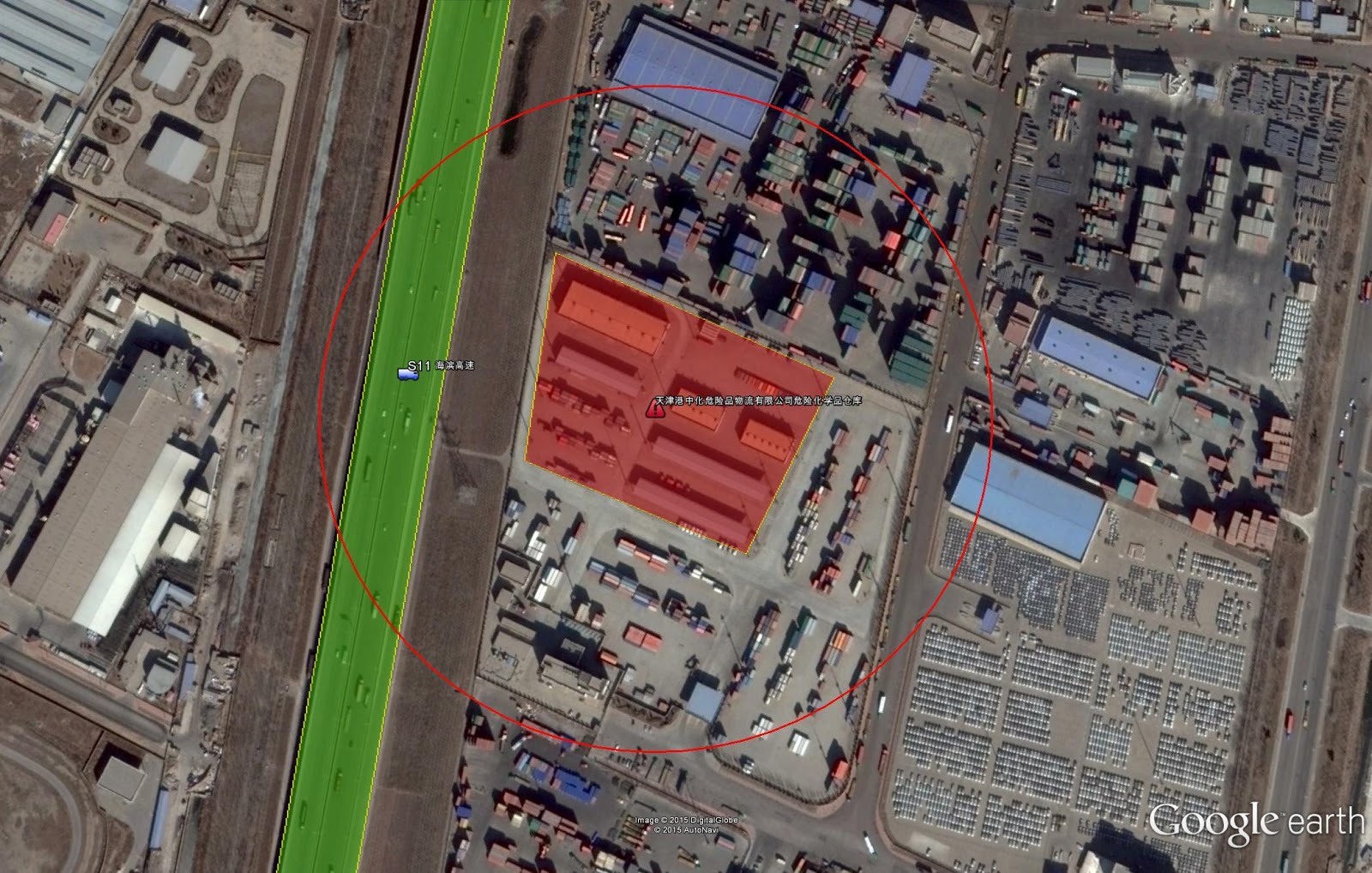 The red block is the warehouse for Tianjin Port Sinochem Hazardous Goods Logistics Company. The red block shows the location of the warehouse. The yellow strip is a highway only 200m away
Not a lot of cyanide in the water
Chief among those scary chemicals was Sodium Cyanide — which Chinese authorities have confirmed there had been more than 100 tonnes of at the site.
Officials told the FT that there is only "minimal poisonous gas" in the area whilst Greenpeace China said local water supplies are "not currently severely contaminated with cyanide".
There may still be low levels of the toxic chemical in Tianjin's water compared to normal surface water concentration — and there may yet be other chemical contamination.
Meanwhile, China's energy watchdog has demanded safety checks on facilities such as hydrogen generation stations, ammonia producing systems and chemical-storing warehouses.