Investigation: New kids with 14th round blocks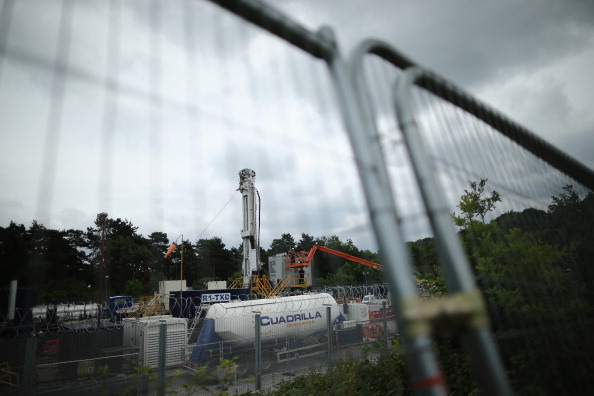 Last month the government identified the companies that have successfully bid for new fracking licence blocks as part of its 14th licensing round.
Ministers at the Department for Energy and Climate Change (DECC) had expected a "degree of interest by the majors" in the new licensing round.
And the Oil & Gas Authority welcomed the winning bids, saying that: "with almost 100 applications received, the 14th Onshore Round has attracted significant interest and high-quality proposed work programmes from a range oil and gas companies."
But a closer look by Unearthed has found that more than half of the holders of new licences are wildcat ventures. Our investigation reveals UK onshore oil and gas exploration to be a small world, populated by family businesses, overlapping interests in companies and directors with dubious track records.
One 14th round winner is Warwick Energy, a company set up by two former directors of Independent Energy, which in 2000 spectacularly collapsed from a market capitalisation of $2.3 billion to receivership in a matter of months.
Despite being named defendants in a class action suit alleging securities fraud by US shareholders,  former Independent executives John Sulley and Rob Jones quickly moved on and set up Warwick Energy, just weeks after the company's demise. The class action was settled for $48 million in 2003.
Also with an interest in licence blocks is Milroy Capital, owned by Robert Milroy. Milroy is also Chairman of Anglo-Russian commodities group Miloil, which trades in oil and tobacco and appears to be registered in Moscow (although a UK subsidiary was set up this year).
At least six family businesses gained interests in licences, including OK Energy, run by a husband and wife team. The company was heavily criticised in Canada for winning a 900,000 hectare Arctic oil concession, despite having only two staff and no experience in the region.
Blackland Park Exploration is owned by a family with a background in bespoke men's fashion, while a teacher and a physiotherapist make up half of the board of directors of Stelinmatvic Industries, another family venture.
Unearthed can further reveal that in the last 18 months, 89 licences from previous rounds have been either wholly or partially given back to the government. 'Surrendering' a licence usually indicates that it is uneconomic for the company to extract any oil or gas.
Taken together the 89 licences that have been surrendered are equivalent to 56% of those awarded in the current licensing round. Ministers appear to make a big deal of awarding licenses, but keep quiet when they are handed back.
The government welcomed the announcement of the 14th round (shown below), describing it "as part of our long-term plan to build a more resilient economy, create jobs and deliver secure energy supplies". But our analysis raises significant question marks over the quality of the winning bids and the government's wisdom in making such a speculative bet part of its economic plan.

Here are our findings in more detail:
Licence block SK43 – located between Derby and Nottingham
Warwick Energy Exploration Ltd has been granted this licence block alongside partners Anglia Natural Gas.
Warwick Energy Exploration was registered in 2000 by former directors of Independent Energy, a company they had just led into receivership and a US class action suit. The suit brought by shareholders concerned a share offer in March 2000, which allegedly did not fully disclose the problems the company had with its billing system (which ultimately led to its demise).
The class action also included claims that defendants John Sulley, Robert Jones (both now Warwick directors) and Burt H. Keenan: "sold Ordinary Shares of Independent Energy Holdings PLC as Depository Shares and collectively realized approximately $30 million". In 2003 the "individual defendants" agreed to pay $2 million of the $48 million settlement.
Warwick currently has net assets of £492,000 and already partners other companies in PEDL licences in Yorkshire, Surrey and Lancashire. It has also been active in the offshore wind sector.  
Anglia Natural Gas was set up on 27 October 2014, the day before the deadline for 14th Round applications. The company's website says that it is "launching soon". Anglia is registered in Luxembourg and its two directors, Johann Dumas and Sebastien Bach, are chartered accountants working for a private equity firm called Quilvest, with whom Anglia also shares an address. 
Licence block SD61 – between Chorley and Bolton
Osprey Petroleum has been granted this licence block alongside partners OK Energy (Onshore) and Energy Developments and Investments UK.
Osprey Petroleum was founded in January 2014 by Andrew Knott, a wildcat explorer with 17 directorships, largely comprising small to medium sized oil and gas exploration companies. These include Savannah Petroleum, which was set up in 2014 to explore for oil in Niger; Lothian Oil & Gas and Scotia Oil & Gas. He is the company's sole owner.
OK Energy (Onshore) Ltd was incorporated the day before the 14th round deadline. It is a wholly owned subsidiary of OK Energy Ltd, which is owned by husband and wife team Paul Barratt and Dr Erika Syba. Barratt is also the 88% majority shareholder and director of Scotia Oil & Gas (where Andrew Knott is also a director), which in turn owns an Arctic oil exploration company called Franklin Petroleum. Franklin is described in OK Energy's accounts as a related party, as it is majority-owned by Barratt through Scotia, while Syba is a former director.   
Franklin raised eyebrows in Canada in 2012 when it was granted a 900,000 hectare Arctic concession in the Beaufort Sea. Canada's Globe and Mail questioned how "a little-known British firm with two employees and no producing assets [could] end up owning the largest oil lease ever issued in the Canadian Arctic?"
With parallels to falling expectations for the UK's shale gas industry, the awarding of such a huge concession to Franklin was a consequence of the lack of interest in the licence area from oil and gas majors. One Canadian analyst described Franklin as a "piddly little company" and expressed concerns over Franklin's ability to operate in such a difficult environment: "we're talking about one of the most environmentally sensitive areas in Canada".  The company's registered address is c/o Savannah Petroleum, where Barratt's partners in the licence block, Knott and Jamison (below) are also directors.
Energy Developments and Investments UK was registered the day before the deadline for 14th round applications and is an investment vehicle of "venture capitalist" David Jamison. Jamison is credited with helping to found the modern day iteration of commodities giant Vitol and also invested in Russian oil and gas through Sabir Energy, which was sold to Gazprom in 2011. He is a director of Savannah Petroleum, alongside Andrew Knott. Energy Developments and Investments UK appears to be owned by a company registered in Oklahoma called Energy Development and Investment Group LLC and another company owned by Knott and his wife, Lowquest Ltd.
Licence blocks SK86c & SK96 – outside Lincoln
Aberdeen Drilling Management has been granted these licence blocks alongside partners Aberdeen Hydrocarbon Development and Milroy Capital.
Aberdeen Drilling Management is another family affair, entirely owned by husband and wife team Robert and Fiona Macandrew. It is a small company with net assets of £123,000, according to its 2014 accounts. Robert Macandrew has an extensive background in offshore oil and gas exploration, including at Chevron. The company also advertises its services in unconventional extraction and recently signed a partnership agreement with Alkane to explore for coalbed methane in two of its licence blocks in the North West and East Midlands. Its partner in the licence block, Aberdeen Hydrocarbon Development, is also 100% owned by the Macandrew's
Milroy Capital is an "independent finance house" registered in Guernsey. Milroy's website says that its "primary focus of investment and expertise is within the oil and gas industry". Documents obtained from the Guernsey Registry identify Robert Blair Milroy (aka Robert "Woody" Milroy) and Ian Michael Burns as directors of Milroy Capital and, according to a 2014 London Stock Exchange document, Milroy is the sole owner of the company.
In 2014 Milroy and Burns, along with Robert Macandrew and Alastair Murray of Aberdeen Drilling Management, attempted to remove the board of Wessex Exploration and put themselves in their place. Milroy Capital explained that this was for the benefit of shareholders, including their own company, because the "current board lacks strong leadership, is too passive and does not have any skin in the game". The move was voted down by shareholders, including Standard Life, which said that it was "not in shareholder's best interests". Weeks later Wessex completed the acquisition of Hague and London Oil and restructured, changing its name to Hague and London. It appears that Milroy Capital is no longer a shareholder.      
Robert Milroy is also linked to Anglo-Russian commodities group Miloil, which trades in oil and tobacco. It appears to be registered in Moscow (also see here), although a UK subsidiary was set up in January this year.      
Licence blocks SE42e and SK72a – Pontefract, Yorkshire and Melton Mowbray
Hutton Energy has been granted these licence blocks alongside partner Coronation (Oil & Gas) Ltd.
Hutton Energy is one of the largest of the new licence holders and is owned by Australian and US private investors. Australian investment bank Macquarie is the largest shareholder, with 27% of the company. The directors of the company; David Messina, Charles Morgan and Craig Burton,  are also Australian. The company website states that "through its common shareholders, Hutton Energy Group has a network of affiliated projects across North America, Spain, France, the Netherlands, Canada and Australia".  Although the website also states that it "is focused specifically on developing onshore European oil and gas plays".  
Coronation (Oil & Gas) was set up in August 2014 and is a subsidiary of Coronation Power, which specialises in getting onshore wind farms through the planning process. It appears that the company has been brought in to perform a similar role in relation to onshore drilling applications. Coronation Power is in turn owned by Frodine Securities Ltd, which according to Bloomberg: "engages in site selection and planning consent elements of wind farm development." Coronation's directors are Shuves Mukherji and Vickram Bhagwan Mirchandani.
Licence blocks SK52a and SK53 – between Loughborough and Nottingham
Egdon Resources UK, a company that is already active in the UK, was awarded these blocks alongside new players Petrichor Energy UK, and Coronation, Hutton Energy and Celtique Energie.
Petrichor Energy was incorporated in October last year and is a subsidiary of Petrichor UK B.V., which is registered in the Netherlands. It appears the company may ultimately be related to Canadian firm Petrichor Energy, which explores for oil and gas in North and South America.
Licence block SD62 – between Blackburn and Preston
Aurora Energy Resources has net assets of minus £2.8 million, according to its 2014 accounts. The company is 82% owned by Apl1 Aurora Holdings and Apl2 Aurora Holdings Ltd, which are based in Jersey. The company is ultimately owned by First Names Group, a "global, independent provider of trust, corporate and fund administration services".
Licence block SK87b – Lincoln
Blackland Park is owned by Sunswept Enterprises, which is in turn owned by Rupert Lycett Green, the grandson of a baronet and founder of famous Savile Row tailors, Blades. The company is another family affair – Lycett Green's son John Peregrine Lycett Green is a director of Sunswept and was recently appointed as a director of Blackland Park. Blackland has net assets of £1.6 million.
Licence blocks TF06, TF07e, TF07f, TF17 – Lincoln
Cirque Energy UK was awarded these blocks alongside partners Swift Exploration Ltd and Stelinmatvic Industries Ltd.
Cirque Energy UK is owned equally by four companies; Triple Y Investments Ltd, Kanati Resources Corp., 906736 Alberta Ltd and Curmeean Energy Ltd. All of these companies are based in Canada, although it unclear what they actually do. The majority of the company's directors are also Canadian.  
Swift Exploration has a small turnover of £100,000 and net assets of £156,000. It is a family business, owned in equal parts by Linda, Stefan and Alexander Stasiuk. Linda and Stefan Stasiuk are geologists and have worked in oil and gas exploration for companies including BP, Chevron and Nexen. Swift also holds interests in eight offshore licence blocks.
Stelinmatvic Industries is yet another family firm, with net assets of £152,000. It is owned in equal parts by Stephen, Lindsey and Matthew Bushell, as well as Victoria Mathews. All four are also directors of the company. Stephen Bushell is the sole British director of Cirque Energy UK (above), while Matthew lists his occupation as physiotherapist and Victoria as a teacher. The company provides "support Activities For Petroleum And Natural Gas Extraction".
Additional research by Damian Kahya, Christine Ottery and Hannah Martin.
Also read: