Brexit aftermath: What UK energy ministers have said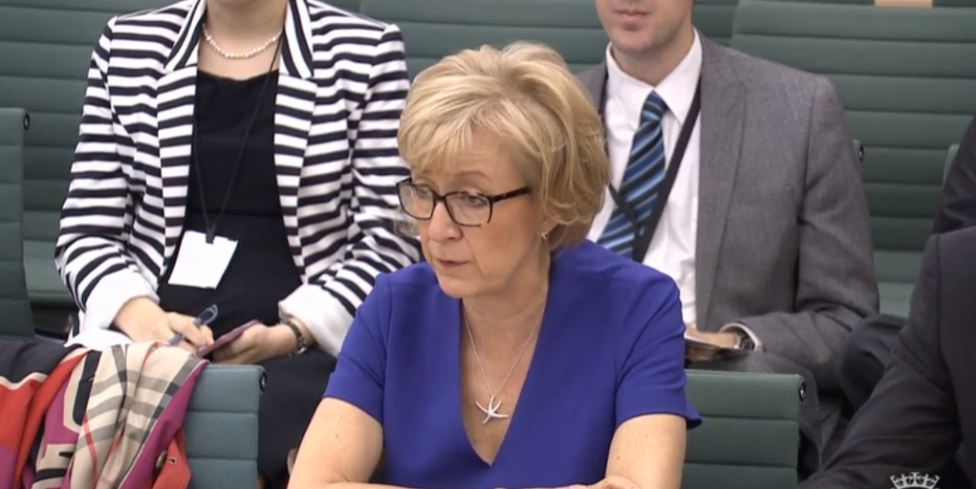 For the first time since the UK voted to leave the EU, government ministers have spoken publicly about energy and climate policies going forward.
As energy secretary Amber Rudd took to the stage at the Business and Climate summit in London, energy minister Andrea Leadsom appeared before a parliament select committee.
The two prominent politicians fought on opposite sides during the referendum debate, but were largely singing from the same hymn sheet: 'It's business as usual'.
Here are five things we learned.
1. Hinkley is happening, apparently
Despite "raising a host of questions for the energy sector", Amber Rudd was adamant that the government's energy commitments remain unchanged by Brexit, including on proposals to develop 18GW of new nuclear power stations at six sites.
The government will continue to go "full tilt" on plans to build Hinkley, the UK's first nuclear power plant in a generation, Rudd added.
She confirmed that she has spoken to energy giant EDF, and that they told her that Brexit will not further delay their investment decision, expected in the autumn.
This news comes as experts have suggested the project is unlikely to go ahead after the referendum result, and China is concerned about its impact.
Leadsom, on the other hand, didn't talk much about Hinkley, but did list new nuclear along new gas as things the government is quite clearly committed to.
She doesn't see Brexit changing that.
2. We had too many renewables, but DECC is fixing that
Leadsom, who has taken flak for her role in last year's controversial green subsidy cuts, battled with committee chairman Angus MacNeil over investor confidence in the renewables sector.
She said that the industry has been "a victim of its own success" and the cuts were needed to slow the deployment rate that she claims would be a drag on consumer energy bills.
Rudd didn't talk so much about renewables, but did explain away the subsidy cuts as "tough decisions that reflect our core belief that technologies should be able to stand on their own two feet".
Over on her side of town, Leadsom admitted that investors weren't happy about the subsidy cuts but understood why the government had made them.
On the plus side, she said, offshore wind is doing well because of "clarity of policy".
Never mind what's happening with Siemens.
Meanwhile, in you could not make it up news… https://t.co/07kbuN8AeF

— James Murray (@James_BG) June 29, 2016
3. Coal phaseout is still on track
Rest assured, Rudd said, the government is still committed to phasing out coal by 2025 — regardless of Brexit.
Leadsom likewise reiterated the government's intention to get off coal power, but did emphasis the asterisk that security of supply would need to be guaranteed — and that means a new dash for gas.
She also kept calling gas a 'bridge'.
Amber Rudd confirms govt remains committed post #Brexit to climate agenda & coal phase-out at #BusinessClimate event pic.twitter.com/P4hAtaUZJW

— Tom Fern (@TomFern81) June 29, 2016
4. Climate Change Act is going nowhere
There are fears that the next government, especially if they're led by one of the many climate sceptics in the Tory party, could do away with the Climate Change Act.
Rudd and Leadsom essentially said that is nonsense, that the Act is here to stay.
According to Rudd, "The Climate Change Act in 2008 underpins the remarkable investment we have seen in the low carbon economy since 2010" — and noted that it "was not imposed on us by the EU".
Meanwhile Leadsom, who only recently decided that manmade climate change is a real thing, reaffirmed the government's commitment to the Act and the policies for which it is the basis.
Leadsom says #Brexit won't change UK energy policy, reaffirms govt commitment to Climate Change Act

— Zachary Davies Boren (@zdboren) June 29, 2016
Rudd was strikingly passionate about the climate cause, and insisted that the UK would "not step back from international leadership" despite the ramifications of Thursday's vote.
She refused to be drawn on who she would back for prime minister, but was adamant that a commitment to climate change would be "absolutely central" to the decision, a pledge that drew cheers from the audience.
"I will be very vocal" in holding them to account, she said.
And finally, she confirmed that the decision on the UK's fifth carbon budget will be announced on June 30.
5. Rudd isn't running
The Secretary of State, once mooted as a future favourite for the Tory top spot, revealed to the audience that she will not run to succeed David Cameron as Prime Minister.
Amber Rudd certainly not ruling out backing Boris this morning. Is she really going to endorse the man she said wasn't fit to drive home?!

— Emily Gosden (@emilygosden) June 29, 2016
Leadsom, who got rave reviews from the Brexit press during the debates, gave no indications of her ambitions, though she did make two leaderly statements.
After taking issue with MacNeil's mischievous £350m question, she relented and said the money saved from leaving the EU should go towards the NHS — and cutting fuel bills, if possible.
She also said the government should not accept free movement of people as part of any deal it negotiates with the EU.
Their opposing speeches came just days after what was described as a public reconciliatory breakfast.