Brazil gets carbon credits for "methane factory" Amazon dams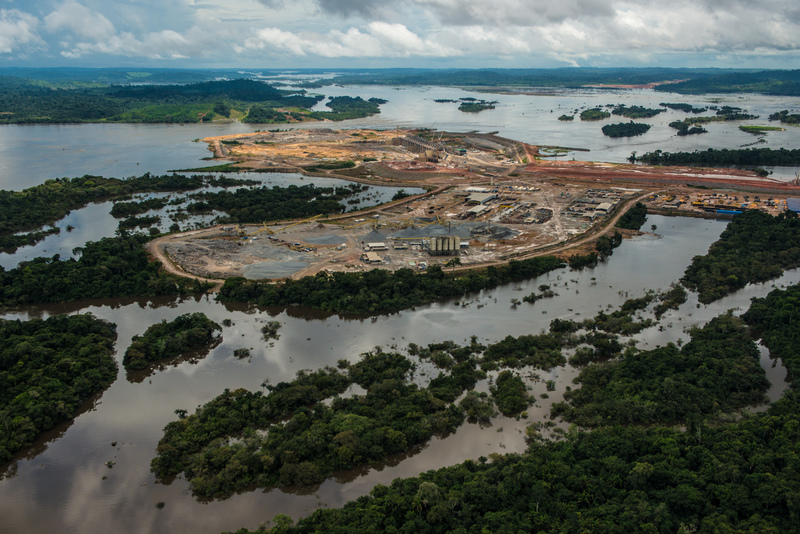 A leading expert on hydroelectric dams has criticised a scheme which allows companies building dam projects in the Brazilian Amazon to claim carbon credits.
The Brazilian authorities say dams are "zero emissions", and so should be eligible to receive credits under the Clean Development Mechanism.
However, speaking to Unearthed, Philip Fearnside, an expert from Brazil's National Institute for Amazonian Research says the dams emit large amounts of methane or CH4, a more damaging greenhouse gas than carbon dioxide.
A 2012 study also found that "ebullition" of methane from dam reservoirs in tropical regions "has most certainly been underestimated until now".
If the dams are not actually "zero emissions", and in fact emit greenhouse gases, then overall global emissions will be higher.
Methane pulse
The studies have found that filled reservoirs in tropical regions create a "pulse" of methane production at the beginning, as vegetation rots under the surface of the water.
Then the mud flats around the reservoir's edge releases methane throughout the life of the dam.
Fearnside calls them "methane factories".
Methane is a greenhouse gas that with a global warming potential (GWP) of 34, a number recently revised up from 21 by the Intergovernmental Panel on Climate Change (IPCC) – meaning it has 34 times the impact of carbon dioxide on the atmosphere over a 100-year period
But, as Fearnside explains, "what really counts is what happens in the next 20 years. If you look at 20 years, then that number goes up to 86, so compared to 21 you're quadrupling the impact of methane – and the impact of these dams".
297 dam projects
The Brazilian government published plans to build more than 297 dams across Brazil, according to its state-owned electricity company Eletrobras' "2010 Plan".
Many of those are planned for Amazon basin rivers.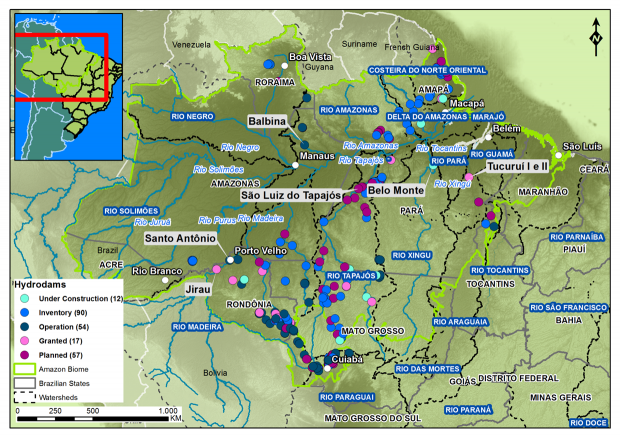 This would create what Fearnside calls "a chain of reservoirs" covering around two-thirds of Brazil's share of the iconic tropical rainforest – which is roughly the size of Western Europe.
And now, dam builders are moving to apply for credits under the terms of the Clean Development Mechanism (CDM).
Millions of tonnes of credits
This scheme enables developed countries signed up to the Kyoto Protocol to buy carbon credits, supposedly mitigated by the "zero emissions" dams. 
However the move by dam builders is unusual because it often comes after the projects have been approved.
"Millions of tonnes of carbon credits will be bought, mostly by European countries," says Fearnside, "and those countries will be allowed to emit that much CO2 into the atmosphere because supposedly they are being compensated by these dams in Brazil."
In the case of one of the oldest Amazon dams, the Balbina, Fearnside has estimated that it produced more harmful greenhouse gases per kilowatt hour of energy produced than a coal plant.
A number of Brazilian hydroelectric dams are benefiting from the carbon credit scheme, including the Jirau in Rondonia State in the far north west of the country. It is the largest hydroelectric project to claim carbon credits.
And there will be more, says Fearnside: "Right now there's four large dams in the Brazilian Amazon that have already got their carbon credit approved, and there are more than 120 proposals in the pipeline waiting for approval for carbon credit. Those include the two dams on the Madeira River, plus the Teles Pires dam on the Tapajós River – and the Jardinelos in Mato Grosso [State]."
CDM
Fearnside notes that Brazil had quite a bit of influence over the rules of the CDM, which technically do not allow carbon credits to be requested after the project is built.
This is because the project should reduce emissions more than would have occurred without the CDM intervention.
Fearnside adds that this limits the amount of cash spent on genuinely clean projects:
"In addition to what this dam is emitting you're also allowing all these other emissions from the rest of the world and you're also using this money – this adds up to a couple of billion dollars over the life of these projects on the Madeira River – that's supposedly 'green' money, that should be being used for real mitigation."
"So other projects that could be really fighting global warming are not happening because the money is being used for this."
Aki Kachi from Carbon Market Watch said: ""It is deplorable that in the name of fighting climate change, we are allowing companies to buy the right to pollute with non-additional credits, destroy the forest, emit methane from decaying flooded biomass, and contribute to human rights violations at the same time."
Many of Brazil's Amazon dams, as well as destroying large areas of tropical biodiversity, violate the land rights of its indigenous peoples.