UK government suppressed damaging fracking report until after crucial Lancashire vote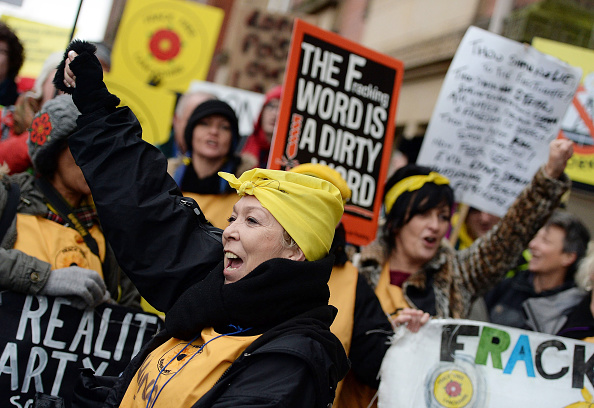 The British government deliberately withheld the release of a damaging fracking report to prevent local councillors from scrutinising it ahead of a crucial vote on shale gas drilling, according to an ongoing Unearthed investigation.
Documents obtained under the Freedom of Information Act show for the first time how ministers, including Andrea Leadsom, worked together to limit damage to the fracking industry from a previously censored report, after being forced to publish it in full by the Information Commissioner.
The internal emails reveal the government's strategy to delay and discredit the report by publishing it days after the council vote on a busy news day and having the environment department (Defra), which commissioned the study, "lead on knocking the report down".
Marcus Johnstone, Lancashire County Council's cabinet member for planning, who passed a motion calling for the report's release before the crucial vote, said the government displayed "complete contempt for local democracy".
The study, which details the negative impacts of fracking on the rural economy, was a source of major controversy in the summer of 2014 after it was released with entire chapters redacted following a freedom of information request by Unearthed.  
Read the emails here
Freedom of information battle
The release of the latest documents was delayed by over a year, with the energy department extending the freedom of information deadline 14 times — before another investigation by the Information Commissioner prompted their publication.
The emails reveal how current environment secretary Andrea Leadsom, then at Decc, coordinated with Number 10 and Defra to prevent the report's publication until after Lancashire County Council voted on two applications to frack by Cuadrilla.
Ministers were aware that the Information Commissioner had ruled that there was "a strong public interest" in releasing it unredacted, but chose to delay until as late as possible in the 35 day window they were given.
The emails further show that the controversy surrounding the report prompted Leadsom, who is now secretary of state at Defra, to insist on being notified of any controversial freedom of information requests in future because of "her sensitivity to shale comms at the moment".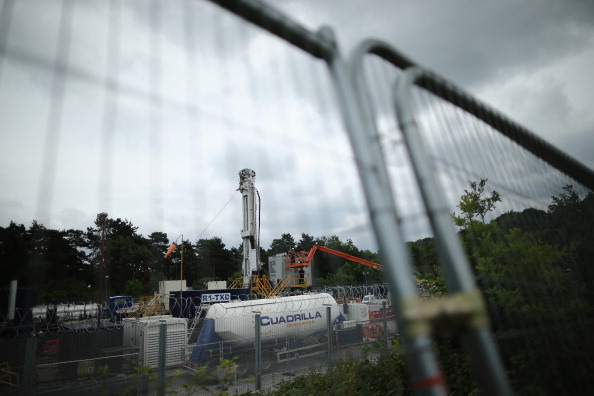 Burying bad news
The unredacted report was eventually released on 1 July 2015, just two days after Lancashire councillors voted to turn down Cuadrilla's applications and on the same day as the long-awaited Davies Commission report on airport expansion. The emails reveal that Defra planned the timing of the release for "quite late in the day" – possibly to limit media scrutiny.
The sections of the report the government attempted to hide through redaction discuss the potentially damaging impacts of fracking on communities neighbouring exploration sites. They include references to water contamination, noise and air pollution, falling house prices, and damage to local industries like tourism and agriculture.
One particularly incendiary line reads: "properties located within a 1-5 mile radius of the fracking operation may also incur an additional cost of insurance to cover losses in case of explosion on the site".
Responding to the news, Councillor Marcus Johnstone, said:
"It is dirty tricks of the highest order – a real eye opener. It shows complete contempt for local democracy. It is very obvious they were hell bent on fracking happening anyway, whatever we said in Lancashire."
Shadow energy minister Alan Whitehead MP said: "this is a sorry saga of evasion and deceit, which only serves to strengthen the now widely held opinion that Government is determined to push through fracking regardless of facts or debate, and has actively connived to subvert inconvenient analysis when it surfaces."
Unearthed submitted a similar freedom of information request to Defra in August 2015, the deadline for which has been extended by the department 16 times. It is yet to be released.
Leadsom emails
On 15 June 2015, Andrea Leadsom's private secretary emailed the director of the Office of Unconventional Gas and Oil (OUGO), Emily Bourne, regarding the Information Commissioner's ruling that Defra had to publish the report unredacted.
The email says that Leadsom: "suggests we do nothing before Cuadrilla's planning decision if we have time" and asks "if the Minister should be aware or if we expect any media pick up from the FOI, particularly given her sensitivity to shale comms at the moment."
In a draft reply to Leadsom, Bourne agreed to pass on Leadsom's suggestion to Defra: "we will make sure they are aware of the Minister's views."
Leadsom "suggests we do nothing before Cuadrilla's planning decision if we have time"
On 16 June, Bourne wrote to Leadsom confirming that Defra "will set up a meeting with us, No. 10 and others to discuss timing but they are thinking first week of July." This would be after the Lancashire planning decision was due to be made.
Then, on the 23 June, an email from a Decc civil servant to Amber Rudd, Andrea Leadsom, OUGO and the Treasury outlined how, during a Lancashire County Council hearing on the planning applications: "There were requests to defer consideration until publication of the Defra Rural Impacts Report. The Council's legal team advised that they proceed with the discussion".
Despite this, the government proceeded with its plans to delay publication until after the Lancashire decision. On 24 June Leadsom's private secretary wrote to Decc's communication department and other ministers: "As discussed, I've had a message passed to me that Liz Truss' office have apparently confirmed that the DEFRA Rural Impacts Report will be published on 1st July (and No.10 have agreed with this)."
It was eventually published around 5pm on July 1, at a time when headlines were dominated by the Davies Commission's decision to back a third runway at Heathrow.
Fracking 'double standard'
The emails offer a rare insight into the government's efforts to protect the UK's nascent fracking industry from public criticism.
One email, a draft briefing for David Cameron ahead of a PMQs session on 24 June reveals the government's sensitivity to allegations of a "double standard" between the planning regimes for fracking and onshore wind.
Under "lines to take" OUGO posed the following question:

Lancashire County Council's refusal of Cuadrilla's fracking applications has since been overturned by the planning inspector.
Alan Whitehead, told Unearthed that the briefing: "indicates that the department knew it was operating a double standard on wind and shale objections by local communities, but was prepared to invent a completely specious line about local communities and fracking to cover their blushes."
Marcus Johnstone said: "The double standard [between wind and fracking applications] is jaw dropping".
On 30 June, as the publication of the report neared, Leadsom wrote to civil servants in Decc's communications department, as well as energy secretary Amber Rudd, asking what the plan was: "Do you know when we expect the handling plan to come through and what sort of involvement are you anticipating?"
The communications department replied three minutes later outlining how: "Defra will lead on knocking the report down. We (DECC) might need to comment on the Government's shale policy more generally and we'll probably get together a couple of top lines to basically respond to the question why have we ignored this report when formulating our shale policy."
When contacted for comment a Government spokesperson said: "We complied fully with the Information Commissioner's ruling that we publish the report within the established timescales.
As the material made clear, we do not believe this internal document – which was incomplete and had not been peer-reviewed – was sufficiently analytically robust to inform policy-making."