International Women's Day: Meet the women behind China's clean energy shift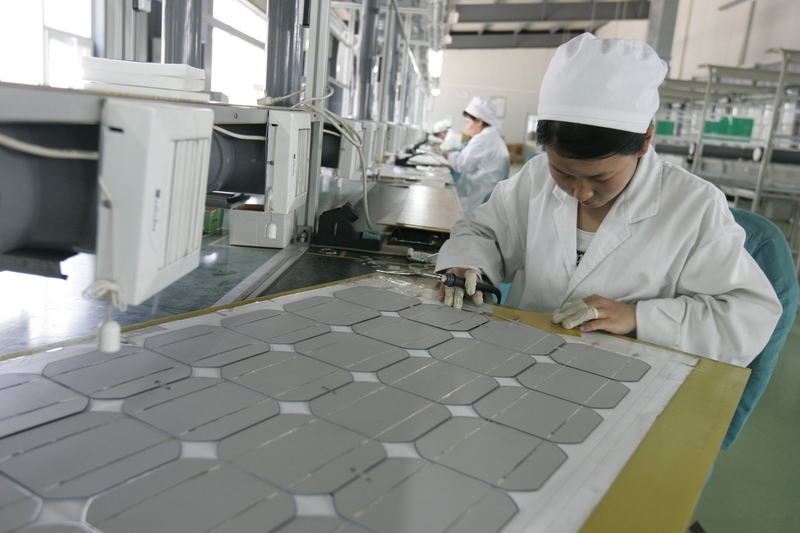 This is a crosspost of a blog from GPEA
China's solar industry has been on an incredible journey in the past half decade. Solar capacity doubled in 2016 alone; the world's largest solar farm, comprising a staggering four million solar panels now rests on the Tibetan Plateau; and last year, China added enough solar panels to cover one and a half football pictures every hour.
Behind the impressive statistics, this transformation is powered by people: dedicated environmentalists and entrepreneurs who are propelling China's transformation from fossil fuel-dependent climate villain, to forward-thinking, innovative global climate leader.
From a backyard project that transformed a community, to a young entrepreneur who smashed expectations by singlehandedly developing a successful global solar business, these women are taking China's green power transition into their own hands and powering one of the biggest energy revolutions the world has ever seen.
Ni Huan: the grassroots activist who started a movement in her own back yard.
Ni Huan's quiet patio on the ground floor of a Shanghai compound two hours from the city center seems like an unlikely place to start a trend. But it was here, that a simple quest for shade and relief from the scorching summer led to a movement that transformed her community.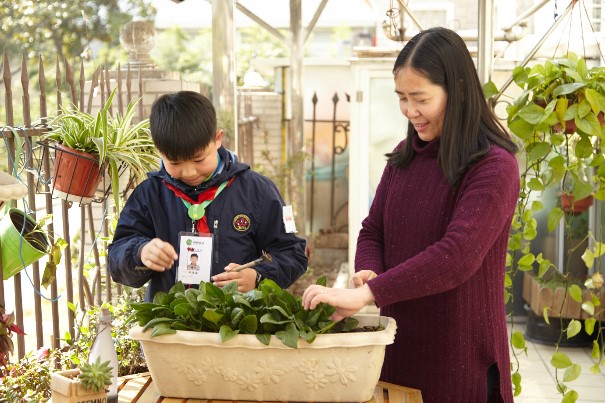 "The summer of 2013 was so hot, we needed to put up a shade up in the patio," she said, pointing towards the four-meter-long awning that now meets 90% of her household electricity needs and helps power her hybrid vehicle. "I decided to place solar panels on [the awning] as well. I thought I could save money and also do something good for the planet."
These days, the barely eight-square-metre courtyard draws crowds of up to 30 people at a time. School groups, university students and individuals interested in slashing their electricity bill- as well as their carbon footprint- regularly pack into the tiny garden to learn the ins and outs of at-home solar power generation.
"It became too much: almost a hundred people would want to come to my house in one day. I  I couldn't believe it! I actually had to start imposing a limit on people who could come."
Demand became so great that she set up an organisation, Green-light Year, to expand her work and cope with the ever-increasing flow of visitors. Now, the organisation has partnered with several local schools and universities to install rooftop solar projects as well as assisting on the revival of Shanghai's long-overdue Chongming Island eco-city project.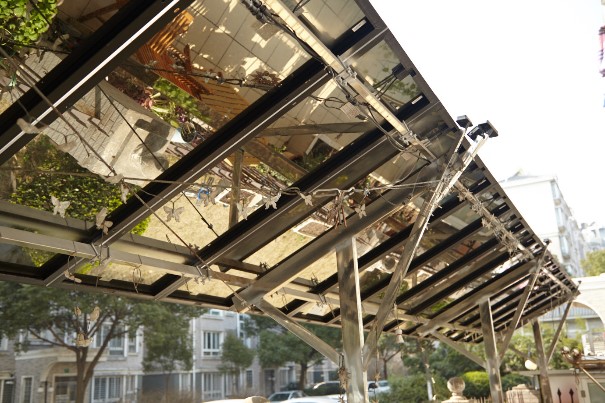 Since March 2015, over 1600 people have signed up for activities run by Green-light Year, including eco tours of Ni Huan's courtyard and local solar projects, workshops on kitchen waste composting, building DIY air filters and how to upcycle old clothes.
Most importantly, Ni Huan's community has become a resource for local people to gather and gain practical information about starting up their own at-home solar projects.
"People come here to learn… You can go to a museum and learn about solar technology, but you can't get any practical advice. Our tours are an opportunity to ask questions. We're an information exchange hub"
Ni Huan's workshops and eco-tours are now so popular that local governments have begun to sit up and take notice. Government officials from neighbouring provinces have been making the trip to Shanghai with the hope of fostering similar community action in their own constituencies.
Her small but dedicated all-female team is staffed by local mothers from the community, who became involved with Ni Huan through their children's school. Ni Huan believes that women are uniquely placed to advance community movements as they are more deeply embedded in communities.
"Chinese women are very heavily involved in their children's education. Many of them want to learn about 'green lifestyles', because they want their children to learn how to protect their future."
He Yisha: the young entrepreneur who built a global business
When He Yisha founded a company to manufacture and sell solar panels at the tender age of 25, she had no idea what the next six years would bring. A committed environmentalist, she was inspired to start her own solar panel manufacturing company after a friend told her about the huge potential for growth in China's solar industry.
"It was a simple decision. Demand was high and this is an industry that protects the environment," says He Yisha. "So after a period of research and preparation, I founded a company to manufacture and sell solar panels."
Six years later, her company Unisun, trades on a global scale and is being courted by huge international brands seeking to reach 100% renewables in their production lines.
Not surprisingly, she has attracted attention in Chinese media both for the astonishing growth of her company – from self-starter, to CEO overseeing 400 people in little over five years – but also simply for being a young woman at the top of her industry.
As a 25-year-old CEO, she rarely encountered many other women in her work and would steel herself with hours of preparations before meetings with clients, all of whom were older and the overwhelming majority was male.
"I could see that people doubted me, because I looked young and didn't have much experience, but I wasn't afraid. I just decided to treat everyone as though we're all equal, which we are."
Now, she sees things changing.
"China has a relatively high proportion of female executives, compared to other countries and I'm seeing it increase. In the professional events I attend, I'm hearing more women's voices. In China now, more and more women in the workplace are daring to express themselves bravely. Whether that's in the solar industry or any other industry."