Leaked letters show Hinkley-builder EDF warned over faulty nuclear parts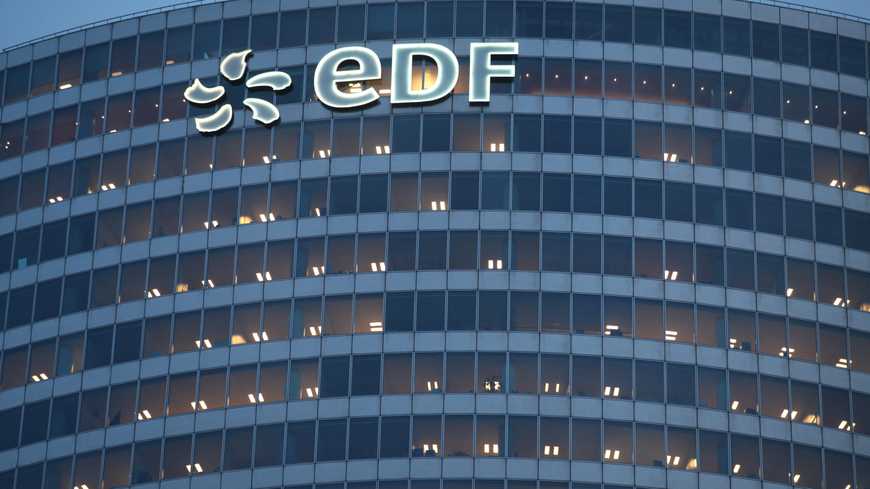 EDF, the energy giant set to build the UK's first nuclear power plant in a generation, was warned about problems at its steel-making plant more than a decade ago — and continued producing potentially defective parts for nuclear projects, according to newly released documents.
Last year the French firm's Creusot Forge facility was placed under investigation by the nuclear regulator ASN over a faulty parts scandal that lead to the shutdown of two reactors in France — and may involve nuclear plants around the world.
Now letters from 2005 and 2006 – obtained by France Inter – show that EDF and reactor firm Areva were told by the ASN about "numerous incidents" at the foundry, including "discrepancies during inspections".
Read the ASN's statement
This may raise concerns about EDF and Areva's new nuclear project at Hinkley Point in the UK, which just started construction.
Paul Dorfman, senior research fellow at UCL's Energy Institute, told Unearthed: "The UK nuclear regulators have said they have lost all good faith in Areva, which designed the Hinkley reactor.
"It is difficult to see how this can end well."
We have reached out to EDF for comment and will update with their response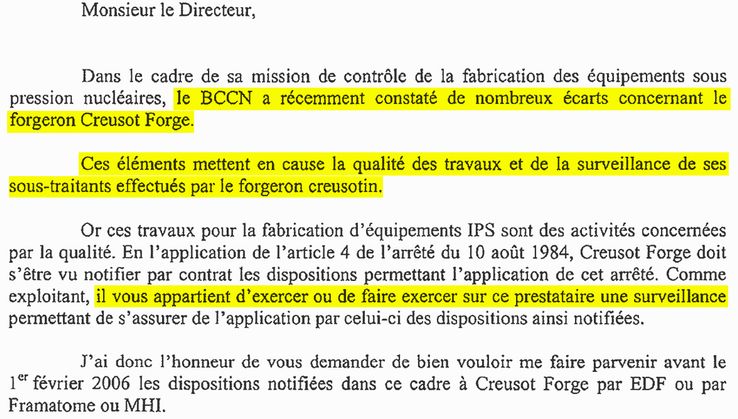 Defective parts
The French nuclear industry was plunged into chaos last year when profound problems were identified with metallic parts produced by the Creusot Forge steel plant used by French reactor business Areva.
Documents show that the facility either misreported or failed to report the levels of carbon and other elements in metallic parts — calling into question their ability to withstand breakdown.
French press coverage: Le Figaro | France Inter | Le Parisian
Today's reports suggest that EDF and Areva knew that there were problems at Creusot Forge years earlier, and yet it continued to produce defective parts for nuclear projects such as the giant power station planned at Flamanville.
In a letter sent in December 2005, almost a year before production began on the Flamanville parts, the ASN first alerted EDF and Areva to quality issues at Creusot Forge.
That was followed up by a letter in May 2006, which read: "Le Creusot Forge blacksmith were dotted with numerous incidents" — including "discrepancies during inspections."
France Inter said the-then ASN chief even told EDF: "Your supplier has big problems."
Hinkley
Today EDF broke ground on the UK's first new nuclear plant in a generation: Hinkley.
Theresa May approved the project in September last year, following a will-they-won't-they summer in which the deal was nearly derailed.
EDF released drone footage to mark the start of construction.
Hinkley, however, will likely remain under pressure to deliver by 2025, with a flurry of recent reports undermining the reliability of the company's supply-chain and oversight.
A document released last week – from the UK nuclear regulator ONR, no less – criticised the safety culture at the Creusot Forge facility.
This was echoed by the head of the ASN in a phone interview with Reuters.
Flamanville
At the heart of the French nuclear crisis is EDF's flagship project Flamanville, where the long-delayed reactor serves as a model for Hinkley.
EDF is currently awaiting a verdict from the French nuclear regulator ASN over the allegedly faulty parts produced by Creusot Forge, including the reactor pressure vessel (RPV) at the heart of Flamanville.
Late last year Unearthed revealed that the project's RPV was not issued a 'certificate of conformity' by the ASN — which means it would fail to meet both EU and national safety standards.
It also suggests that EDF could be forced to remove and replace it.
This piece may be updated
Lettres de l'ASN avertissant EDF des problèmes de Creusot Forge (2005 et 2006) by SecretsdInfo on Scribd