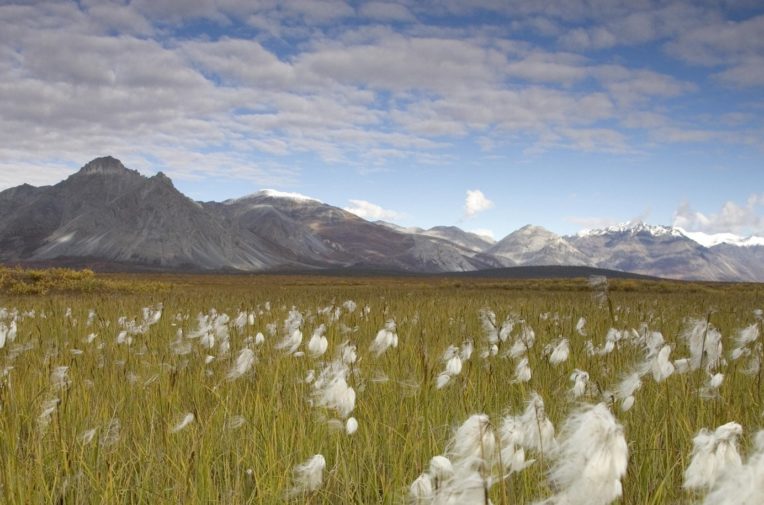 Senate Republicans approved proposals on Friday to open up Alaska's Arctic National Wildlife Refuge to oil drilling. Photo: Hillebrand/USFWS
Area of protected land larger than California at risk from drilling under Trump
Unearthed has mapped - for the first time - the overlap between every federally protected park, forest, monument and wildlife refuge in the US and major fossil fuel deposits
Area of protected land larger than California at risk from drilling under Trump
Unearthed has mapped - for the first time - the overlap between every federally protected park, forest, monument and wildlife refuge in the US and major fossil fuel deposits
Senate Republicans approved proposals on Friday to open up Alaska's Arctic National Wildlife Refuge to oil drilling. Photo: Hillebrand/USFWS
An area of protected land larger than California could be at risk from fossil fuel development, as the Trump administration looks to ramp up drilling on federal lands – according to a new investigation by Unearthed.
Across the United States, 120 million acres of land protected by the federal government sits above known and potential reserves of oil, gas and coal – including huge swathes of the nation's parks; wildlife refuges and forests.
Unearthed can further reveal that – in previously unreported comments – Trump administration energy advisor, Vincent DeVito, said the government is focusing on opening up more lands "than ever before" to energy development.  
The news comes after President Trump travelled to Utah on Monday to announce a huge reduction in the size of Bears Ears and Grand Staircase Escalante national monuments – which will be cut by 85% and 50% respectively.
A previous investigation by Unearthed found that 2 million acres of these monuments lie above fossil fuel deposits.
In an effort to boost energy development the Trump administration has also:
Put forward proposals – voted through by Senate Republicans on Friday – to open up Alaska's Arctic National Wildlife Refuge (ANWR) to oil drilling.

Looked at "restoring the balance" in the way multiple-use lands are managed – a category that includes national forests – towards increased fossil fuel extraction.

Announced a review of Obama-era rules that toughened up oversight of oil and gas operations inside national parks, whilst overseeing an "explosion" of leasing along park borders.
Responding to the investigation, Nada Culver, senior counsel at The Wilderness Society, said: "This report shows how many places could be destroyed by an administration hellbent on turning over as much of our public lands as possible to oil, gas and coal companies. With the recent efforts to open national monuments and even the Arctic National Wildlife Refuge to drilling and mining, this analysis paints a sobering picture of what could come next."
Mapping
Unearthed mapped the overlap between every protected park in the US and potentially major reserves of oil, gas and coal.
The analysis shows how much protected land – and which iconic landscapes – could be affected by the Trump administration's goal of opening up more land for energy development than ever before.
Some highly protected areas may simply see rules around existing drilling weakened, or more drilling taking place on the borders of the parks.
What we're doing is unlocking tools from the shed that have been put away for the past 10-12 years
In other areas – such as forests and grasslands – more leases could be issued for new drilling and rules on those leases softened.
There is also the possibility that the administration follows the example of Bears Ears; Grand Staircase Escalante and ANWR and seeks to open up areas through executive order or Congress.
Unearthed found that famous landscapes such as Canyonlands national park in Utah; Gunnison national forest in Colorado; and the Dakota Prairie grasslands, could all be impacted by the new administration's stance because they sit atop substantial fossil fuel reserves.
How to use the map
The map shows all lands protected by the federal government in green – there is a drop-down menu which allows you to search some key protection categories, such as national parks or wildlife refuges. You can also turn the various fossil fuel layers on and off so that you can view only coal, or oil and gas fields. The fossil fuel layers are:
Coal fields  

Major oil and gas fields – also known as plays – where resources are more certain as they are based on data from drilled wells

Major sedimentary basins which – according to the US energy department – are areas where oil and gas reserves could be discovered.
Vast threat
The US government owns 640 million acres of land – largely in western states. Most of this is not protected and can be leased to energy companies or cattle ranchers.
But there are also millions of acres where development is banned or severely restricted.
The various forms of protection range from wilderness – defined by Congress as "an area where the earth and its community of life are untrammeled by man" – to national forests and grasslands, where habitat protection; hiking and hunting are balanced with natural resource extraction.
Some areas, such as wilderness, are unlikely to be targeted by the administration.
But national monuments were subject to a wide-ranging and controversial review – resulting in the changes announced by Trump in Utah on Monday.
National parks, wildlife refuges; forests and grasslands are also seeing their protections reduced as the administration pursues its goal of energy dominance.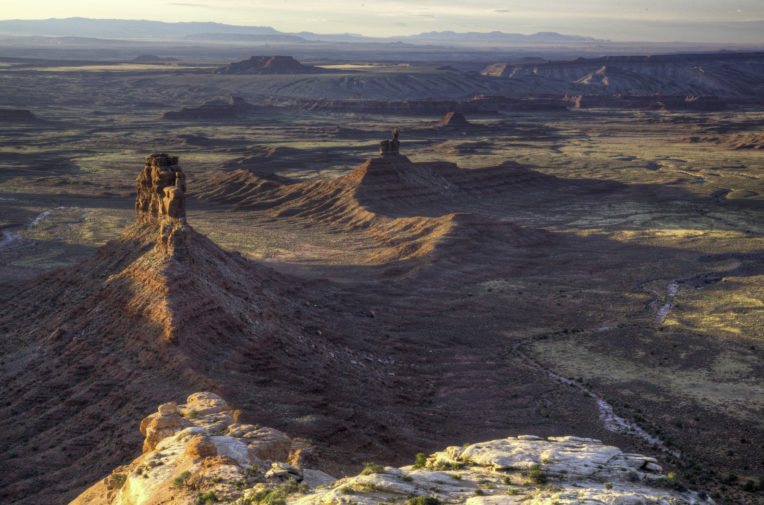 Trump's strategy
In August, at a conference held in Richmond (VA) by the Koch-funded Americans for Prosperity, a senior Trump official told delegates that, to achieve energy dominance, the administration would open up more lands to energy development than ever before.
The comments – revealed here for the first time – were made by Vincent DeVito, a senior advisor and longtime friend to department of interior secretary, Ryan Zinke.
"One of the ways that we are strategising towards energy dominance" he told delegates, "we are focusing on more lands – in a responsible way and I'll say more on that in a minute – for energy development than ever have been before".
"What we're doing is unlocking tools from the shed that have been put away for the past 10-12 years", he continued.  
DeVito went on to highlight the administration's plan to open up the protected Arctic National Wildlife Refuge (ANWR) in Alaska to oil drilling as a key plank of the energy dominance agenda:
"Other administrations have been recoiling back and saying well it's not necessarily the politically correct thing to do to use our energy resources for American wealth. Well, quite clearly, this is the administration of common sense".
Responding to the investigation, Senator Bernie Sanders (VT) told Unearthed: "President Trump and Republicans in Congress should worry less about their campaign contributions and worry more about their children and grandchildren."
"We must take on the Koch brothers and some of the most powerful political forces in the world who are more concerned with short-term profits than the future of the planet. I've got four kids, and I've got seven beautiful grandchildren. We have a moral responsibility to leave our kids a planet that is healthy and inhabitable", he continued.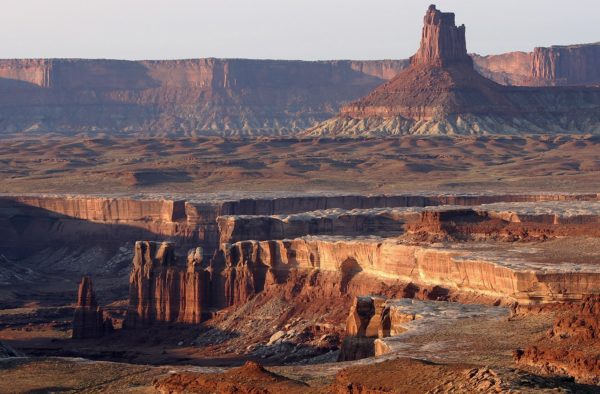 National Parks under review
There are more than 40 protected sites managed by the National Parks Service (NPS) where a private company owns the oil and gas rights beneath the surface of the park – something called "split-estate".
In 2016 the Obama administration updated a set of rules, called 9B regulations, to give the NPS more authority over oil drilling within parks and to make sure companies pay to clean up any environmental damage.
But these changes were fiercely opposed by oil lobbyists and in March, Trump issued an executive order demanding that the rules be reviewed.
The results of that review are unknown and there is no mention of them in a recent report identifying so-called "energy burdens" published by the department of interior.  Nicholas Lund of the National Parks Conservation Association (NPCA) said that: "we take that to mean the rules are very much still at risk".
"Unless we get assurances that they are willing to implement the rule and protect national parks, it's always an option", he continued.  
Lund also said that eight national parks have seen leases being granted directly on their borders in 2017: "There really has been an explosion of leasing in very close proximity to parks. Some of these include Rocky Mountain national park; Mesa Verde and Zion national park".
Of the top ten parks overlapping with fossil fuel deposits in the lower 48 states – over half are threatened by the changes to split-estate rules and/or the encroachment of oil and gas leasing on their borders, Unearthed can reveal.
This include Canyonlands (Utah); Theodore Roosevelt (North Dakota); Mesa Verde (Colorado); Guadalupe Mountains (Texas); Carlsbad Caverns (New Mexico); and Mammoth Cave (Kentucky).
The department for interior declined to comment on the detailed findings but said there was no interest in opening up national parks to new drilling.
Heather Swift, press secretary at the department of interior, told Unearthed: "Your predictions of the Department's work are not accurate and the Secretary has stated multiple times on the record he is not interested in drilling in national parks. I suggest you do more through [sic] research."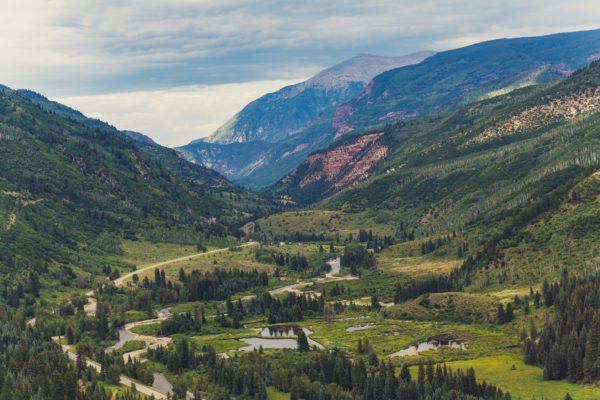 National Forests
The Trump administration's new strategy could also affect the nation's forests and grasslands, which are managed under a "multiple-use" mandate.  
This means that natural resource extraction is permitted, but must be balanced with recreation opportunities and the protection of wilderness, wildlife and the watershed.
Under secretary Zinke, the department of interior has said that it intends to shift the balance in how multiple-use lands are managed further towards natural resource extraction, characterising this as a restoration of balance following the Obama administration.
Katherine MacGregor, a senior Zinke advisor, told Congress earlier this year: "ten years ago the BLM had nearly 45 million acres under oil and gas lease – today we are at 27 million acres. This is nearly identical to the total area currently designated as areas of critical environmental concern".
"This is one example of designations that limit how public lands may be used. Responsible energy production and conservation need not be mutually exclusive. That is why it's vitally important to secretary Zinke to restore our multiple use mission and strike the appropriate balance in onshore leasing that allows for job creation in rural America. This is about restoring balance," she continued.
The move could increase drilling in the 29 million acres of national forest land and 2.6 million acres of grassland that harbour known and potential fossil fuel reserves.
According to Nicholas Lund of the NPCA the Trump administration is not interested in multiple-use: "Their theme is energy dominance – they want energy to be the dominant use of the land – it's not a balance".
"There's no doubt the direct goal of this administration is to put energy development as the dominant use of the land and have other – very economically beneficial activities – be secondary", he continued.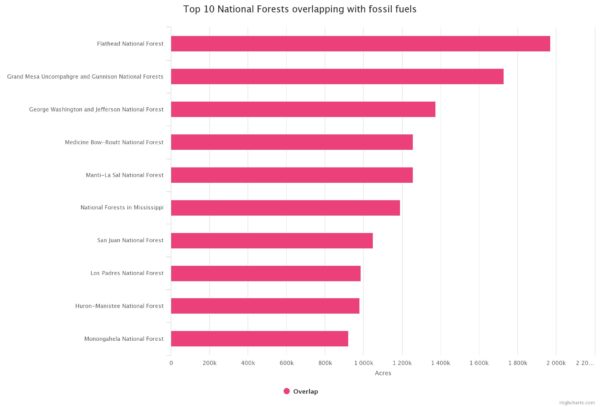 Forests at risk
Of the top ten forests that overlap most with fossil fuel fields and basins, several have already been leased for oil, gas and coal.
Medicine Bow-Routt national forest – an area of mountain ranges; grassland and crystal clear streams in Colorado and Wyoming – is currently subject to a proposal to drill 5000 oil and gas wells.
In Gunnison national forest, (Colorado) the US Forest Service recently approved an expansion of the West Elk coal mine – which will involve significant development within previously untouched areas.
Near the Grand Canyon,  the forest service has recommended a review of the ban on uranium mining on national forest land in response to Trump's energy executive order .
Jeff Kuyper of Los Padres Forest Watch, which recently won a court battle to get new oil and gas licences put on hold in Los Padres national forest in California, told Unearthed: "These areas are ground zero for the Trump administration push to open up additional lands for oil and gas development".
Methodology
Unearthed overlaid maps of protected federal lands from the  US Geological Survey with those of major fossil fuel basins and fields from the US Department of Energy to calculate – for the first time – the extent to which America's iconic landscapes could be at risk from Trump's plans for energy dominance.
This meant taking GIS files and using mapping software to calculate the degree of overlap – in both acres and percentage terms – between the protected area layer and the fossil layers.
The true extent of the overlap between protected lands and fossil fuels is likely to be even greater, as the analysis only included the major fields and geological basins identified by the US department of energy – excluding state level assessments of resources.
Sources:
Federal lands from the US Geological Survey
Coal fields from the US Geological Survey  – excluding those labelled "of doubtful value".
Oil and gas data from the EIA