UK lobbied for air pollution loophole to weaken EU waste incinerator rules
The UK opposed stricter rules on the emissions of nitrogen oxides and monitoring of mercury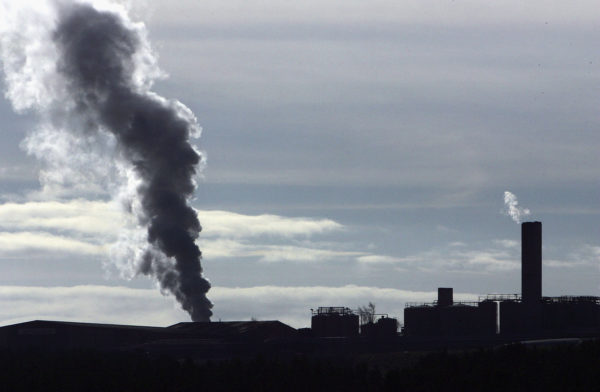 The UK has been lobbying to weaken new EU rules designed to reduce toxic emissions from waste incinerators, less than a year before it is set to exit the union, leaked notes show.
Unearthed understands that it's not yet been decided whether the new rules will apply in the UK following Brexit, as it will be subject to negotiations. UK incinerators have been heavily criticised for driving local air pollution.
Leaked notes taken by a delegate and seen by Unearthed state that the UK led a successful push in negotiations to retain a loophole in the draft regulations on emissions of nitrogen oxides (NOx), the pollutant linked to the dieselgate scandal.
The EU is debating new rules that would force incinerators to reduce dangerous NOx emissions by 25% by 2024. Current legal limits allow daily average NOx emissions of 200mg/Nm3. Member states will vote on the proposed rules early next year.
While the UK supported a 10% emissions reduction, representatives pushed an extra clause that will allow many existing incinerators to meet a standard that is 20% higher than the new proposed limit (180 mg/Nm3 rather than 150mg/Nm3) if one of the technologies used to reduce toxic emissions is not "applicable" to the plant. 
The extra clause refers to so-called selective catalytic reduction (SCR), a technology not currently used by most EU incineration plants, including all plants in the UK. It gives plants the opportunity to exempt themselves from meeting the stricter standard by arguing they cannot install this particular technology. It is not yet known how widely this loophole will be used.
One expert told Unearthed that plants "will always find arguments" for why they can use the loophole, which won't apply to new facilities.
The UK were being quite forthright and persistent
The UK also opposed tighter monitoring rules for toxic mercury emissions, the notes state. However, other member states were in favour of the stricter monitoring, which is included in the final draft conclusions.
Responding to the notes, shadow environment minister David Drew MP said: "We seem to be going in completely the wrong direction. Instead of working to secure cleaner air for public health and better recycling for the sake of the environment, the government is increasing our reliance on incinerators and therefore the noxious particulate matter that is released into the atmosphere."
A government official denied the new clause amounted to a weakening of standards.
Speaking to Unearthed, a spokeswoman for the environment department (DEFRA) said: "It is categorically untrue to claim that the UK has been lobbying to weaken new EU rules on toxic emissions from waste incinerators."
At the meeting in Spain in April, which brought together 90 experts from across the EU, the UK's opposition was largely based on economic concerns, sources said.
One delegate, speaking to Unearthed on condition of anonymity, said: "The UK were being quite forthright and persistent and talked a lot about economics. Most of the time they were either speaking to weaken the standards or they were silent."
A source from a different delegation, who agreed that the UK had opposed the NOx and mercury measures, told Unearthed: "We know that lower NOx levels can now be reached – well below 180 [mg/Nm3; the level agreed] – but the UK just wanted less ambition. In some cases, such as with mercury monitoring, there were even few objections from industry." The source also requested anonymity to discuss the negotiations.
Some experts believe that forcing incinerators to fit the new SCR technology can increase greenhouse gas emissions. It can also be very expensive.
Others believe that plants can meet lower emissions standards without SCR technology, by instead using SNCR, the technique used by most European plants.
Waste crisis
The use of incinerators – otherwise known as energy-from-waste plants – to burn rubbish and create energy has surged in recent years. Almost 40% of the UK's local authority waste is now burned, increasing to 80% in parts of London.
Incineration is now predicted to overtake recycling in England, with councils burning three times as much waste as in 2010. Last year it generated 6,187GWh, around 2% of the UK's energy.
One major waste firm recently publicly backed the practice, amid concerns about shrinking landfill space and the risk that Brexit could leave the UK struggling to export the 3.5m tonnes of waste it currently sends to Europe as fuel.
The rise in incineration comes as the industry gets to grips with a global waste crisis, following a decision in January by China – previously the biggest importer of the world's plastic waste – to close its doors to most household recycling.
An Unearthed investigation has since shown that British packaging is now ending up in illegal dump sites on the other side of the world, as the industry struggles to find new destinations for waste.
The government is considering launching an incineration tax in the Budget on Monday, as part of a raft of measures to tackle plastic waste, following a consultation that drew an unprecedented 162,000 responses this summer.
Cross-party MPs also raised concerns about air pollution and recycling over the summer.
NOx loophole
Nine months ago Theresa May launched the government's 25 year environment plan, which pledged to cut pollution from industry and reduce the environmental impact of waste.
The plan pledged to halve the effects of air pollution on health within 12 years and meet legally binding air pollution targets, including for NOx. It also pledged to cut terrestrial emissions of mercury in half by 2030.
EU member states will vote on the new rules early next year, and if passed they will be phased in by 2024.
The regulations will be part of a Best Available Techniques Reference (BREF) document, which sets out environmental performance standards for plants under the Industrial Emissions Directive.
The NOx loophole could only be used by existing waste incinerators, where SCR technology is not used. Most plants in the EU use a different technology, selective non-catalytic reduction (SNCR).
Environmental consultant Peter Gebhardt, who was also present at the talks in April, told Unearthed: "I think in cases where an operator use SNCR at an existing plant, they will always find arguments that SCR is not applicable. This is why I think that no plant will change the abatement system from SNCR to SCR due to conclusions in the new WI BREF."
He added: "With the SNCR technique even values below 100 mg/m3 [NOx emissions] are achievable".
The UK's waste trade body said that using SCR is very expensive and can lead to higher carbon emissions.
Libby Forrest, policy and parliamentary affairs officer for the Environmental Services Association told Unearthed:  "The UK EfW sector takes emissions reduction very seriously. Most plants operate well below the NOx limit. The SNCR technology used to control NOx emissions is generally associated with higher NOx emissions than SCR technology, but leads to increased thermal efficiency. Higher efficiency means you get more energy, which increases the carbon benefit of EfW because you're displacing a greater amount of non-renewable baseload power."
Back in 2015, when the EU was agreeing new BREF rules for large coal plants, the UK also voiced opposition to stronger standards on NOx, mercury and sulphur dioxide, but ultimately voted in favour.
Anti-incineration campaign group UKWIN told Unearthed: "It is clearly outrageous that, at a time when citizens are demanding better air quality, our representatives have been going against the expressed wishes of the people they are meant to represent and acting to the detriment of the environment they are tasked with protecting."
A Defra spokeswoman added: "The UK is actively engaging in constructive discussions with EU member states around ongoing work to agree effective solutions to regulating emissions from the waste incineration sector. Furthermore, we have recently launched an ambitious £3.5bn plan to reduce harmful emissions, and our upcoming Environment Bill will include provisions to improve air quality."