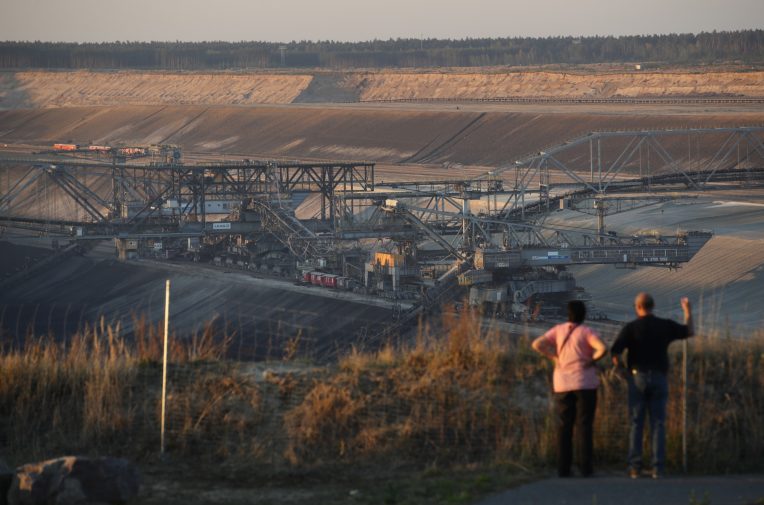 A couple watch heavy machinery work at Jaenschwalde open-pit coal mine in Griessen, Germany. Photo: Sean Gallup/Getty Images
EU research fund gave millions to coal projects in 2018
Recipients of the European Commission's Research Fund for Coal and Steel include German energy giant and 'largest mining company in the EU'
EU research fund gave millions to coal projects in 2018
Recipients of the European Commission's Research Fund for Coal and Steel include German energy giant and 'largest mining company in the EU'
A couple watch heavy machinery work at Jaenschwalde open-pit coal mine in Griessen, Germany. Photo: Sean Gallup/Getty Images
An obscure EU fund invested millions in coal research projects across the continent in 2018, with cash going to a state-owned Polish firm, which describes itself as the largest mining company in the EU, and one of Germany's largest energy companies.
The EU gave out €10,981,643 to coal research projects in 2018 as part of the European Commission's Research Fund for Coal and Steel (RFCS).
Recipients included Polish Mining Group (PGG), as well as Germany's RWE (which owns Npower), and Tata Steel UK. UK universities, Cardiff and Ulster, also received money last year.
Projects granted funding included a scheme to convert lignite coal to liquid fuel, an effort to improve the competitiveness of brown coal, and another looking at underground coal gasification, a controversial technique to turn coal into gas.
The news comes despite the EU and prominent member states announcing moves last year to reduce emissions and phase out coal. In 2018, Germany closed its last black coal mine and Spain announced an ambitious scheme to transition away from the fuel.
Public money?
The fund is a legacy of the European Coal and Steel Community (ECSC). The ECSC was established in 1952 as a precursor to the modern EU and placed a levy on coal and steel production in Europe. By the time the ECSC treaty expired in 2002, it was left with €1.6bn, which was subsequently increased by new member states to €1.8bn and used to establish the RFCS. The interest from this capital is used to fund RFCS research projects in coal and steel.
The fund is administered by the European Commission and the EU makes a substantial contribution to each project. Last year the EU gave out €40m to research projects, with the vast majority (72.8%) going to those looking at steel. The fund is currently accepting applications for funding this year.
While the Commission administers the fund, a body called the Coal Advisory Group (CAG) meets once a year and advises it where to send the cash. CAG counts staff from Euracoal, the trade association of European coal companies, Czech energy conglomerate ČEZ, and RWE as members.
Unearthed understands that the European Commission considers the fund's assets to be public money, though this is disputed by industry.
Brian Ricketts, secretary general of Euracoal, and a member of CAG, told us:
"The fund is not public money as it came from industry. Interest from the capital has been and is being used to help ensure that the coal and steel industries develop and adapt to competitive threats from outside the EU, as well as to environmental challenges.
"The Monitoring and Assessment report, covering first ten years of the RFCS programme, is remarkably positive about the R&D outcomes."  
Some of the fund's existing projects are around reducing environmental and health risks associated with coal. One project, awarded funding in 2017 and coordinated by Exeter University, looks at reducing risks from occupational exposure to coal dust.
The EU has pledged to cut emissions by at least 40% in 2030. And just before Christmas, ministers from EU member states reached a deal to change electricity market rules to phase out a form of coal subsidies known as capacity mechanisms by 2025. But green groups criticised the agreement for giving a special loophole to heavily coal-dependent Poland, meaning the country doesn't have to cut its subsidies until 2035.
Ipek Gençsü, from the think tank the Overseas Development Institute, which has researched EU fossil fuel subsidies in recent years, told Unearthed: "It is really alarming to see that, despite numerous high-level commitments to tackle climate change, European Union institutions continue to fund the production and consumption of fossil fuels. This sends the wrong signals to industry, prolongs the life of uneconomical assets such as coal mines, and hinders the transition to clean energy systems."