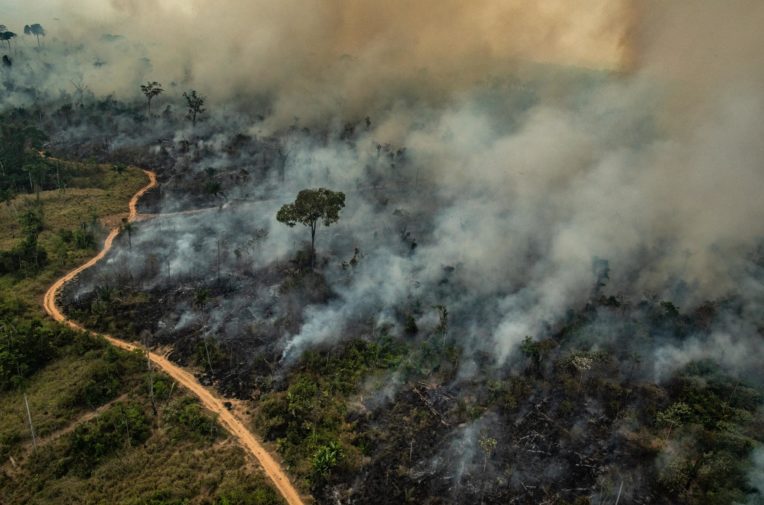 The fire season in the Amazon rainforest is likely to last until October. Photo: Victor Moriyama/Greenpeace
Jair Bolsonaro's government blocked funding for fire prevention
Document seen by Unearthed shows Ibama only has £1m left to spend on fire prevention this year
Jair Bolsonaro's government blocked funding for fire prevention
Document seen by Unearthed shows Ibama only has £1m left to spend on fire prevention this year
The fire season in the Amazon rainforest is likely to last until October. Photo: Victor Moriyama/Greenpeace
Jair Bolsonaro's government blocked 30% of the Brazilian environment agency's budget for preventing fires, according to an internal document seen by Unearthed.
The document shows that R$13.5m (Brazilian reals) or £2.7m was frozen from Ibama's fund for fire prevention earlier this year. With what the agency has already spent on tackling fires in 2019, it only has R$5m or £1m left to tackle the blazes that continue to rage in the Amazon, with the fire season likely to continue until October.
Ibama has been at the forefront of efforts to curb deforestation and prevent fires in the Amazon for years and gained an international reputation for its role in decreasing deforestation in the  rainforest in the early 2000s. 
But senior staff at the agency, as well as officials at fellow environmental watchdog the Chico Mendes Institute for Biodiversity Conservation (ICMbio), have told Unearthed that their work is being deliberately undermined by Bolsonaro's government.
Ibama's environmental inspections program has had R$15.6m frozen from its original budget of R$102.9m, reducing its available funds by 15%. It has already committed R$68.3m meaning it has less than R$19m left for the remainder of the year. 
Ibama's administration budget, originally R$182M, had R$41.6M frozen – reducing its resources by about 23%. With the R$132M already committed so far this year, that means it has around R$8.5m left this year. 
Funding shortfalls at the agency are already hitting its ability to tackle environmental wrongdoing in the Amazon – a key cause of fires.
Official data analysed by Unearthed shows that in the first six months of 2019 there was a 25% drop in the number of fines handed out by Ibama, for environmental crimes in the Legal Amazon, the area which contains all nine states in the Amazon basin.
The value of those fines dropped by almost R$250m and, overall, the value of Ibama's fines for environmental crimes in the whole of Brazil in that period dropped by a third.  
'Paralysis'
President Bolsonaro has openly called for stripping the Amazon of its protections and opening it up to mining and agribusiness interests. 
Former and current ICMBio and Ibama workers described a top-down effort from Brazil's government to demoralise, disempower and demotivate staff.
As well as monitoring conservation areas and conducting scientific work, both agencies aim to prevent environmental crimes, like illegal logging or mining, through often dangerous field work.
A member of ICMBio staff, who agreed to talk on condition of anonymity, said, senior management in the Environment Ministry (MMA) were creating a kind of "paralysis" and intentionally drowning staff members in red tape, forcing them to stay deskbound.
"We have a lot of people in the MMA who are doing nothing," he said. "The coordinators and the directors don't demand any kind of work, and they try to make things more difficult for those who try to work by creating more bureaucratic processes and bottlenecks."  
Morale at ICMbio hit a low point in August when staff celebrating the 12th anniversary of the creation of the agency were told to shut their party down by the organisation's President Homero de Giorge Cerqueira. The former Sao Paulo military police commander later posted and deleted a picture of the celebrations on Instagram with the caption: "ICMBIO party UNAUTHORISED by the governing body. Total disrespect for the Brazilian nation".
An open letter published earlier this month by the trade union ASIBAMA, which represents workers at both agencies, states that Bolsonaro's ministers seem intent on "undoing everything that was built in the last four or five decades."
A separate open letter published by Ibama at the end of August expressed employees "immense concern" with Brazil's environmental policy. 
Cláudio Maretti was president of ICMbio from May 2015 until June 2016, and subsequently on the board of directors until January 2019. He told Unearthed that it was clear that this administration had no intention of putting policies in place for protecting conservation units and combating environmental protection. 
"Instead they speak against the institutions, against the staff, against the activities, against the actions. There is no strategic plan," he said.
The strategy appears to be borne out by an analysis of the MMA's budget. Federal data obtained by Brazilian newspaper Estado shows that up to September 6 of this year just R$1.1m had been committed for policy planning and management, compared to R$35.6m last year. 
Ibama and ICMBio are responsible for operations such as environmental inspections and fire prevention but policy planning falls under the purview of the ministry. 
Meanwhile national climate change policy, which was authorised to spend R$10.4m this year, has had just R$122,000 earmarked to be spent so far, after R$9.9m of its budget was blocked. 
The MMA failed to respond to a request for comment from Unearthed.
Media stunts
Last month, the Brazilian government sent the army into Amazon regions to help tackle forest fires – but sources in environmental agencies described the move to Unearthed as a media stunt. 
"It was just to appear in a picture," said one senior Ibama staff member. 
Speaking to Unearthed a second Ibama civil servant warned that the army has no training, no relevant experience, and are unfamiliar with the region. 
Furthermore, he added, there simply wasn't enough equipment to supply the soldiers to fight the fires. 
"It has been a lot of money spent for very little result," he said, adding that if they had really wanted to see results they would have invested in the firefighting departments of Ibama and ICMBio who work on the issue all year round.
For the ICMBio staff member, dispatching the army was a "media show" aimed at deflecting international heat. 
"The minister will tour Europe in a few weeks and wants to show that the Brazilian government is committed to preserving forests and fighting deforestation," he said. "What they do not say is that the discrediting discourse of environmental agencies and the contestation of the effectiveness of the monitoring system has created a climate of impunity and permissiveness that has resulted in the picture we have today."