UK government defies court order to release secret fracking report
The Cabinet Office was ordered to release the report first revealed by Unearthed nearly two years ago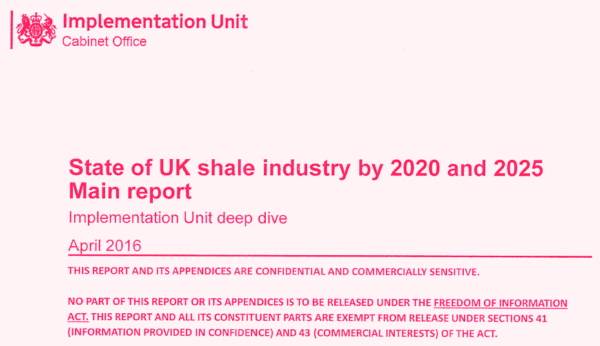 The British government has failed to comply with a court order to release key parts of a confidential report on the fracking industry following a years-long legal battle with Unearthed.
The move comes as the government continues to sit on a major report into Russian interference in the EU referendum, and despite a vague election pledge to halt the controversial oil and gas extraction technique.
The failure to release the report will cast further doubt on whether ministers intend to retain the moratorium on fracking for the duration of the next parliament.
Shadow Minister for the Cabinet Office Jon Trickett said:
"The Tories' failure to publish this crucial report on fracking shows contempt for democracy and serves as a stark warning on what lies ahead if Boris Johnson is re-elected.
Whether denying talks to sell-off our NHS or suppressing a report on foreign interference in our politics, this Tory Government repeatedly operates in secret.
Labour will ban fracking, expand the Freedom of Information Act and introduce tough new transparency rules."
The Cabinet Office, who are failing to release the report, declined to comment.
'In the public interest'
An Information Tribunal held earlier this year over the Cabinet Office's repeated denials to produce the report ruled that sections should be disclosed as they could not be classified as "internal communications" once they were shared with independent regulator the Environment Agency.
The tribunal judgement said: "It is no secret that the government supported the development of the industry and the report was designed to address how the government could help it to develop; it was in our view in the public interest that the public should know how far officials were suggesting government might go in doing so."

The ruling ordered the report to be shared with Unearthed by November 25 but had not been supplied by November 28.

The existence of the 2016 report was first revealed by Unearthed in February of last year, when we obtained the government's fracking well forecast — which was far smaller than previous public statements and industry projections had indicated.
In rejecting the initial Unearthed information request, BEIS said releasing the report "could call into question the industry's viability."
In its judgement, the Information Tribunal said: "We noted an unfortunate tendency on the part of the Cabinet Office to be content for positive information about the fracking industry to be released but anxious to withhold more negative information."
The dispute comes as the government has placed a pause on fracking, though activists fear the moratorium could be lifted by a Conservative government after the election.
Business Secretary Andrea Leadsom said the moratorium would remain in effect until "new compelling evidence is provided" regarding the serious seismic incidents drilling has triggered in the north of England.