Secret UK government report lowers fracking expectations
Confidential Cabinet Office analysis predicts 155 wells by 2025 — a far cry from the thousands previously touted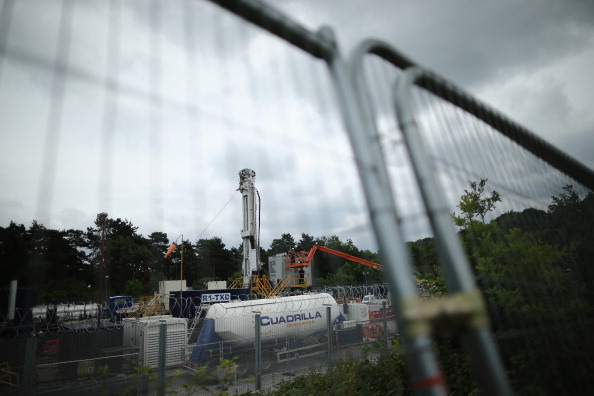 The British government does not expect a fracking boom on the scale predicted by the shale gas industry, according to confidential Cabinet Office projections seen by Unearthed.
Far from the thousands of wells predicted by the shale gas industry just a few years ago, the government's unreleased Implementation Unit Report on Shale Gas foresees only 155 wells drilled by 2025.
Meanwhile the most significant industry-backed studies on the scaling up of the UK's nascent fracking industry estimate that 4,000 horizontal wells could be drilled by 2032, with 400 per year delivered at its peak.
If the government's fracking forecast proves accurate, the shale gas industry would have to deploy 550 wells a year in order to reach its 2032 target — a figure far higher than even the industry's 'high activity scenarios' suggest is possible.
Responding to the news, industry players blamed planning rules and falling gas prices for the delay and said more gas could be extracted with fewer wells than previously thought.
Dan Lewis, senior adviser at the Institute of Directors, which produced the analysis behind the 4,000 well figure, told Unearthed: "The 2013 projection that, at peak, the UK's drilling schedule could see 400 new laterals installed hasn't come to pass, for a variety of reasons.
"One major factor behind this is that further research into the UK's geology has been held back by planning. Another is the fall in gas prices that have made exploration harder to justify.
"Of course, it is disappointing that the shale gas sector in the UK has not yet delivered the jobs, taxes and lower energy prices for all as in America. We are nonetheless encouraged by the findings last month at Preston New Road and more exploration is coming."
Cuadrilla, the UK's largest fracking firm, which produced its own modelling in 2012 that showed many more wells than the government now expects, said the discrepancy could be down to "technical drilling advancements" that "allow operators to access rich gas zones from just one well without the need for multiple vertical wells."
The spokesperson said: "Over the last six years there have been significant changes in regulation, local planning timescales and permitting which would, amongst other factors, outdate the timeframe of the 2012 predictions."
'Inept'
This latest setback for the industry – which failed to frack a single production well in 2017 – has triggered criticism of government energy policy.
Caroline Lucas, Leader of the Green Party, said: "This is further evidence that the fracking industry is doomed. Though ministers like to talk up fracking in public, and the industry boasts of its own potential, it simply isn't looking viable even by its own measures."
Drew Henry, the Scottish National Party's business and energy spokesperson, said: "With twenty energy ministers in twenty years it is no surprise that the UK government has proven to be inept when it comes to energy policy. Not content with the white elephant that is Hinkley C, their other great 'hope' fracking is now seen, not only to be environmentally risky, but with projected returns that were wildly optimistic."
A BEIS spokesperson said: "The UK government is committed to ensuring we have secure energy supplies that are reliable, affordable and clean. As part of this, shale gas has the potential to be a home-grown energy source which can lead to jobs and economic growth, contribute to our diverse energy mix to further enhance our security of supply, and help us achieve our climate change objectives."
The Implementation Unit Report on Shale Gas
What little information Unearthed has gleaned so far about the report via freedom of information is:
Government expects 'approximately' 17 unconventional oil and gas sites across England and Wales by the end of this decade, and 30 to 35 by 2022.

'There could be around 155 wells by around 2025'

— not separated by exploration/production

There is no information beyond 2025
Contacted by Unearthed, a government spokesperson confirmed that these are the most recent estimates.
Industry expectations
A handful of reports on the scaling up of Britain's shale gas industry have been published over the last few years, yet many rely on underlying forecasts made by the Institute of Directors in 2013 — that's where EY got the 4,000 well stat from.
Looking further back, in 2012 would-be fracking firm Cuadrilla predicted 800 wells 'within the next 5 to 10 years' in the Bowland Shale alone, the largest of the UK's three formations.
The UK government has not publicly produced its own estimates, though ministers have approvingly referenced the EY report's findings in parliamentary debates.
The rosy future the shale gas industry once envisioned for itself is facing significant hurdles: public support has reached record lows, political opposition – chiefly in Scotland – has solidified and the financial burden for small firms has continued despite the fact that not a single production well has been drilled since 2011.
It's widely agreed that 2018 will be a make-or-break year for fracking in the UK, with Cuadrilla buoyed by the recent gas find in its Lancashire license block but Third Energy's ambitions derailed for the time being by financial woes.