Syngenta says media has 'overstated' the science on insect declines
The chemical multinational admitted that synthetic pesticides are 'deeply unpopular'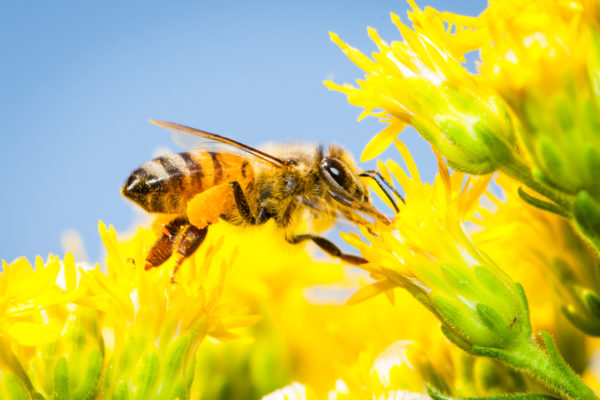 Pesticide giant Syngenta has said that the media is "overstating the science that clearly exists" on insect declines.
In a talk on the future of agriculture at Oxford Farming Conference last week, Dr David Hughes, the company's head of technology scouting, also called for a rethink of agricultural practices with land divided between intensive food production and biodiversity. Syngenta is likely to be consulted by the UK as it forms its post-Brexit agricultural policy. 
Warning against drawing bold conclusions from the available evidence, Hughes  pointed to a cover story by TIME magazine that looked into what "a world without bees" would be like and a New York Times magazine story, "The Insect Apocalypse is here".
Hughes argued that whilst some insect populations are declining in Europe and the USA, UN statistics now show a global increase in honeybee hives over the last 50 years and there is not nearly enough data on wild insect populations to know if they are declining.
"I am not suggesting that insect populations are not collapsing. We simply don't know," he told Unearthed. "The necessary experiments and analyses have not yet been done….Reports which suggest that we are witnessing an apocalyptic collapse in insect populations are over-reaching the science base that currently exists."
Responding to Hughes' comments, CEO of charity Buglife, Matt Shardlow said: "It is very disappointing that Syngenta are resorting to denialism, but it is a classic delaying tactic, well-trodden by the tobacco and oil industries. The science overwhelmingly shows that populations of wild insects are in trouble, raising realistic concerns about the future health of ecosystems and their ability to support us."
Insect scientist and author Prof Dave Goulson, told Unearthed : "using increasing numbers of honeybees at a global level as an argument against insect declines is ridiculous. The honeybee is more or less the only domesticated insect….one might just as well argue that wild birds must be doing OK because domestic chicken numbers have increased."
Data
The most recent major assessment of pollinators by IPBES in 2016 reported that: "although most insect pollinators have not been assessed at a global level, regional and national assessments indicate high levels of threat, particularly for bees and butterflies – with often more than 40% of invertebrate species threatened locally.
Dr Tom Breeze, an ecologist at the University of Reading and an author of the report, told Unearthed that when it comes to wild bees that there are "enormous holes in data" and overall numbers are unknown, but that "there is strong evidence that many bee species are declining in occurrence across the UK."
"It's now the same species – common bumblebees – that you find everywhere. The picture is less clear globally, but there is evidence that the same trend is happening in other parts of Europe and the US. This is potentially a very big problem. We have few back up pollinators if a dominant species has a bad year because of disease or climate change. In the UK we have found evidence that there is a shortfall in pollination in apples, meaning farmers are getting less good quality apples than they would otherwise be."
Pesticides
Last year the UN's Food and Agriculture organisation warned that declining bee populations are a "threat to global food security and nutrition". 
When it comes to insects more generally, Goulson, who is based at the University of Sussex, told Unearthed that: "there is overwhelming evidence for insect declines – in Europe and North America where we have data. There are very few long-term studies from other regions, but it would be a reasonable prediction that developing countries are also experiencing insect declines, given the scale of habitat loss, pollution, and pesticide use". 
The IPBES report concluded that pesticides "threaten pollinators worldwide", with the long-term effects unknown.  
Syngenta is one of the biggest manufacturers of pesticides in the world and manufactures neonicotinoid pesticides that some blame for declines in insect populations. The company says the evidence is insufficient to know that most a significant threat. 
Speaking to Unearthed, Hughes pointed to a scientific review, published last year, which warned of "a catastrophic collapse of nature's ecosystems" and suggested that insects could vanish by the end of the century. The paper has since been widely criticised for key parts of its  methodology. 
However other recent studies have raised alarm among other leading scientists. A 2017 study of German nature reserves reported a 75% drop in flying insects over 27 years, which multiple entomologists described as "alarming". Another study in a Puerto Rico forest found a 98% decline in ground insects over 35 years, probably due to climate change.
A global study of 1676 sites, published in 2020, found that land-dwelling insects dropped in abundance by 24% over 30 years, while freshwater insects like midges and mayflies – which are a minority of the total insect population and do not pollinate crops – increased by 38%. This is potentially down to the clean-up of lakes and rivers in recent decades. 
In a wide-ranging talk that covered climate change, biodiversity and health concerns, Hughes advocated that the most environmentally responsible way to produce food was to retain intensive agriculture, by maximising the efficiency of such land through new technologies, while expanding areas available for wildlife. 
He admitted that synthetic chemical pesticides are "deeply unpopular", but said that the risks from pesticide residues in food and GM crops are "vanishingly small". The future of pest control will be "more biological" he added, covering natural predators, fungi, bacteria and natural chemicals. 
In an 2018 interview with the Guardian, Syngenta's CEO said that there could be a high risk of food shortages without pesticides. But a major European study in 2017 found that most farms could slash their pesticide use without losses.