Trade minister touted UK surveillance technology in meeting with far-right Rio governor
Conor Burns pledged UK support to Wilson Witzel, who has called on police to 'lose their fear of killing'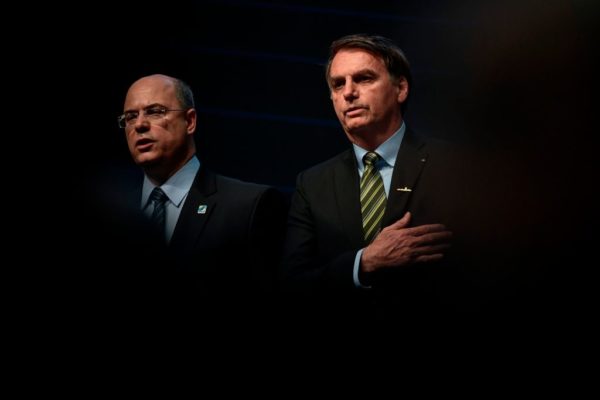 During a meeting with controversial Rio de Janeiro Governor Wilson Witzel – a politician who has overseen a dramatic increase in the number of police killings in his state – a British government minister pledged UK support on public security issues, touting his country's expertise in facial recognition and surveillance. 
Conor Burns, a minister in the Department for International Trade (DIT), praised the far-right Governor's ambition to reduce violence in his state, according to official documents obtained by Unearthed using the Freedom of Information Act. The documents were also seen by the site Brasil Wire.
A briefing prepared for the minister ahead of the meeting – held in the city of Rio de Janeiro on August 19 last year – talked up an "opportunity for partnership" in the security sector between the UK and Witzel's administration. The briefing for Burns noted, under a section titled "points to make": "public security is also at the top of my government's agenda".
Witzel, an ally of President Jair Bolsonaro, talked of giving police sweeping powers to tackle crime in his state during his election campaign last year, which included a proposal to allow officers to use helicopters as shooting posts to "slaughter" drug gangs.
From January to the end of November 2019, 1,686 people were killed by police in Rio, an average of five a day, according to official figures from the state government's Institute of Public Security. Police killings in the first eleven months of the year – as recently as data is available – had already outstripped the 1,534 killed in 2018, which was previously the worst year since records began in 2003. 
A few weeks before his meeting with Burns, Witzel called on the police to be given even more freedom, saying officers should lose their "fear of killing."
Rafael Alcadipani da Silveira, a public security analyst and professor at the Getulio Vargas Foundation, cautioned that the UK should be careful to promote policies that respect human rights.
"Witzel is acting against the respect of human rights in Rio and this is very problematic," Silveira told Unearthed. "A police force that kills a lot is not a professional force." 
'Cosying up'
The UK has made securing a trade deal with Brazil a priority once the country leaves the EU. 
Burns said the UK was keen to work with Witzel on other sectors of the economy, including energy. The briefing noted: "Shell's biggest overseas investment is in Rio; BP and others have a strong presence – most of the 200+ UK companies working in the Energy sector in Brazil are in Rio." 
Both Shell and BP hold oil blocks in the pre-salt region off the coast of Rio. The area is considered one of the world's most promising offshore oil sites and Brazil's industry regulator has estimated it could contain as much as 15bn barrels of oil.
Burns made his trip to Brazil as fires swept through the Amazon rainforest. He was heavily criticised by Labour MPs for "cosying up" to Bolsonaro's allies at a time when the government was facing international criticism.  
Burns also met with Brazil's trade minister Marcos Troyjo, a man he described as "superb". A briefing prepared ahead of the meeting said: "the new, more liberal, government in Brazil, presents an opportunity to move our trade relationship onto a new footing."
During the August 19 meeting, Burns told Witzel that the "UK stood ready to work together on a range of issues, including security (noted expertise on facial recognition)."
Unearthed has learned that DIT recently provided assistance to British company Facewatch, in a deal to get its technology into Rio shopping malls.
20 shootings a day
Rio is a state with a population of 17 million that includes the famous coastal city of the same name. For decades it has been badly affected by violent crime. 
Data released earlier this month by organisation Fogo Cruzado showed that shootings in Rio's metropolitan area in 2019 dropped by 24%, to 7,365, from 9,642 in 2018. On average, there were 20 shootings daily in Rio in 2019. 
Professor Silveira, suggested this decrease was more likely to be due to an expansion of militias than an improvement in public security.  
"We have seen an expansion of militias and very rarely police acts on militias' areas," he said. 
Militias formed by former and off-duty police and military officers have historically formed to tackle lawlessness and violence in areas in Brazil where the state has little reach. However, with time and increased power, these groups often also become a driver of corruption, violence and execution-style killings. The strong links between the police and militias mean that they are often tolerated day to day. 
Silveira said that while there is no proven relationship between Witzel's administration and the militias, there was also no sign that Rio's government was addressing the problem.