Minister told BP it is "key stakeholder" in climate summit
UK officials discuss what "more we can do" to support BP's international work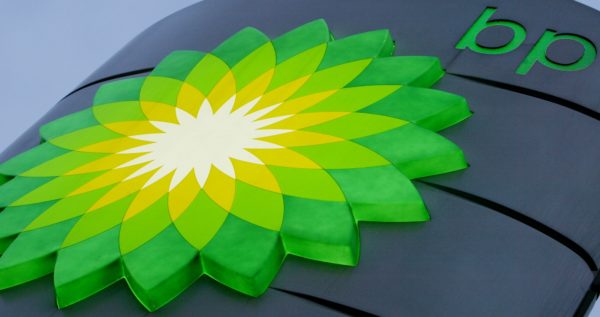 A former UK minister told the oil giant BP it is a "key stakeholder" in the upcoming international climate conference COP 26, documents obtained by Unearthed have revealed.
Andrea Leadsom – then energy secretary – made the statement in a meeting with BP executives in January, according to minutes obtained through Freedom of Information rules.
BP executives also met the government's COP26 unit "to discuss how BP could contribute to the presidency", according to briefing notes for the same meeting. At the January meeting, officials also proposed to ask what "more we can do" to support BP's international work. 
The meeting followed another between BP executives and Kwasi Kwarteng – now minister for clean growth – in which officials promised to support the oil giant's "business wins" internationally whilst encouraging them to invest in the energy transition. 
In both meetings, ministers stressed the importance of carbon capture and underground storage (CCUS) to meeting the UK's climate targets. BP is seeking government support for a pilot scheme. 
Commenting on the story, shadow climate change minister Matthew Pennycook told Unearthed: "Success at the postponed COP26 UN climate change conference next year is going to require Britain to persuade countries to dramatically raise their ambition on climate action. It is essential that no vested corporate interest exerts undue influence on the process.
COP26 has been billed as the most crucial summit since 2015's Paris deal but the UK has faced criticism that it was failing to organise and prioritise the conference, after Boris Johnson sacked president Claire O'Neill. It was scheduled for November but has been postponed until next year due to the coronavirus pandemic.
Sriram Madhusoodanan, deputy campaigns director at the NGO Corporate Accountability, criticised the government's approach towards BP and argued the firm "should be barred from interfering at any level of climate policymaking".
He added: "Having BP at the table is inviting the fox inside the hen house and will only mean less progress, less ambition and less justice from the UK government and from the UNFCCC process itself."
Alex Scott, senior COP26 advisor at think-tank E3G told Unearthed: "Overall some fossil fuel companies are key stakeholders in decarbonisation and the transition to a climate safe economy, but there needs to be a conversation with this industry that goes beyond carbon capture or offsetting. It's most important that as the COP host, the UK maintains transparency."
"Is there more we can do?"
Two of the key aims of the January meeting – according to these notes – are to "fully recognise the continuing importance of oil and gas in the global economy" but also to acknowledge "the increasing public challenge to fossil fuel use and need to transition to net zero by the middle of the century".
According to the briefing, the government planned to tell BP it was "glad that we have been able to provide support for your international business" and to ask: "Is there more we can do?"
A spokesperson for the government's COP26 unit told Unearthed: "As COP26 Presidency, we are keen to encourage and harness the innovation and commitment of all – citizens, investors, business, countries, cities and regions – to move the global economy to net zero emissions. This includes a wide range of energy companies.
"We will be working most closely with organisations that are committed to taking real, positive action and have strong climate credentials. For example, companies who have committed to achieving net zero, and have published a plan of action of how they will do this."
In February BP announced its target to go net zero by 2050 – in line with the government's plans – but declined to give any details on how it would get there, promising it would do so at an investor meeting in September. 
A spokesperson told Unearthed: "Cooperation — with companies and industries working together with governments, partners and other stakeholders — will be essential to meeting both our own net zero ambition and those of the world. We are therefore keen to learn more about the government's plans for COP26 and how we might be able to assist."
How to get to net zero
At the meetings, the government also discussed with BP its aim to reach net zero emissions by 2050, a commitment made by Theresa May last summer in one of her final acts as prime minister.
Although the target is enshrined in law, the government has until now resisted calls to set out plans that will meet it.
Maximising economic recovery of oil and gas does not need to be in conflict with the transition to net zero."
The briefing notes, however, show that the government believes carbon capture usage and storage (CCUS) – a high-tech process intended to capture waste carbon dioxide and use it or store it so it doesn't enter the atmosphere – will be "vital to meeting our 2050 target". They discuss the launch of the industry-led Clean Gas Project, a CCUS project in Teesside. 
The government's language echoes that of their official climate advisors, the Climate Change Committee (CCC), which noted last year that "CCS is a necessity not an option" in its report on how the UK could reach net zero by 2050, although that covers many sectors from bioenergy to aviation to agriculture. 
Their report envisages that gas power with CCS could provide for a quarter of the UK's electricity needs in 2050 under a net zero scenario, although it notes that this could be replaced by nuclear power or alternative renewable technologies.
This focus on CCS is also evident in a strategy published a few weeks ago by industry regulator the Oil and Gas Authority. It states: "Maximising economic recovery of oil and gas does not need to be in conflict with the transition to net zero."
It imposes a new obligation on oil and gas companies to reduce their emissions by cutting down on flaring and venting and supporting CCS.
But a report published in February by academics at the University of Cambridge warned against relying on breakthrough technologies like carbon capture.
It stated: "The UK has no current plans for even a first installation and although CCS may be important in future, it is not yet operating at meaningful scale, but meanwhile global emissions are still rising.
"The hope of an invisible, technology-led, solution to climate change is obviously attractive to politicians and incumbent businesses. However, a result of their focus on this approach has been to inhibit examination of our patterns of energy demand."
Leadsom has since been sacked from her position but Unearthed also obtained a briefing provided to Kwasi Kwarteng, now minister for clean growth, before he met Peter Mather in July last year.
According to the briefing, the government's aim is to "support business wins internationally" for BP, along with encouraging them "to invest in the clean energy transition".
New money for CCS
In last month's budget, chancellor Rishi Sunak unveiled an £800m CCS fund, which will be used to establish CCS "clusters" in two sites by 2030.
The Clean Gas Project in Teesside, which BP is jointly leading and to which the government has already given £3.8m, will be one of the projects vying for this funding.
A briefing for another meeting Kwasi Kwarteng held with the oil industry in September last year shows that it refused funding for a project to research CCS further.
According to the briefing, Oil and Gas Technology Centre, also led by oil companies, had developed a proposal to establish a Net Zero Solution Centre in north east Scotland and was looking for £50m over five years to fund it.
The centre would look into how to reduce emissions directly produced by extracting oil and gas and how to integrate that extraction "with offshore renewables, hydrogen production and CCUS".
The briefing told Kwarteng: "We do not have budget for additional funding."
Unearthed has asked the government whether this project could receive money from the new fund and whether any organisations other than oil and gas companies have applied for CCS funds.
A version of this story was published in the i