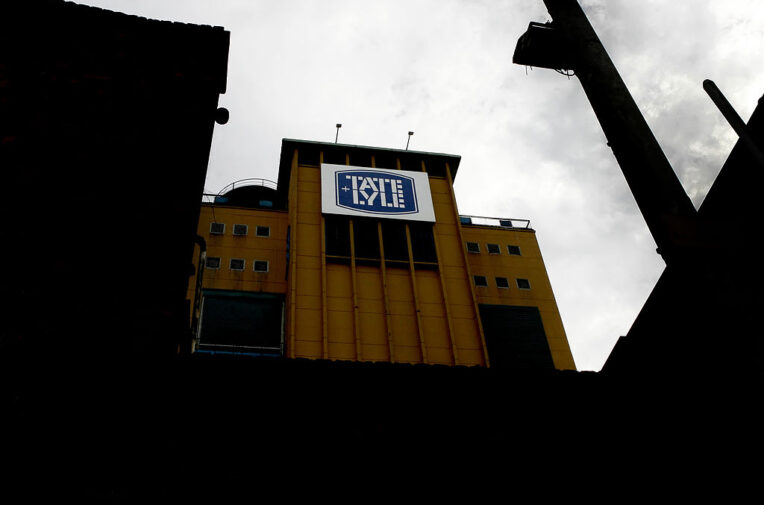 Tate & Lyle Sugar's London factory. The company was one of the only large UK employers to back a 'hard' Brexit (Getty)
Brexit-backing sugar refiner gets 'sweetheart deal' on cane imports
Farmers warn removing tariffs on raw cane sugar will open up UK market to food grown to lower environmental standards
Brexit-backing sugar refiner gets 'sweetheart deal' on cane imports
Farmers warn removing tariffs on raw cane sugar will open up UK market to food grown to lower environmental standards
Tate & Lyle Sugar's London factory. The company was one of the only large UK employers to back a 'hard' Brexit (Getty)
A Conservative donor that was one of the only large UK businesses publicly to back leaving the European Union will get a tariff break worth up to £73m next year in one of the government's first post-Brexit trade reforms, an Unearthed investigation has found.
Tate & Lyle Sugars (T&L) stands to be the sole beneficiary of a government decision to allow tariff-free imports of up to 260,000 tonnes of raw cane sugar next year, when the UK's post-Brexit 'transition' arrangements with the EU come to an end. 
The US-owned company's refinery in Silvertown, East London, is the country's only importer of raw cane sugar – the UK's other sugar producers use sugarbeet, grown domestically or in the EU. 
The government move has provoked fury from British farmers, who say it is "offshoring legitimate environmental concerns" by forcing them to compete with sugarcane grown to lower environmental standards than the UK's. 
T&L aims to increase imports from major cane producers like Brazil and Australia, which allow intensive use of hazardous and bee-killing pesticides that are banned in the UK. Brazil last year cancelled a 10-year-old ban on sugarcane growing in the Amazon rainforest. 
The trade reform comes after years of aggressive campaigning by T&L for a Brexit that removes import tariffs on sugarcane. 
Ministers need to come clean on what lobbying took place prior to this decision
Unearthed found the company met with government ministers to discuss trade policy and Brexit at least 10 times between 2017 and mid-2019, and sponsored the lanyards at the 2017 Conservative Party conference. That sponsorship was recorded by the Electoral Commission as a donation of £8,287. 
Labour shadow environment secretary Luke Pollard said the government had "serious questions to answer" about the zero tariff quota.
"Not only is the government refusing to protect British farmers from being undercut by cheap imports, it is now striking sweetheart deals with Tory donors in big business," he said. 
"Tate & Lyle's connections into the Conservative Party run deep. Ministers need to come clean on what lobbying took place prior to this decision."
 But Tate & Lyle Sugars' senior vice president Gerald Mason said the company had been "quite transparent" about its issues with the EU.
"Yes, we have ministers visit the refinery to talk about the issues," he told the Observer newspaper. "We have Labour Party politicians, we have Lib Dem politicians. Anybody that can help us secure the future of our business in the UK, we will speak to very openly and transparently."
A spokesman for the Department for International Trade (DIT) said the government had sought to "balance strategic trade objectives" including "the interests of domestic production, processing and consumption".
'Golden Opportunity'
T&L has always seen Brexit as a "golden opportunity" to get rid of what it considers discriminatory tariffs imposed on sugarcane by the EU. This led it to become one of the only significant UK employers to back a 'hard Brexit', leaving even the EU customs union.
But T&L's Gerald Mason said it was "just wrong" to see the new tariff-free allowance as "Tate & Lyle's quota".
"Anybody can import [raw cane sugar]," he continued. "Anybody can refine it if they want to get into the industry.
"It's not us that are going to get any money from this. It's our competitors that have been subsidised by the EU all these years. What it will do is allow us to buy from some extra countries that we can't buy from today. It is not a cash subsidy. We would never buy from suppliers where we have to pay the full tariff, because it's uneconomic."
Under the UK Global Tariff that comes into force next year, imports of raw cane sugar outside the tariff-free quota would cost T&L £28 per 100kg, a similar rate to the €33.90 tariff currently in force under EU rules. This means if the company makes full use of next year's 260,000 tonne quota it will save £72.8m on the standard rate. According to the Grocer magazine, T&L imported 447,000 tonnes of raw cane sugar in 2018-19. 
T&L can and does already import some raw cane sugar tariff-free under EU rules, but this has to come from low-income countries like Mauritius and Belize that have higher production costs than Brazil or Australia. It can also import some raw cane sugar from Brazil under an EU quota for the country that gives a discount on the full tariff.
T&L says the EU's tariff restrictions on its imports from the biggest producers have resulted in its business running at a loss. 
'Offshoring environmental concerns'
But the UK's National Farmers Union says the "highly concerning" decision will expose UK sugarbeet growers to unfair competition, by opening up the country's market to agricultural products grown to lower environmental standards. 
"The UK homegrown sugar industry is the third lowest cost sugar producer in the world, but growers in the UK cannot compete on the same terms as sugar growers elsewhere who have access to state support or technologies that are illegal in the UK," it said in a statement.
It added that the quota for raw cane would "distort competition in the sugar market and lead to unfair competition for UK growers by failing to uphold environmental standards for imported product, off-shoring legitimate environmental concerns."
There is enormous concern in the UK, among both farmers and environmentalists, that the country's post-Brexit trade policy will undermine environmental protections by opening up food markets to imports grown without the same controls on pesticide use and animal welfare. 
More than a million people have signed an NFU petition calling on the government to ensure "future trade deals do not lead to an increase in food imports that would be illegal to produce here".
A joint investigation by Unearthed and the Swiss NGO Public Eye, published earlier this year, found that cane growers in both Brazil and Australia depended on intensive use of hazardous pesticides that are banned in the UK and EU. 
In Brazil, the most popular pesticides in cane fields include the neonicotinoid thiamethoxam and another insecticide called fipronil, both of which have been permanently banned from outdoor use in the UK and EU in order to protect bees. 
In Australia the leading agrochemical products include the weedkillers atrazine and paraquat. Both have long been banned in the EU, in the case of atrazine because of concerns about groundwater contamination. The chemical has been found by US researchers to "wreak havoc on the sex lives of frogs". 
Mason said it was "a complete fantasy that [T&L] want the market to be opened up to bring in cheap, poorly produced sugar." He added: "In Australia and Brazil, which are two countries we'd love to buy more from, they have the highest numbers of sugar producers who are certified for the highest ethical environmental standards in the world."
Unearthed found that between February 2017 and June 2019, T&L Sugars met with senior ministers on at least 10 occasions to talk trade policy, including discussions with then Defra secretary Michael Gove in April 2018; trade minister Greg Hands in April 2018 and then Brexit secretary Steven Barclay in June 2019. 
In its most recent set of accounts, from September last year, T&S Sugars outlined how "we remain in discussions with the UK Government about the nature of future UK agricultural and trade policies as they relate to sugar", adding that it was "confident that they will enable us to complement our existing supply base with competitive new suppliers."
The government announced its plan for a new zero tariff quota for raw cane sugar in May this year. 
The DIT spokesman said: "The government has sought to balance strategic trade objectives, such as the delivery of the UK's trade ambitions and [free trade agreement] trade agenda and the interests of domestic production, processing and consumption, whilst maintaining the government's commitment to developing countries to reduce poverty through trade.
"To achieve this balance, the UK Global Tariff retains tariffs on sugar products, while opening a new Autonomous Tariff Quota to ensure that supply is maintained while protecting developing country preferences.
"The Government has always been clear that this ATQ will be reviewed in line with the UK's suspensions policy in due course."
This story was updated at 4.14pm, 11 August 2020, to include a statement belatedly received from the DIT.