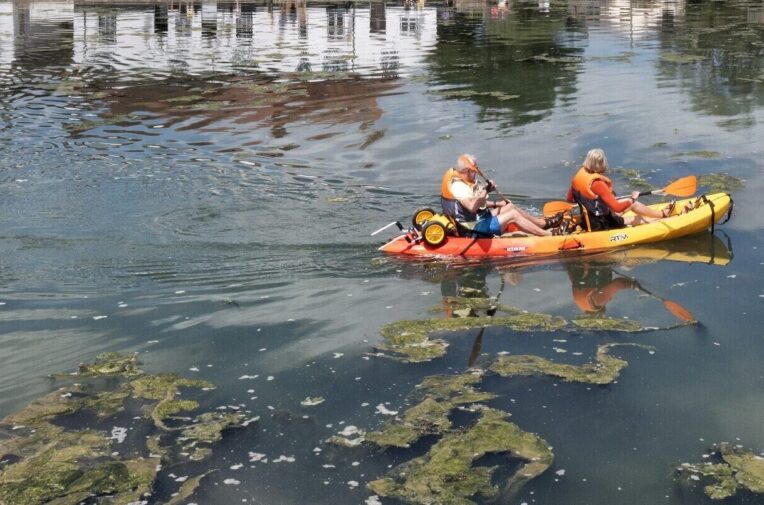 Canoeists in Langstone Harbour, Hampshire. Sewage was discharged into the Chichester and Langstone Harbour 'special protection area' for more than 3,200 hours last year. Photo: Chris Gorman/Getty Images
Over 300,000 hours of sewage spills hit England and Wales' most protected habitats last year
Beauty spots of global ecological importance are among the hundreds of sewage outflow sites, data analysis shows
Over 300,000 hours of sewage spills hit England and Wales' most protected habitats last year
Beauty spots of global ecological importance are among the hundreds of sewage outflow sites, data analysis shows
Canoeists in Langstone Harbour, Hampshire. Sewage was discharged into the Chichester and Langstone Harbour 'special protection area' for more than 3,200 hours last year. Photo: Chris Gorman/Getty Images
Sewage poured into England and Wales' most-precious conservation sites for more than 300,000 hours in 2022, an Unearthed investigation has found.
Using mapping analysis, Unearthed identified almost 1,200 sewage overflows that discharged in or close to internationally important habitats last year, all of which are supposed to be protected by formal conservation regimes. 
If this is happening on the most protected rivers of the UK, what hope have the other ones got?

Angela Jones – wild swimming activist
The protected nature sites most heavily hit with sewage spills last year included some of the UK's most loved and well-known beauty spots, from the south west coast to the Lake District, to Wales' Brecon Beacons national park.
Protected areas, which include sites of special scientific interests (SSSIs) or special areas of conservation (SACs), are singled out for conservation because they are home to internationally prized, rare, or threatened species and habitats.
Under the government's plan for tackling England's sewage crisis, the overflows spilling into these valuable ecosystems have been identified as "high priority" – meaning they are among the pipes where action is most urgently needed. 
However, the department for environment, food and rural affairs (Defra) has never revealed where these sites are.
Water companies contacted by Unearthed said the overflows were licensed by the Environment Agency, England's environmental regulator, to release waters after heavy rains, reducing pressure on the sewer network and protecting homes from flooding. This meant they discharged a mixture of rainwater, groundwater, and sewage. 
However, the water companies emphasised they were committed to reducing their use of storm overflows, and some acknowledged that these discharges were "no longer acceptable".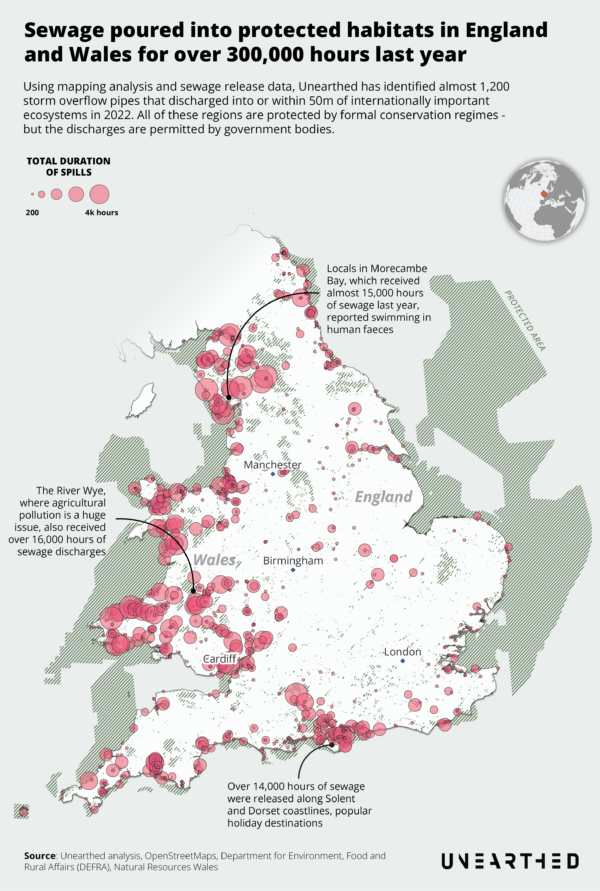 Sewage from storm overflows contains contaminants that can disrupt ecosystems and harm biodiversity, including bacteria, heavy metals, chemicals, pharmaceuticals, recreational drugs, and nutrients. 
Contamination of water with an excess of the plant nutrients found in sewage and agricultural run-off is a major problem for England's protected nature sites. It can cause runaway growth of algae in the water, harming or killing off other plants and animals. 
The government's sewage action plan also identifies as "high priority" all pipes spilling in or close to England's chalk rivers. Chalk streams are one of the planet's rarest habitats, and one that is almost only found in England. However, Unearthed's investigation found that over 38,000 hours of sewage were released into or within 50m of chalk rivers in England last year.  
Charles Watson, founder of the River Action charity, which campaigns against river pollution, said a prime reason for the "appalling desecration of our most precious environmental sites" was "the systematic defunding of our environmental protection agencies over the last 15 years". 
He added: "The only way we can begin to solve this problem is to give our statutory agencies the funding and teeth they need to relentlessly enforce our environmental regulations, thus ending this shameful period whereby polluters have been allowed to destroy our protected wildlife sites with impunity."
Feargal Sharkey, Undertones rockstar turned high-profile sewage campaigner, told Unearthed the investigation had revealed "yet more of the ugly underbelly and corrupt systems of governance we have in this country". 
This is terrible news for biodiversity loss in these fragile ecosystems that are severely at risk


– Mya-Rose Craig, environmentalist
"If we cannot protect or conserve the most heavily protected sites in the country, what chance does the rest of the environment have?" he said. "Regulation has failed and these results prove yet again the incompetence of regulators and the industry."
An Environment Agency spokesperson insisted the regulator was "unequivocal that polluting our rivers is unacceptable". 
"While we have seen a culture shift from the water industry in recent months, this needs to lead to a prolonged change in how they operate and treat the water environment," they told Unearthed. 
"We continue to play our role by driving up monitoring and transparency to ensure the public can see what is going on." 
They added that the agency was improving regulation through a "bigger specialised workforce to focus solely on water companies", and there was an "ongoing major criminal investigation into potential non-compliance at wastewater treatment works". 
A spokesperson for industry trade association Water UK said: "Water and sewerage companies have been too slow to tackle spills from overflows and have a plan to put it right." The industry was spending £10bn over seven years on improving sewage overflows as part of the "biggest modernisation of sewers since the Victorian era". 
"Chalk streams, and other sensitive sites, will be prioritised as part of this investment," they added.
A spokesperson for Thames Water said the company regarded "all discharges of untreated sewage as unacceptable," and it was "understandable why the public are demanding more from water companies to do better." 
Protected habitats
Under the government's sewage action plan, an overflow pipe is classified as high priority if it is spilling into or within 50m of a body of water in a protected nature site. These include SSSIs, SACs, special protected areas (SPAs) and internationally important wetlands, known as Ramsar sites.
Unearthed mapped all of these protected areas against data published by the Environment Agency, which records where and for how long each storm overflow in England spilled in 2022. In Wales, the data on storm overflow spillage is published by the water companies themselves.
The analysis revealed there are protected nature sites the length of England and Wales being hit with thousands of hours of sewage spills every year. 
In the south, the Solent and Dorset coast SPA – which covers parts of Sussex, the Isle of Wight and Dorset – received more than 14,000 hours of spills last year, while the Plymouth Sound and Estuaries SAC saw more than 11,000 hours. 
Plymouth Sound, a deep inlet beside 'Britain's ocean city' of Plymouth, is home to the UK's first ever national marine park and a popular Devon holiday destination.
Earlier this year, the utility company South West Water was fined £2.1 million for multiple illegal sewage incidents dating back to 2016, including one discharge from Torpoint sewage treatment works into Plymouth Sound.
To the north, several of the iconic waters with protected status in England's Lake District were hit heavily with sewage discharges. The River Derwent and Bassenthwaite Lake received more than 6,600 hours of sewage spills in 2022, while Esthwaite Water, an SSSI in the south of the region, received over 2,700 hours. 
Defra and its agencies are culpable for letting this situation get worse over the 30+ years since water privatisation

– Guy Linley-Adams, solicitor at Wildfish
Lake district anti-spills campaigner Matt Staniek told Unearthed it was shocking that sewage was being spilled into a protected site like Esthwaite Water. "How can it be that an SSSI and Ramsar site in a National Park and World Heritage Site is not free from sewage?" he asked.
"The difference with these locations is that they are specifically protected – or should be – because of their scientific significance, which makes it all the more shocking. 
"They should be the best representation of what the British natural environment has to offer, not a victim of cost savings over environmental protection." 
Staniek added: "We need radical change in our country to protect the natural world, and in this circumstance, we should see no sewage being spilled into SSSIs or bodies of water that essentially retain what is put into them." 
The single biggest spillage into a protected area last year was in the Copeland constituency of Trudy Harrison, minister for natural environment and land use – making her directly responsible for wildlife and the natural environment. She also has ministerial responsibility for Natural England, the organisation that plays a leading role in identifying and protecting SSSIs. 
The worst-performing pipe, near the village of Ravenglass in the Lake District, poured sewage for a total of 4,605 hours into the Morecambe Bay and Duddon Estuary SPA and Drigg Coast SSSI/SAC. Copeland, which covers part of the Lake District, is also among the 10 most impacted constituencies in England for sewage releases into protected areas.
A spokesperson for United Utilities, the region's operator, said: "With the largest combined sewer network in the UK and highest levels of rainfall we are planning the biggest programme of storm overflow reduction in the country. By 2030 we will have invested £3 billion tackling the issue, with more to follow."
Mya-Rose Craig, an ornithologist and environmentalist, said Unearthed's findings demonstrated "vandalism and ecocide", adding: "This is terrible news for biodiversity loss in these fragile ecosystems that are severely at risk."
She said: "We need a total, immediate ban on water companies polluting our waterways with raw sewage or anything else. They have been failing to meet their obligations and instead using the money to pay dividends to their shareholders. We need large fines and companies should have a maximum of two years to clean up their act when they should be banned from making dividend or bonus payments." 
Across the border in Wales, over 125,000 hours of sewage was released into protected areas. The River Usk SAC, which runs through the mountainous Brecon Beacons and is home to Atlantic salmon and otters, received over 9,700 hours of sewage overflows last year. 
Angela Jones is a wild swimming activist and founder of the Save the River Usk and Save the Wye groups. She says she has swum in the Usk since she was a child and now monitors aquatic life and measures water quality in the area, as part of her campaigning for better protection of local rivers.
Over the years she said she has seen changes in the river that she believes are the result of pollution from sewage and agriculture.

"I feel like somebody's ripped my heart out because I can't even enjoy the pleasure it once gave me, I don't recognise the river," she said. "If this is happening on the most protected rivers of the UK, all the other ones – what hope have they got?"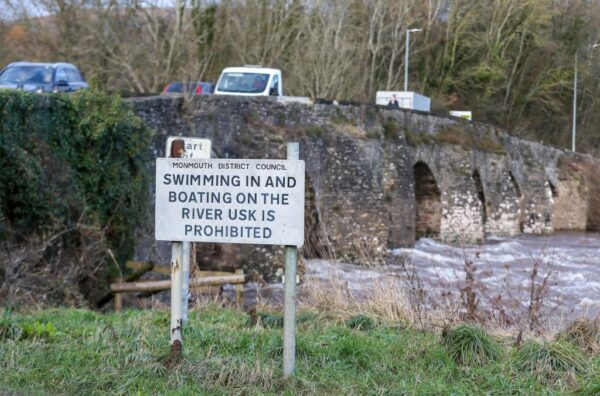 A spokesperson for water company Welsh Water said: "Earlier this year, we apologised for any environmental harm that we cause linked to delivering our wastewater services. 
"Although the situation in Wales is different, with 44% of rivers meeting 'good ecological status' compared to just 14% in England, we absolutely understand and accept public concern about any sewage pollution impacting our rivers and so improving river water quality is our absolute priority."
The company planned to invest £100m in river quality between now and 2025, and £140m in storm overflow improvements between 2020 and 2025, they told Unearthed. They added that an independently verified report they had published showed Welsh Water facilities were only responsible for 21% of phosphorus in the Usk, and storm overflows responsible for 1%, with the rest coming from urban runoff, industry, rural land use, and septic tanks.
Rhian Jardine, head of development planning and marine, at Welsh regulator Natural Resources Wales said: "We share the wider public concern over the state of our rivers and are actively working with key stakeholders on addressing the causes of poor water quality.
"Our protected sites are some of our most precious, treasured habitats which support rare and iconic Welsh wildlife."
She added that, as part of its river quality work, the regulator was "assessing the performance of overflows and tightening our regulation". "We are using the evidence and data we have to oversee vital improvements and investments made by the water companies in those overflows causing environmental damage or not operating to the required standards."
Algal blooms 
Discharging raw sewage into protected ecosystems can introduce new bacteria and synthetic chemicals into the water, posing potential risks for wildlife and microscopic biodiversity.
Habitats receive protected status because they have unusual natural features or are home to rare birds or plants, said Dr Anne Jungblut, principal researcher at NHM. "So by affecting the ecosystem, not only will the overall biodiversity be affected – it has potential real risk to species which are already quite rare."
Human and animal waste contain nitrogen and phosphorus, two of the basic nutrients plants need to grow. When an excess of these nutrients builds up in a river, lake or sea – whether from fertilisers and manure from farmland being washed into rivers after rainfall, raw sewage being discharged from storm overflows, or treated sewage being released from wastewater treatment works and can contribute to eutrophication. 
The most visible and extreme effect of this process is the formation of dense blooms of musty or foul-smelling algae on the surface of the water. 
When the blooms eventually die, their decomposition drains the water of oxygen, which has the potential to kill off fish and create hypoxic or anoxic "dead zones" in which most species cannot survive.
Nutrient pollution in stagnant or slow-moving water can also promote blooms of toxic blue-green algae that can kill fish, harm wild animals, livestock or dogs that drink the water, and cause severe illnesses in humans. 
These algal blooms have been spotted in some of England's most iconic lakes, including Lake Windermere and Derwentwater in the Lake District. People exposed to harmful algal scum have suffered from rashes, eye irritation, vomiting, diarrhoea, fevers and joint pain.
Unearthed's analysis found that rivers, lakes and seas that were already vulnerable to eutrophication received more than 200,000 hours of sewage last year.
Storm overflow discharges of raw sewage are far from the only source of pollution entering waterways. Large amounts of nutrients and fertilisers enter surface waters from agricultural activity, and wastewater treatment works do not remove all nutrients or chemicals from foul water drainage before discharging it into the environment.
Even treated wastewater can contain pollutants such as heavy metals, microplastics, pesticides and pharmaceuticals. Some of these chemicals have been found to cause physiological changes in fish, including causing male fish to develop ovarian cavities. 
Last year, researchers from Portsmouth and Brunel University and local interest group Clean Harbours Partnership joined forces to begin investigating chemical pollution around Chichester and Langstone Harbours. The area boasts habitats including mudflats, seagrass meadows and saltmarshes, and hosts wildfowl and wading birds. It is also known locally as a hotspot for sewage discharges from treatment works and storm overflows. 
Unearthed found that Chichester and Langstone Harbour, a SPA and Ramsar site, received over 3,200 hours of sewage in 2022, discharged by Southern Water. 
The study, which involved local volunteers taking samples around the harbours, found over 50 chemicals in the surface waters and in samples taken from wildlife.
Dr Tom Miller, an environmental science researcher from Brunel University, who conducted the research in collaboration with the University of Portsmouth and Imperial College London, said: "We found lots of different chemical contaminants including pharmaceuticals, recreational drugs and pesticides."
Pharmaceuticals found in the waters included painkillers, antibiotics, and antidepressants. The study also found traces of ecstasy and cocaine, as well pesticide residues of neonicotinoids, some of which were banned in the UK because of their negative effects on pollinating species. 
"In the wildlife samples, seaweed was the most contaminated," Miller said. "It had the widest range of compounds at higher concentrations relative to others. We mainly found pharmaceuticals as well as recreational drugs." 
The study found particularly high concentrations of ketamine, used as a recreational drug, in wildlife such as crabs, limpets, oysters, seaweed and ragworms.
Water companies have argued that storm overflows make up a very small part of the overall pollution to England and Wales' waters. But Miller's team found that sewage discharges after heavy rains from an overflow pipe caused an increased chemical load in the harbour. 
"When we first collected samples, it was back in March 2022, which was a really dry period in the area for that time of year," he said. "This meant there was not a lot of chemical load going into the receiving waters because things like storm overflows, agricultural and road runoff are reduced.
"But when we collected samples in August just after a discharge, we saw really high chemical loads going into the site.
"Samples taken after a spill increased 100-fold for some chemicals," Miller said. 
Among the chemicals found after the spill were morphine, nicotine and clozapine, used to treat schizophrenia, and diclofenac, an anti-inflammatory often found in topical creams for aches and pains. 
One sample of seawater collected after a storm near the outflow pipe from Budds Farm sewage treatment works contained 760 times more E.coli than the safe levels set out by European bathing water standards. This sample was among nearly 300 collected by volunteers for Clean Harbours Partnership, which also helped fund the study.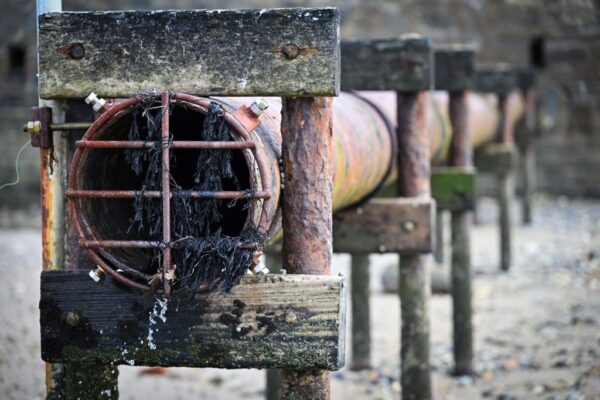 Bianca Carr, co-founder of Clean Harbours Partnership, said: "It's absolutely horrifying. These areas are so important scientifically – we've got some of the most amazing creatures that live here."
"Environmentally it's a huge issue that these creatures are swimming around in a cocktail of sewage," she added.
Nick Mills, head of regional operator Southern Water's clean rivers and seas taskforce, told Unearthed: "We ensure our stormwater outfalls comply with strict permits and are located and managed appropriately.
"These stormwater outfalls are used when the system is overloaded with surface and groundwater, so homes, schools, hospitals, and communities are not flooded. Furthermore, such discharges are heavily diluted with rainwater."
He added: "We are working extremely hard and investing heavily to reduce their use across our region." 
Too much for too long 
The government's current storm overflow reduction plan, published last summer,  outlines a target to improve 75% of pipes discharging into high priority areas in England by 2035. Discharges will only be allowed to continue in such areas if water companies can prove they cause "no local adverse ecological impact", measured by water quality indicators such as levels of ammonia and dissolved oxygen. The target will not be extended to all pipes discharging into high priority sites until 2045.
The Welsh government and water companies' efforts have similarly prioritised improving outflows and water quality in their waterways.
However, the plan has been criticised by campaigners and conservation groups, who argue it allows for high levels of sewage to continue to be released, for too long.  
Guy Linley-Adams, solicitor at Wildfish, a charity that campaigns to protect fish and their environments, said the regulators' attitude towards pollution in protected habitats had been "woeful for years". 
He added: "The approach has been characterised by too many plan-writing exercises – as if the act of writing a plan were an end in itself – and nowhere near enough tangible delivery of real improvements. What the Unearthed analysis shows brilliantly is the true extent of the problem."
Wildfish has launched a judicial review, challenging the government's storm overflow reduction plan. This was heard in July and a decision is expected in coming months.
Linley-Adams said: "Defra and its agencies are culpable for letting this situation get worse over the 30+ years since water privatisation."
He added that where protected sites were being harmed by the sewage discharges, this was a "clear breach" of both the Water Framework Directive and the Habitats Directive, both EU laws which the UK has retained after Brexit. 
Water companies contacted by Unearthed all said they were committed to reducing discharges from storm overflows, and investing significantly to do so.
A Wessex Water spokesperson said: "Although overflows are licensed by the Environment Agency to protect properties from flooding, we're committed to reducing how often they operate and are investing more than £3 million every month on schemes to improve them". 
They added: "Storm overflows affect the ecology of less than 1% of rivers in our region, according to Environment Agency data."
A spokesperson for Hafren Dyfrdwy said: "We've made a commitment to the Better Water Quality Taskforce, and to our customers, to be as transparent as we can be about the work we're doing to improve river water quality, and our environment."
While a spokesperson for water company Severn Trent added: "We understand why people feel let down by water companies when it comes to river health – we know what needs to be done to make it right, and we're doing it. 
"This is why our storm overflow action plan will reinforce our focus, investment, and improvement on all rivers, including protected areas. Central to our plan is the commitment that our operations will not be the reason any river in our region to not achieve good ecological status by 2030. 
"This includes focusing on high priority areas like SSSI and SAC areas in the next 7 years. In the last year, we have reduced our impact by one third and we have been recognised by the Environment Agency with the highest 4-star status for environmental performance for the fourth year running."
How we did it
Over the past five months, Unearthed has been conducting an analysis of data on water companies' sewage overflow releases, using computer mapping software (GIS) to overlay this with maps of protected areas, to reveal the extent of sewage pollution in protected nature sites.
Unearthed investigated four categories of protected areas across England and Wales:
Site of Special Scientific Interest (SSSIs)

Special Areas of Conservation (SACs)

Special Protection Areas (SPAs)

Ramsar Sites
We also looked separately at chalk streams, and rivers that were already eutrophically sensitive. 
Using mapping technology, we compared maps of these areas with Event Duration Monitoring (EDM) data, released annually by water companies. EDM data outlines spills from each sewage outflow and includes information such as the name and location of each pipe, and the duration it spilt over the year, as well the operating company.
Unearthed used this information to identify every pipe that discharged within 50m of a protected nature site in 2022. We used Defra's own measurements for what they consider "high priority" spill according to the PR24 Winep driver guidance. This document instructs water companies to prioritise spending on improvements by identifying pipes that are spilling within 50m of the following areas: SSSI, SAC, SPA, Ramsar Site, chalk stream or an eutrophically sensitive area. 
Unearthed ensured that each pipe was spilling into a water feature within a protected area by using a digital map of waterways in England and Wales in our GIS project. 
To check our findings, Unearthed filed Freedom of Information or Environmental Information requests to each water company asking for their 2021 data on pipes spilling within 50m of sensitive areas. Four companies responded – Anglian, Wessex, Yorkshire and Severn Trent. Unearthed compared each FOI return with our own workings and offered each company the chance to correct or explain any discrepancies in our analysis. 
For the remaining seven companies that did not respond to our FOI request, we provided spreadsheets from our findings in order for them to check for any inaccuracies. 
In instances when it was unclear through computer analysis, or when our analysis didn't match water company returns, on whether an overflow was spilling within 50m of a protected site, Unearthed conducted manual checks on the map for each pipe.