Leaked documents reveal Environment Agency 'overwhelmed' by staffing cuts and surge in pollution incidents
Environment Agency emails describe new system that could scale back pollution response in some areas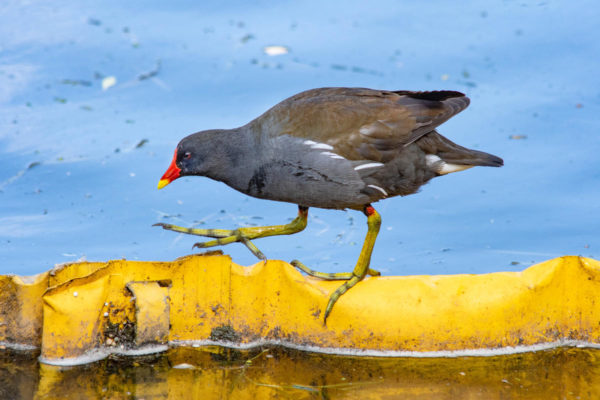 The Environment Agency is planning to implement a controversial overhaul to its pollution response operations as it admits a surge in pollution incidents driven by climate change is "overwhelming" its depleted staff, according to documents seen by Unearthed.
This comes as new data obtained by Unearthed under freedom of information rules shows the teams tasked with responding to pollution incidents have seen their numbers decline by 15% since 2015, even as the Agency's budget and staffing has risen in that time.
The new system, set to be introduced in April, will see all reporting of pollution incidents handled by a communications team rather than frontline officers. The EA told Unearthed these changes will not apply to water pollution.
Only pollution incidents determined to be among the most serious will be assigned to environment managers — making official an apparent informal policy Unearthed revealed in 2018.
In a January message to staff seen by Unearthed, the Environment Agency acknowledged it expects to face an increase in pollution incidents due to climate change, population growth, and a reduction in the number of environment officers employed by the agency. 
"Due to various factors such as climate change, seeing our [Environment Officer] numbers reduce over time and a growing population, the number of incidents we respond to is likely to increase," the message said.
"The workload is overwhelming some of our colleagues and we cannot ignore that.
"We are changing the way we have been handling incident reports so that it is a more positive experience to be a duty officer."
However, the restructure has been heavily criticised by trade unions, which have warned the agency that pressing ahead with the changes would be "unacceptably risky."
In a letter seen by Unearthed, leaders from Unison, GMB and Prospect said changes would involve "replacing arrangements known to work (though surely capable of improvement) with others which had not been properly tested."
"The Agency's leadership has decided to go ahead," the unions conceded, "that's their call, their risk, their responsibility."
An EA spokesperson told Unearthed: "We take all reports of water pollution incidents extremely seriously and we are making no changes to the way we handle these.
"We are very clear that all reports of water pollution incidents will continue to be passed on to our environment duty officers 24/7, no matter what the category classification. We will never hesitate to take the appropriate action needed."
Sounding the alarm
The Environment Agency has come under fire for a surprise rise in serious pollution incidents, and for cuts to essential fieldwork and monitoring.
Unions warned that simply introducing a new system for allocating work would not fix a "broken and under-funded system" and could ultimately result in "damage to property and risk to life".  
Kevin Brandstatter, National Officer for trade union GMB, said: "Environment Agency staff, and in particular Environment Officers, have recently been stretched to the limit in dealing with flooding the length and breadth of England.  
"The Environment Agency has recognised that staff are being overwhelmed, but the Government does not provide sufficient resources for the EA staff to deal with mounting problems.  
"Introducing a new system of allocating work, is unfortunately tinkering with a broken and under funded system. The unforeseen consequences of the EA's changes are that the prioritisation of incidents could lead to resources being directed to the wrong place or incident, resulting in damage to property and risk to life."
The reductions in pollution response teams, and the official communication that category 3 and 4 incidents will no longer be visited by environment officers, has sparked fresh concern among green NGOs.
Tom Lancaster, Acting Head of Land, Seas and Climate policy at the RSPB said: "At a time when we need environmental protections more than ever, it is alarming to see further evidence that the Environment Agency does not have the resources to do the job it needs to do.
"This is compounded by the choices that the Environment Agency leadership has seemingly made to not invest in their land and water teams, who play such a vital role in enforcing regulations designed to protect our rivers and other habitats.
"Defra and the Environment Agency need to now reverse course, and invest in the new model for enforcement that they committed to in 2019 following the Dame Glenys Stacey review on farm inspections and enforcement. We will only make progress toward a healthier natural environment if the bad guys out there are made to pay for their pollution."
A Defra spokesperson told Unearthed: "The Environment Agency and its staff do vital work to protect our invaluable rivers and waterways from pollution.
"We will continue to work closely with the Environment Agency to ensure they have the right resources to continue protecting our natural environment from man-made pollutants."