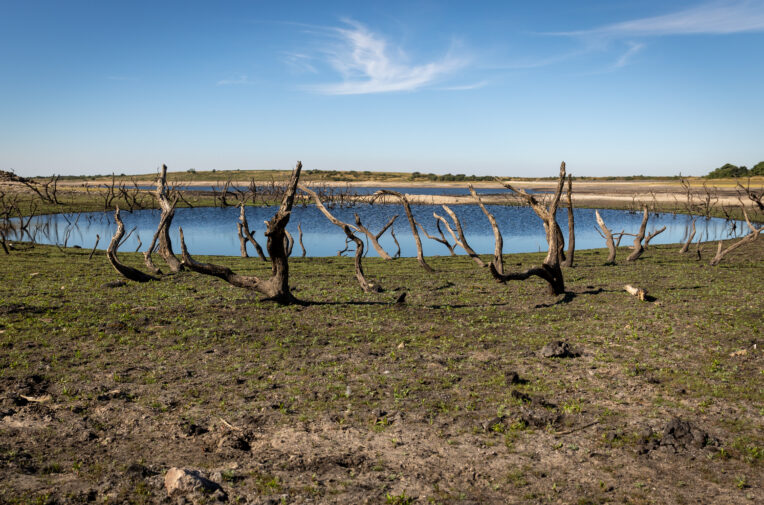 Old tree skeletons are exposed due to extremely low water levels at Colliford Lake in Cornwall in August 2022. Photo: Matt Cardy/Getty
'Dead storage' and 'imminent risk to supplies': documents reveal how England's water companies struggled in last summer's heatwaves
Internal briefings expose Environment Agency concerns that reservoir levels could drop so low the water would be untreatable and that companies might break the law
'Dead storage' and 'imminent risk to supplies': documents reveal how England's water companies struggled in last summer's heatwaves
Internal briefings expose Environment Agency concerns that reservoir levels could drop so low the water would be untreatable and that companies might break the law
Old tree skeletons are exposed due to extremely low water levels at Colliford Lake in Cornwall in August 2022. Photo: Matt Cardy/Getty
Water supplies ran so low during last summer's drought that England's environmental regulator warned that companies might break the law to keep the taps running, documents obtained by Unearthed reveal. 
The internal briefings – obtained under freedom of information laws – show that water reserves in some major reservoirs were at record lows and in some cases approaching a state of "dead storage", where there is so little water left it may not be treatable. Nearly half of all English reservoirs were classed as "exceptionally low" for the time of year.
The Environment Agency (EA) was facing choices between permitting measures that would maintain water supplies and upholding environmental law. It warned that Yorkshire Water and Southern Water might take action in breach of their abstraction licences, posing risks to protected areas, rare habitats and wildlife. Unearthed has no evidence that either company did break the law.
Charles Watson, founder and chair of River Action, a charity that campaigns against water pollution, described the documents as "extraordinary". "It looks like the system was about to crash in some places. If we had had a second summer like that, I think we would have been looking at a national calamity," he told Unearthed.
Last year was the UK's hottest year on record. The Met Office recently warned that it was "very much a sign of things to come". June this year was the UK's hottest on record. Some parts of the country have remained in drought since last summer. 
Professor Hannah Cloke, a hydrologist at the University of Reading, said water companies and users had "pretty much carried on with business as usual" despite temperature forecasts.
"We had very low stocks of water by the end of last summer," she told Unearthed. "Water companies don't have the infrastructure in place to provide an adequate water supply during extended drought periods, and they are very slow to repair leaks…
"We are losing a lot of water."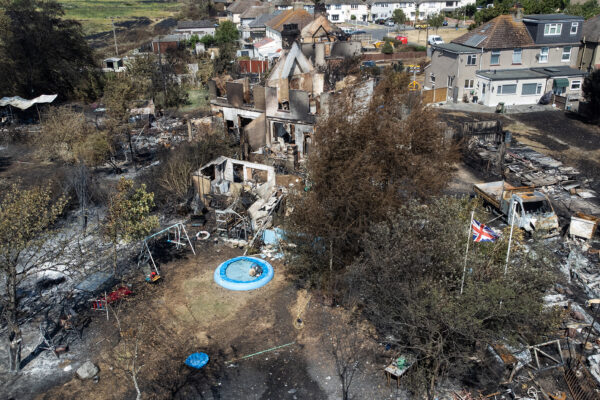 In response to the findings the water companies told Unearthed that they had responded in a "pro-active" and "prudent" manner to the unprecedented conditions in order to ensure water supplies while protecting the environment. They stressed that no one had experienced loss of supply and that they were learning lessons from last year's drought while investing for the future.
South West Water said: "We have robust continuity plans in place across our entire business including specific worst case scenario plans for drought and resilience. The facts show that no customer went without supply or impact to the quality of supply due to the drought. We reacted well and we continue to review all plans regularly to prepare for any future climate change impacts to water resilience."
The company may illegally abstract to maintain customer supplies.

– the Environment Agency
The latest adaptation report by the Climate Change Committee (CCC), the government's statutory climate advisor, noted that there have been no new reservoirs built in the UK in the last 30 years, while water companies have made limited progress in reducing leakage and are failing to keep up with targets to reduce demand. 
Commenting on the documents obtained by Unearthed, Lord Deben, former CCC chair and former environment secretary, said: "The first thing I take from it is that the EA knows perfectly well that we do not have adequate coverage to provide the water people need without emergency measures, and that is surely not a place for us to be in."
The news comes a month after the government's new plan to help the country adapt to rising temperatures came under heavy criticism by scientists and by the CCC. 
The plan is "absolutely, frankly, pathetic," Lord Deben told Unearthed. "The worst bit of the government's record – and indeed of all government's records – is their willingness to deal with adaptation."
Helicoptering in water pipes
On 17 September last year, Yorkshire Water flew in an emergency pipe to transport water overland across the South Pennine Moors from one reservoir to another, where levels had dropped down to 28%. The company had forecast that levels in the Worth Valley could drop to 20% by the following week. Below this level, the EA had warned the Department for Environment, Food and Rural Affairs (Defra), there was "uncertainty around the treatability of the raw water and the ability to maintain supplies to customers". 
In a briefing on 14 September, the EA noted that the land across which the pipe would run was largely within protected conservation areas, and it had strongly recommended the company consult with the conservation agency Natural England because it was "essential that the features of these designated sites are protected". 
The EA warned Defra that this scheme could "potentially result in a breach of the conditions within their abstraction licence," but that it would be for the company to decide whether to run this risk. 
A spokesperson for Yorkshire Water said that the Worth Valley catchment last summer had seen the lowest rainfall since records began 132 years ago, and reservoirs in the area were "particularly low" as a result. Piping water into the catchment was an "emergency scheme to proactively mitigate any further decline should rainfall have remained very low". 
They added: "As a responsible landowner in the area, we completely understand the sensitivity of the South Pennine Moors and operate within these protected sites regularly so we used helicopters to help us transport and lay a temporary pipeline across the South Pennine Moors from Walshaw Dean reservoir to Ponden reservoir."
The company indicated that it did consult Natural England about this scheme, but did not comment on the suggestion that it may have been in breach of licence conditions.
Unearthed understands that the EA later sent Yorkshire Water a warning letter, as the scheme was not in its drought plan and the company did not apply for a drought order.
'Serious deficiency of supplies'
In Hampshire, the EA was concerned that Southern Water might have to breach its licence in order to keep the taps running, by abstracting water beyond the legal limit from a protected chalk stream, a habitat that is among the rarest on the planet and found almost exclusively within England. 
In July 2022, Southern Water applied to the EA for a drought permit, a type of emergency measure, to allow it to continue taking water from the River Test, even as the chalk stream's flow was receding in the dry weather. 
In an internal briefing for its then-chief executive James Bevan, the EA stated that it was planning to refuse the application because Southern Water had not properly accounted for the impact this could have on salmon in the neighbouring River Itchen, also a chalk stream, and the permit would therefore be in breach of the Habitats Directive.
England's chalk streams are home to a unique sub-species of salmon, as well as otters, kingfishers, trout and voles. Salmon levels in England are at their lowest on record and at "crisis point" according to a recent government report. 
However, these streams also provide water to millions in south-east – the region predicted to be the worst affected by dwindling water resources.
In its briefing, the EA warned that if conditions remained dry, Southern Water would "not currently have a legal means of maintaining supplies" and faced "serious deficiency of supplies in the immediate future".
It added: "If an alternative legal mechanism for abstraction cannot be obtained before the flow condition is reached, the company may illegally abstract to maintain customer supplies. It is unlikely that environmental monitoring and mitigation would be in place, posing serious environmental risks."
A spokesperson for Southern Water told Unearthed: "In 2022 as we saw river levels drop, we applied for a drought permit and did everything we could to reduce demand and protect the rivers including widespread water efficiency advertising and eventually the imposition of a temporary use ban. In the event, levels on the river never dropped below the hands-off flow, no drought permit was needed and we withdrew our application."
Experts and campaigners raised concerns that with the EA facing these kind of trade offs, environmental law could be at risk. 
"Environmental law exists to protect nature, but there is a massive threat from current practice, if water companies can just apply for permission to breach the rules by extracting more water," Prof Cloke told Unearthed.
"This should absolutely not be necessary. We have a lot of rain in this country – if we stored our water properly and recycled water where we could, we would have enough. We should reclassify natural spaces as part of the water supply infrastructure so that the ground can soak up the water and provide a steady supply back to the river. That would need a strong lead from government, and probably a complete rethink of the way we manage our water resources."
"South West Water's reservoirs are unlikely to refill over winter, even with 100% rainfall."

– the Environment Agency
Southern Water said it had plans to invest heavily in water recycling and new sources of supply in Hampshire, in recognition of the need to reduce demand on the chalk streams.
A company spokesperson told Unearthed: "In agreement with the Environment Agency and Natural England, our abstraction licences on the precious chalk streams of Hampshire were changed in 2018 to protect the river. The 'hands off flow' was greatly increased making the need for drought permits and orders much more common. The changes did not affect the total amount of abstraction.
"Recognising this, Southern Water committed to the £1 billion Water for Life – Hampshire programme bringing in new sources of supply and proposing the first wide scale adoption of water recycling. This is the UK's largest ever single water resources programme. We also committed to investing in drought mitigation on the rivers in advance of any permit or order with £10 million going into measures to increase the river's resilience in drought."
Bottled water and tanker trucks
The southwest was one of the regions most affected by last summer's heatwaves. The EA told Defra in its September briefing that, similar to other companies, the hot weather was "testing the resilience" of South West Water's systems, and "identifying weaknesses" in its "security of supply".
The regulator added that it had told SAGE – the scientific committee that advises the government during emergencies – that "South West Water's reservoirs, particularly the larger, strategic reservoirs are unlikely to refill over winter, even with 100% rainfall."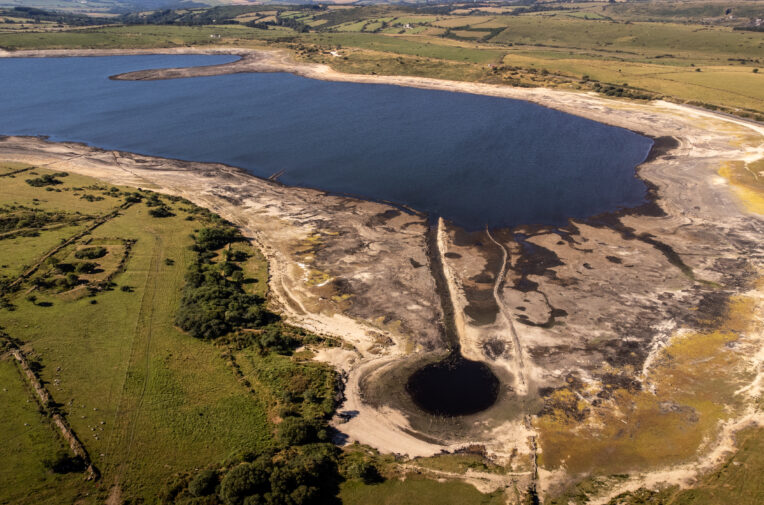 One year on, the region is still officially in a drought and a hosepipe ban is expected to be in place until December. Reservoirs in the region were two thirds full at the end of July. 
At the end of August last year, the levels in three reservoirs – Stithians, Colliford and Wimbleball – were at their lowest on record for the time of year, according to the EA briefing.
A South West Water spokesperson told Unearthed that there had only been pressure at Colliford reservoir and that "no-one served by Colliford, or across our region, or visiting our region, suffered a loss of supply or dips in water quality."
At another reservoir, the Upper Tamar lake, the EA briefing warned that if the dry conditions continued and emergency measures were not approved, South West Water would have had to stop abstracting water altogether within two months. Within 24 hours after that point, the company would have had to start using bottled water and tanker trucks to provide supplies to customers, it added.
To mitigate this "imminent risk to supplies", the EA granted South West Water a drought permit to abstract water from, and restrict the water flow into, the Lower Tamar lake, a nature reserve on the border of Devon and Cornwall. The EA stated that this was necessary because without it the adjacent reservoir "will empty and become unusable". SWW used the permit to abstract water and rescinded it in November. 
A spokesperson for South West Water told Unearthed that they "strongly disagree" with any suggestion that it had not adequately prepared for the risk of a drought. A spokesperson said: "Our response to the emerging drought situation in 2022 was proactive and many of our actions were ahead of our drought plans and indeed we went further and faster in a number of areas, as well as focusing on innovation and future resilience.  As a responsible business our planning included resilience against a worst case scenario.  
"However, we took all actions to protect water supplies and no-one suffered a loss of supply."
A spokesperson from Yorkshire Water told Unearthed: "We took a prudent approach, as directed in our drought plan, to make sure we did everything we could to give our reservoirs the best chance possible to fill back up over autumn and winter alongside protecting the environment.
After reaching triggers set out in our drought plan, we took a number of steps including operational changes, speeding up our leak finding and repairs and introducing a hosepipe ban for customers. 
"As a result of these combined measures, despite experiencing one of the most extreme drought events and highest temperatures ever recorded, there were no interruptions to customers' supplies and our reservoirs were able to refill over the autumn and winter."
Last week, United Utilities was fined £800,000 for breaching the conditions of its abstraction licence in Lancashire in 2018. The water company illegally abstracted 22bn litres of water, causing damage to an important aquifer. 
In 2019, the Environment Agency CEO warned that England was set to run short of water by 2045, as a result of climate change and population growth. Yet in July the government reportedly urged water companies to weaken their climate change plans in an effort to cut costs – despite having been made aware of how bad the situation became last summer.