Lisa Murkowski: Alaska's salmon catching, oil loving Senator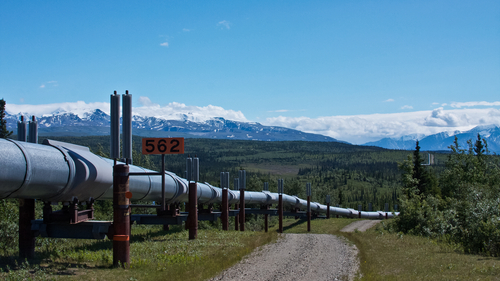 Why would the US President veto bringing oil in from Canada's Tar Sands on climate grounds but allow Shell to venture to Alaska in search of the black stuff?
There are multiple reasons but, many would argue, the answer may lie in part with Lisa Murkowsi, the Alaskan senator championing Shell's plans to drill in the Arctic.
The Republican is chair of the influential senate committee on energy and natural resources, making her a key player in the debate over whether to let oil companies drill in the Arctic.
Read more:
Alaskan born and bred, Murkowski served in the state's house of representatives before being elected to the senate in 2002.
She's a frequent tweeter, regularly sharing pictures of her doing typically Alaskan things, like hiking, enjoying the picturesque scenery or catching massive salmon.
Happy birthday to the toughest senator from the last frontier, @lisamurkowski. pic.twitter.com/vcVER4oTJi

— Senate Republicans (@Senate_GOPs) May 22, 2015
Historic! 20 year effort to reintroduce bison back into Interior AK becomes a reality. Thanks @akwildlife and ADF&G. pic.twitter.com/DZVGbGVABn

— Sen. Lisa Murkowski (@lisamurkowski) March 23, 2015
Despite her fondness for her state's natural beauty Murkowski's no fan of the environmental movement. – although, unlike many of her Republican colleagues, she does believe that climate change is real and man-made.
She has advocated drilling for oil in Alaska's Arctic National Wildlife Refuge and been a vocal opponent of President Obama's plan to designate some 12 million acres of the refuge as wilderness, which would prohibit drilling in the area. She told NPR in January:
"There's so much focus on the wildlife, on the polar bear and the critters and the birds. And they are important. Don't get me wrong. But equally important – more important – is the obligation that we have to the people who live there, who have been there for centuries, many of them. So let's not lose sight of the human beings that are part of this discussion."
She is a huge supporter of plans to drill in the Arctic, and has described Alaska as a "model of environmental standards and safeguards", despite the state being synonymous with the Exxon Valdez disaster in 1989.
"What people unfortunately relate to when they think of Alaska oil was when the Exxon Valdez went aground because of a captain that was drunk. But when you look to how we have been safely producing and moving Alaska's oil for decades, it is a track record that is enviable."
More recently she has been hugely supportive of oil companies plans to drill in the Arctic, and they have returned the favour. Her campaign committee and leadership PAC received more than $600,000 from oil and gas companies in the six years leading up 2014 – the second highest set of donations from any sector, according to data from Open Secrets.
At the same time, Murkowski received tens of thousands from wealthy investors in fossil fuels and US liberal's bete noir the Koch brothers. When Obama announced that Shell would be granted permission to explore the Arctic for oil, she was delighted.
"Approval of Shell's exploration plan for Alaska's Chukchi Sea marks another important step toward the United States assuming a leadership role in the Arctic. With an estimated 25 percent of the world's undiscovered conventional oil and gas resources and active exploration by countries like Russia, it's critical that we move forward as a nation and set the standard for responsible development in the Arctic."
But it wasn't long before Murkowski was bemoaning government regulation, holding the oil companies back.
"There is a total of seven permits that Shell must receive before it can resume drilling. Continued collaboration by the responsible federal agencies to ensure those outstanding permits are not saddled with unworkable conditions will be critical."
Indeed, just two days after Obama gave Shell the green light, Murkowski wanted more. She urged the president to: "expand oil exploration in the waters off Alaska, extend the life of existing oil leases and institute a revenue-sharing program."
She's also been making noises about lifting the US export ban on oil and which major oil companies have been desperate to overturn in recent months. Her bill, currently making it's way through the senate, would lift the ban, which has been in place since the 1970s. 
It's time to #LiftTheBan on U.S. #oil #exports. Learn more about @lisamurkowski's bill: http://t.co/eXSkyR5U63 pic.twitter.com/rgo7nCZhz9 — Senate Energy GOP (@EnergyGOP) May 13, 2015
Murkowski: US has an opportunity to embrace its role as a global #energy powerhouse http://t.co/eXSkyR5U63 #LiftTheBan on #oil #exports — Senate Energy GOP (@EnergyGOP) May 13, 2015
If the next President comes from a different party, she may get her way.