Total divestment: French energy giant ditches coal
It's not been a great year for the world's coal giants. We're hearing that China is using less coal and the value of their shares has plummeted.
Now one of the world's biggest energy companies has given up on producing coal altogether.
Total SA, the French oil company and one of the six "Supermajor" fossil fuels companies, has confirmed it is no longer producing coal.
The Total divestment from coal (geddit?) is marked by the closing sale of their last mine operator Total Coal South Africa, approved on the day dubbed Black Monday because of the collapse of global shares – especially coal ones.
The announcement to divest from coal – promises promises  – was actually made on 1 June, alongside a call (made jointly with other Big Oil companies) to introduce carbon pricing. Yes, like we have in the EU right now. Not that that's working out so great.

The reasons for Total's divestment are very worthy. It's all about climate change apparently. The CEO Patrick Pouyanné said on 24 August:
"We cannot claim to be providing solutions to climate change while continuing to produce or market coal, the fossil fuel that emits more greenhouse gas than any other. In addition to withdrawing from mining, we have also decided to divest our coal marketing operations. By end-2016, we will no longer be involved in the coal business."
Of course, business is business, and Total is still a fossil fuel company – though unlike its main rivals it does actually own a solar company too. (It also has a social enterprise called Awango which sells solar lanterns that can also charge mobile phones.)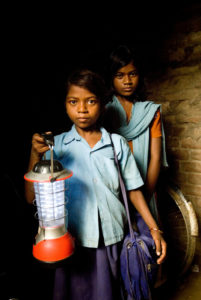 The press statement does go on to detail what it'll be focusing on instead: Top of the list of "5 cores areas" of focus is natural gas – a popular alternative to oil, at least in Big Oil spin terms (Royal Dutch Shell – another Supermajor – has also been trying to shift its corporate narrative, if not its actual operations, towards gas.)
Total's energy mix is already 50% natural gas. Presumably the other 50% will be made up of the other four focus areas: Solar energy via their affiliate SunPower, the second-ranked global operator; energy efficiency for Total's operations; access to sustainable energy through Awango; and supporting international initiatives (this last one taking us back to asking the UN to put a price on carbon).
Read more: