Sir Ed Davey: 'There are doubts about whether Hinkley will ever get built'
Former minister who signed off on Britain's first new nuclear plant in generation says 'economics have gone away' from the project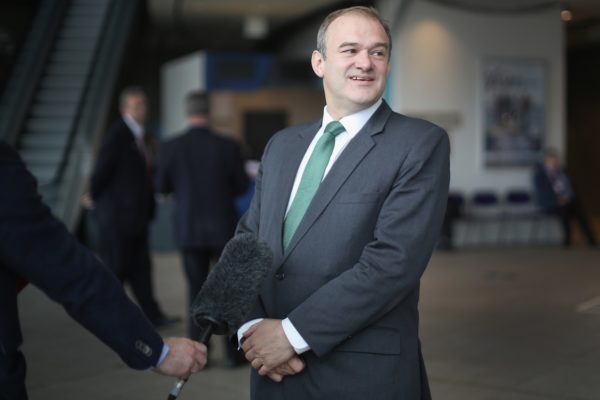 The former energy secretary who signed off on the Hinkley Point C nuclear power plant has told Unearthed he doubts the project will ever get built.
Sir Edward Davey said the lower cost of renewables today means "the economics have clearly gone away" from the project.
He said: "There are doubts about whether it will ever get built. I'm not a nuclear engineer, I'm not watching the construction, but as a neutral observer, I look at Finland [the Olkiluoto-3 nuclear plant] and I look at Flamanville and, obviously, they're not built yet."
State-owned French company EDF, which is delivering the Hinkley project, is involved in both Olkiluoto-3 and the new nuclear plant in Flamanville, France – both of which have been beset by cost overruns and delays.
As recently as last year, the Liberal Democrat MP told the BBC's Today programme the £18bn project to build Britain's first new nuclear power station in a generation was a "good deal", and would have cost even more had the Conservatives had their way.
The nuclear industry is littered with massive overruns and massive delays
Last month, MPs on the public accounts committee accused the government of failing to protect consumers when it signed the deal for Hinkley Point C. The comments by the influential committee followed a damning report from the National Audit Office, warning that the Hinkley contract had forced consumers into a "risky and expensive project".
Changing fossil fuel price projections meant the cost to consumers rose significantly between 2013, when Davey signed the deal for electricity at £92.50 per megawatt hour (MWh), and 2016, when the government formally signed off on the project.
Despite his obvious misgivings about the Hinkley project, Davey still defended the project and said taxpayers would be "insulated" from the deal.
"The beauty of it is that the taxpayer is insulated. The people who will pay if it doesn't get built are the French," he said.
"The deal that I left them to sign, that if the price went above a certain amount, we wouldn't have to pay any money. It's capped at £92.50 per (MWh). If they spend more than that, we don't go above £92.50. If there are longer delays, or if they don't complete it, the British taxpayer will have paid nothing. Zero. We only pay when and if it starts generating electricity.
"It was an asymmetric deal in favour of the consumer. If EDF magically builds it and it magically works and it turns out they build it for a lot less than they told us they would build it for, the consumer has a lower price."
Davey said if he was secretary of state today, he would pursue alternative energy projects.
"If I was in office now, I wouldn't take nuclear off the table, I just wouldn't put it in the shop window.

"I would be saying, go slow on nuclear and go fast on CCS [carbon capture and storage], on decarbonising heat, looking at hydrogen, as well as tidal lagoons, storage and interconnectors. Nuclear looks like an out-of-date technology now, more so than when I was doing Hinkley Point C."
The price of renewable energy has dropped dramatically in recent years.
Back in September, Unearthed reported that the cost of subsidies for new offshore wind farms halved to £57.50 per MWh compared to the previous government auction in 2015, after two developers – Denmark's Dong Energy (now Orsted) and Spain's EDP – bid aggressively for subsidy contracts to build new farms in 2022-23.
The news shocked analysts and put the cost of offshore wind significantly below the cost of power from Hinkley Point C, which was set at £92.50 per MWh.
Davey was also critical of reported government plans to allow state funding for new nuclear projects. The Times reported last week that Japanese firm Hitachi is in talks with the UK and Japanese governments about possible direct state funding for its proposed nuclear plant in Anglesey.
Davey warned there is a "huge risk" if the state becomes involved in nuclear. He said: "As soon as you put state money in, the terms of the deal become much more tricky. It might deliver a lower headline price but is it delivering a lower price overall."
He continued: "And look at the history, this industry is littered with massive overruns and massive delays, which makes the price of Hinkley Point C that we agreed look like a walk in the park."
The government's plan to invest tens of millions of pounds in small modular reactors is "crazy", he added.
"They're going for these small modular reactors and I think this is crazy. They were trying to do this when I was secretary of state and I said 'no'.
"I'm not against relatively small amounts of money, going in with other countries, to create a new, safer nuclear technology. But when there are scarce resources, which there are, I would be prioritising some of the things they are not prioritising like batteries [and] hydrogen – to decarbonise gas heating."
Davey, who won back his Kingston & Surbiton seat in 2017 after losing it in the 2015 general election, defended his decision to take a job with a PR firm that listed EDF as a client when he left parliament in 2015.
He spent two days a week working at MHP Communications in his brief period outside Westminster and was accused of "keeping quiet" about his role with the firm during the 2017 election.
He told Unearthed he did "nothing wrong" by working for the company: he cleared the move with Acoba (the advisory committee on business and appointments) and ensured that he did not work on any EDF business during his time at the firm.
"I was a bit naive because I should have realised that no one will be bothered with the truth or the facts."