Replacing India's expensive coal plants with solar and wind could save billions, analysis finds
New research shows that the plummeting cost of renewables means coal plants are increasingly uncompetitive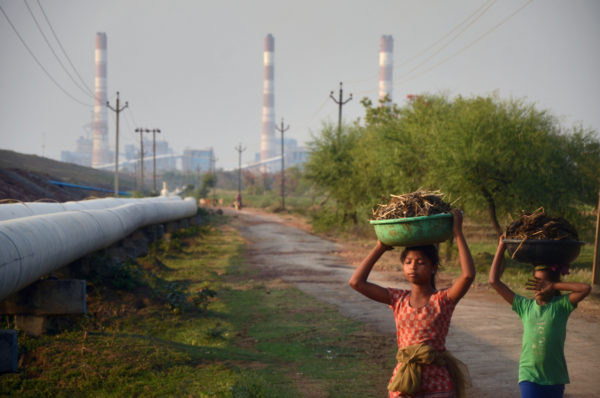 Renewables continue to make great strides in India and coal is struggling to keep up.
Nearly two-thirds of India's coal power generation is no longer price competitive with new solar and wind projects.
New research by Greenpeace has found that replacing the most expensive coal plants in India with solar and wind could save billions. At least 65% of India's coal power generation in financial year 2016 – representing 94GW of installed capacity – was being sold to distribution companies at a higher cost than power from new renewable energy projects.
The analysis showed that replacing the most expensive coal power plants in India with electricity generated by solar photovoltaics (PV) and wind can save consumers up to 54,000 crores ($8.3bn) annually.
Focussing only on replacing older, expensive plants – those older than 20 years – will still yield 20,000 crore ($3 bn) in reduced power purchase costs annually – according to the research.

Greenpeace researchers compared 2015-16 tariff data published by India's Central Electricity Authority against an assumed renewable energy tariff of Rs3 (Indian Rupees) per kilowatt hour (kWh).
New tariff bids for solar PV and onshore wind have actually dropped below Rs3 per kWh, reaching record lows, with solar PV falling to Rs2.44 and wind dropping to Rs2.64.
Coal use has remained robust in India in recent years, despite global declince. The International Energy Agency (IEA) found last month that every major country in the world reduced its coal consumption in 2016, except India.
The IEA projects that coal-fired power generation in the country will increase by 4% a year until 2022.But according to Bloomberg New Energy Finance (BNEF), the plummeting cost of solar in India has undercut fossil fuels and led to coal-power plant developers in the country growing increasingly pessimistic about the future of their projects.
The price of coal power in India is likely to increase further, as Coal India Limited, which supplies most of India's coal power plants, is widely expected to raise prices in 2018. With air pollution now a sensitive political issue, new air emission standards will force coal power plants to install pollution control equipment, the costs of which are expected to be passed onto consumers.
In 2017, Unearthed reported that coal consumption in India has slowed dramatically over the last two years to an average of 2.2%, compared with over 6% during the previous 10 years.
As well as being undercut by record low solar prices, India's traditional reliance on coal is being challenged by concerns over air pollution.
In November, 4,000 schools in New Delhi were forced to close due to high-levels of air pollution. A study by researchers at the University of Maryland found that the country is passing China as the world's biggest emitter of sulfur dioxide (SO2).