Environment minister called to EU to explain illegal air pollution levels
The European Commissioner sent a letter requesting Thérèse Coffey attend a meeting on 30 January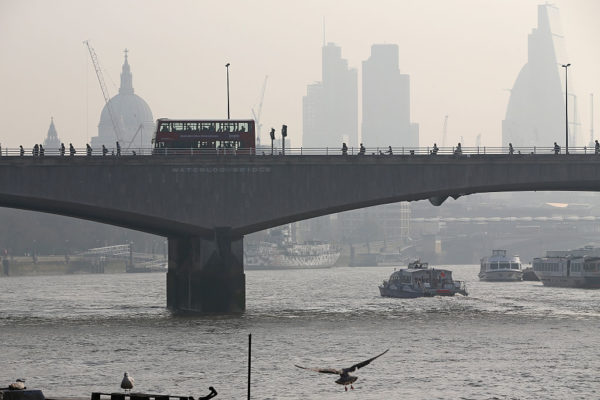 This story was amended on 30 January to state that the letter to the UK was addressed to Thérèse Coffey. An earlier version said it was sent to Michael Gove.
The UK's environment minister has been summoned to Brussels to explain why the UK's air still breaches legal limits.
The European Commission told Unearthed it had sent a letter to the UK environment department asking Thérèse Coffey MP to appear at a meeting on 30 January, alongside ministers from eight other EU member states that are violating EU standards.
These are France, Germany, Spain, Italy, Romania, Hungary, Czech Republic and Slovakia.
The news comes one week before Michael Gove's department is due back at London's High Court to respond to a legal challenge to its national air quality plan, which has been widely branded as inadequate.
Legal action
The meeting will be chaired by EU environment commissioner Karmenu Vella, who has stated that if ministers could not explain how they would bring down levels, legal action could follow.
The UK was warned last year that it would face a case at the European Court of Justice if it does not bring down NO2 levels.
For the last seven years, the UK has been in breach of EU limits on the toxic pollutant nitrogen dioxide, which has been linked to respiratory and cardiovascular conditions, as well as stunted lung growth in young children.
Diesel vehicles are a major source of No2 pollution. Last year an investigation by Unearthed showed that more than 1,000 nurseries nationwide are within 150m of a road that is breaching legal limits.
In a blog published on the Commission's website, Vella said: "Understandably, it is the improvements, not the process, that interests Europeans. It is no use telling the parent of a 7 year old child with chronic bronchitis that things will improve by 2030.  Much less telling the daughter of a 70 year old woman with COPD that the air quality will be better in 10 years' time."
Member states must show that they are taking "effective and timely measures" to tackle the issue, he added.
"Such measures exist in a number of Member States. But where such measures are not taken for several years, the Commission cannot sit by. In such cases, legal action against some of our Member States may be the only way forward."
National plan
The UK government is due back in court next Thursday for the next episode of a long-standing court case brought by the environmental NGO ClientEarth.
The UK government is in the process of drawing up a national plan to tackle the issue, following an order from the court in 2016 as part of these proceedings.
But ClientEarth believe the plan does not meet legal requirements to bring down levels in "as short a time as possible".
The plan was widely criticised by lawyers, campaigners and health experts on publication, in part for "passing the buck" to local authorities to tackle the issue.
A spokesperson from the environment department told Unearthed:
"Air pollution has improved significantly since 2010, but we recognise there is more to do which is why we have put in place a £3.5billion plan to improve air quality and reduce harmful emissions.
"We are at the forefront of calls for the EU to introduce Real Driving Emissions testing which is essential in meeting our air quality goals, the first stage of which came in for new models of vehicles in September 2017. We continue to actively engage at a European and international level to tackle air pollution."