Could we be about to see a wave of public money for new nuclear?
The Japanese and UK governments refused to confirm or deny reports that both are considering investing in the Wylfa nuclear project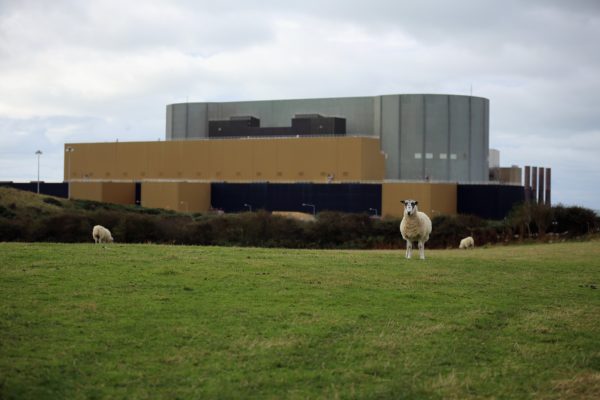 A reported public financing deal between the UK and Japanese governments for a new nuclear plant in Anglesey, Wales, could set the UK government up to provide state-support for a raft of nuclear projects hit by financial difficulties.
The FT reported on Tuesday that letters had been exchanged between Tokyo and London expressing support for the Wylfa project – which will be built by the Hitachi-owned consortium Horizon.
The FT story followed up a series of reports in Japan suggesting that the Japanese and UK government's had agreed $20bn in loans to acquire a stake in Horizon with the help of financial institutions – including an equity stake for the UK government.
Any move to put public money into new nuclear would represent a significant policy shift from the Conservative government; exposing taxpayers to significant risk while potentially lowering the cost of building a new power station.
The news comes as the UK government faces accusations of refusing to intervene over the collapse of Carillion and the East Coast Franchise.
Both the Japanese government and the Treasury refused to confirm or deny speculation when approached by Unearthed.
A spokesperson for the Japanese government told us: "We are aware that this has been reported, but our understanding is that at present there has been no specific decision made."
When asked about the numerous media reports on public financing a Treasury spokesperson said: "the government is engaged in constructive discussions with a number of new nuclear developers. These discussions are commercially sensitive and it would be inappropriate to share at this time."
Horizon is amongst the closest of the UK's much-delayed nuclear programme to an investment decision – but there is also speculation around other projects hit by financial difficulties.
There are also reports in Korean media that the Treasury is involved in project finance for the troubled Moorside nuclear plant – including another possible equity stake.
Troubled projects
It was announced in December that state-owned South Korean firm Kepco is to take over construction of the power station in Cumbria.
Kepco was named as the preferred bidder for the NuGeneration consortium running the project, after its owner Toshiba was forced to sell due to financial problems, including the bankruptcy of its US nuclear subsidiary.
According to an article published in Korea last year, the UK Infrastructure and Project Authority, a branch of the Treasury, worked on a financing structure with the Korean government, with Kepco at its centre.
The website Business Korea stated in October that the Korean government was working with the Infrastructure and Project Authority on a financing plan alongside US and Japanese institutions to enable the company to buy a stake in Moorside.
Before Christmas, the FT reported that the head of Horizon, the Hitachi-owned consortium which hopes to build the plant at Wylfa, Duncan Hawthorne, felt the project needed government backing to get off the ground.
Hawthorne added that Treasury officials were "fully engaged" with Horizon and committed to ensuring that the power station was built at a lower cost than Hinkley Point C.
Antony Froggatt, a senior research fellow in energy at Chatham House, told Unearthed that the Conservatives were shifting their policy because new nuclear plants are unlikely to come online without significant state backing.
"What we're seeing, and this has been the case for the last 5-10 years, is that the Conservatives have gradually been salami slicing away at their pledge to allow the construction of new nuclear, provided that they 'receive no public subsidy'," he said.
"There's been a shift on this because nuclear can't happen without significant government financial support."
Peter McIntosh, acting national officer for energy at the Unite union, which has long pushed for public investment in new nuclear, told Unearthed that the reports of the Wylfa deal were welcome, but urged the state to go further. "Privatisation of the energy sector has failed and we would call upon the government to bring the sector back into public ownership," he said.
Public money
The government has reaffirmed its commitment to building a fleet of new nuclear power stations in recent months, despite concerns over the cost and delivery.
But if it decides to back a nuclear project it may prove difficult for ministers to avoid offering the same public support to other similar schemes.
Alex Mosson, construction and engineering law specialist at Keystone Law, said it was unlikely that the government would be in legal trouble if it chose to invest in Wylfa and ignored other projects, but he said it could face political difficulties.
"In terms of the legality, the government more or less has free reign to do what it wants within the parameters of its investment requirements. But in terms of politics, it becomes very different, because these deals can be used as leverage. Legally, I couldn't give a definitive answer, as I don't know what the scheme is. But commenting on the industry itself, there will always be a circumstance where one party will try to use another party's leverage to their benefit," he said.
Ultimately, however, nuclear projects will depend on agreements to buy the power they produce – with new subsidies ruled out until 2025 in the Autumn budget.
"The only short-term option the government would have for giving public money to new nuclear would be to take an equity stake," says Froggatt.
Doing so may still not be sufficient to make the projects happen, however.
Tom Burke, chairman and founding director of the environmental group E3G, suggested that there might be something else at play.
"The struggling nuclear industries of Japan, France and Korea are all looking to the UK to rescue them," he argued.
"What they are getting from the government is warm words and long promises. The truth is that there is no room for additional nuclear in Britain's rapidly modernising electricity supply system. Without power purchase agreements paid for by consumers none of these projects will go ahead however much they reduce their capital cost."