Theresa May's environment plan includes less than £1m a year of extra funds
The launch of the 25 year plan follows cuts to the environment department and relevant agencies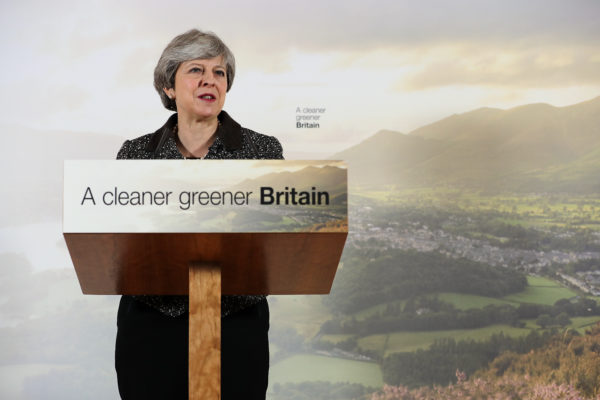 Less than £1m a year in new funding has been set aside for the government's 25 year environment plan, Unearthed has learned.
Theresa May promised "global leadership" on environmental issues from plastic waste to animal abuse when launching the strategy last month.
But so far only £15.7m in extra funding has been set aside for the strategy, it emerged in a recent parliamentary question posed by Green Party leader Caroline Lucas.
She described the extra funding – equivalent to less than a penny per person per year in the UK over the course of the plan – as a "pittance".
The government is still developing the policies in the plan, which is likely to be updated, so further funding may be announced at a later date. It also draws on funds that had already been announced elsewhere.
The plan follows cuts in recent years to the Department for the Environment, Food and Rural Affairs (Defra) and other relevant government agencies.
Plans
Campaigners and politicians have criticised the 25 year plan for a lack of legislation, funding and short-term action.
Some of the targets announced are years old (pdf), such as the goals of increasing woodland cover in England to 12% by 2060 or ending the sale of petrol and diesel cars by 2040. Others, such as targets for managing exposure to chemicals, are already required under international law.
Environment minister Thérèse Coffey told parliament that funding for the plan includes £10m for a project to help children explore nature, £5.7m for tree planting in northern England, £3.5bn for air quality and £5.8bn for helping developing countries tackle climate change.
But Unearthed has identified that the money for climate change was announced in the foreign aid budget in 2015, while the air quality funding is an accumulation of money spent since 2010 (pdf).
The government has also cited existing funding available through farming subsidies as available to support the plan, after environment secretary Michael Gove announced a revamp of the system in January. However no announcement has yet been made on the proportion of funding that will be redirected to countryside conservation.
Lucas told Unearthed: "This extra funding is truly a pittance – and is frankly an embarrassing reminder of this government's half-hearted attempts to convince people that they care about the environment. Though ministers have plenty of warm words about the protection of our planet, they are utterly failing to take action commensurate with the scale of the crises we face."
A Defra spokesperson told Unearthed: "Our 25 year environment plan builds on substantial existing investment – such as the £3.5bn we're investing in improving air quality and the £2.5bn we're spending on flood defences. It also commits new funding to improve habitats for wildlife, connect children with nature and support the Northern Forest.
"We have also committed to maintain £3bn in farm support every year up to 2022, and our 25 year plan paves the way for more farm support funding to be spent on environmental enhancement in the future."
Cuts
Defra has faced some of the biggest funding cuts of any department over the course of the Conservative government.
One week after Theresa May's speech, which focused on eliminating plastic waste, it emerged that the government body responsible for tackling waste is making 10% of its staff redundant.
And in 2016, Unearthed published leaked documents showing the environment watchdog Natural England was planning to rein in its regulatory powers and seek funding from the corporations it assesses, in the face of a 27% budget cut.
But Ellie Brodie, senior policy manager at the Wildlife Trusts, told Unearthed targets "will need effective monitoring and resourcing over the long-term from Natural England".
Targets
It is not yet clear how some new targets set out in the plan will be funded.
In her speech, the prime minister condemned the "environmental scourge" of plastic pollution, promising to eliminate all avoidable plastic waste and significantly reduce plastic pollution in the oceans.
The government is believed to be considering charges on some single-use plastics and a deposit return scheme for drinks containers.
Paul McNamee, head of politics at the Green Alliance, told Unearthed: "The long term ambition of the 25 year environment plan is positive but how it will deliver on the ground in the short term isn't clear, with significant gaps like exactly how it will eliminate 'avoidable' plastic waste by 2042."
"If the government wants to achieve its aim of being the first generation to leave the environment in a better state then it needs to start saying how these gaps will be filled, and how they will be paid for."
The plan promises to restore 750,000 hectares of protected sites for wildlife, as well as 500,000 hectares of mostly priority habitat outside protected areas.
A report for the RSPB, National Trust and Wildlife Trusts recently estimated the costs of maintenance, restoration and expansion of all of England's priority habitats – close to 2m hectares – to be £876m per year.
Richard Benwell, head of government affairs at the Wildfowl and Wetlands Trust, told Unearthed: "The plan has the bones of a successful programme, but they'll need to be strengthened with new law and investment. Meeting these targets will require a combination of long-term farm funding, strong and well-enforced regulation, and action to bring polluters in check across rural and urban environments."
The government did not respond to requests from Unearthed to clarify the details of new wildlife funding, which do not appear to be in the plan. 
Defra committed to flood spending for the period from 2015 to 2021 three years ago, which is an increase on previous parliaments.