Ricardo Salles met with European chemical and car giants
Exclusive: Leaked agenda shows Brazil's environment minister will meet with BASF, Bayer, VW and British fossil fuel and mining interests next week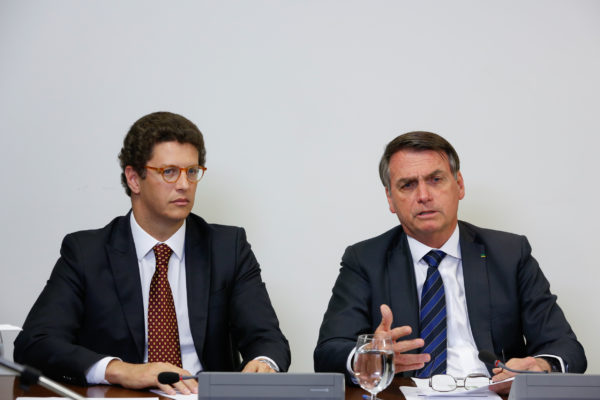 Brazil's environment minister will meet with German pesticide and car giants, as well as British mining and fossil fuel interests during his trip to Europe next week, according to a document seen by Unearthed.
The news comes with President Jair Bolsonaro's government facing a wave of criticism over its environmental record – including a significant rise in pesticide approvals – and with a major trade deal between the EU and South America's economic bloc in the balance.
Salles' trip to Europe follows a visit to the US where he met with the climate change denying think tank the Competitive Enterprise Institute and attended the UN climate summit in New York. Bolsonaro told an audience UN that the "deceitful" media was exaggerating Amazon wildfires.
Ricardo Salles will meet with pesticide firms BASF and Bayer, as well as Mercedes-Benz and Volkswagen, at the Association of German Chambers of Industry and Commerce on October 1.
Bayer recently signed a declaration calling for the protection of the Amazon, while this year BASF has registered two products in Brazil containing an insecticide prohibited in the EU. Fipronil "causes damage to organs through prolonged or repeated exposure" according to the European Chemicals Agency. The European Commission partially banned products containing the chemical in 2013. BASF told Unearthed that "all approved uses of fipronil have been subject to an in-depth evaluation as part of the registration process".
Volkswagen confirmed its representatives were attending the meeting in Berlin but added that its Brazilian subsidiary is involved in a "variety of CSR [Corporate Social Responsibility] projects" including some in "the field of environmental protection". 
A company spokesperson added: "The Volkswagen Group is concerned about the current development of deforestation and major fires. We have plans for selected climate protection projects for the sustainable use of forests and the protection of the rainforest." Mercedes failed to respond to a request for comment. 
In London, Salles is scheduled to meet with unnamed British mining and fossil fuel interests, alongside people from the financial sector and pharmaceuticals, on October 3. He will meet Defra minister Theresa Villiers the following day. Defra told Unearthed it does not comment on ministers' diaries.
The trip comes after Austrian MPs demanded a government veto on the Mercosur trade deal earlier this month. 
Devastating wildfires in the Amazon and increased deforestation since the far-right President took office have drawn international condemnation from environmentalists and world leaders.
France and Ireland have both stated they would reject the Mercosur deal if more is not done to tackle fires in the Amazon.  
Separately, UK ministers have held meetings with Bolsonaro government officials with a view to securing a post-Brexit trade deal. As Amazon forest fires sparked global media coverage in late August, trade minister Conor Burns met with a range of Brazilian officials, deputy economy minister Marcos Troyjo. 
Salles has previously stated that climate change is a "secondary issue" and called fines handed out as punishment for environmental crimes "ideological".
Workers at two environmental watchdogs in Brazil, the Chico Mendes Institute for Biodiversity Conservation (ICMbio) and the Environment Agency, have told Unearthed their work is being deliberately undermined by the government. 
A document obtained by Unearthed shows that Bolsonaro's government blocked 30% of the Brazilian environment agency's budget for preventing fires before blazes swept through the Amazon.