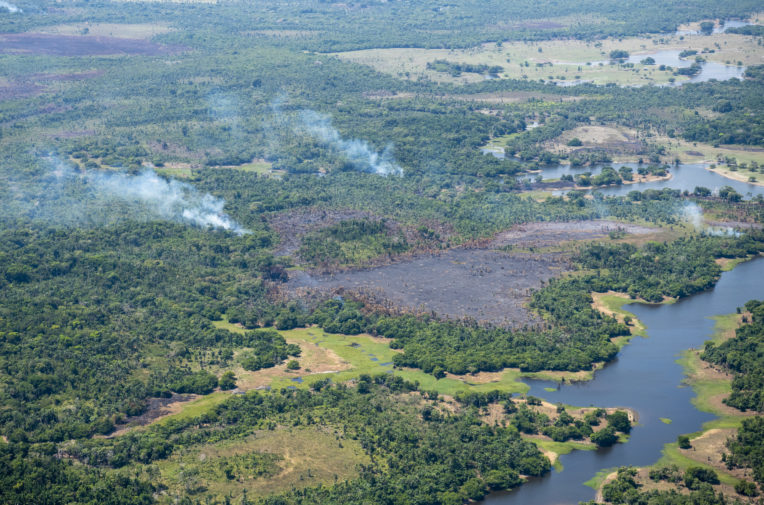 Small fires burn on the border between the states of Amazonas, Acre and Rondônia last week. Photo: Daniel Beltrá/Greenpeace
Fires in Brazil's Indigenous territories doubled this year
New data raises concerns that loggers and criminal gangs are deliberately targeting protected areas since election of Bolsonaro
Fires in Brazil's Indigenous territories doubled this year
New data raises concerns that loggers and criminal gangs are deliberately targeting protected areas since election of Bolsonaro
Small fires burn on the border between the states of Amazonas, Acre and Rondônia last week. Photo: Daniel Beltrá/Greenpeace
Brazil's Indigenous lands and protected areas have experienced a massive surge in fires this year. The number of fire outbreaks in these locations outstrips the increase seen across the Brazilian Amazon, according to the latest data from Brazil's space research agency (INPE). 
The news strengthens fears that criminals, emboldened by the election of President Jair Bolsonaro, are deliberately targeting Indigenous and conservation zones as the agencies charged with protecting them are weakened and defunded.
Experts say loggers and ranchers are taking the opportunity to invade and clear protected land in the Amazon. 
"What is at stake here is public land grabbing, especially of conservation units and Indigenous territories," a senior civil servant in from Brazil's environmental protection agency, Ibama, who spoke on the condition of anonymity, told Unearthed. "The Amazon does not burn by itself."
The number of fires in Amazonian Indigenous lands more than doubled in the first nine months of 2019, compared with the same period last year, rising from 2,544 to 5,161. Conservation units in the rainforest saw a 61% rise in fire hotspots, from 6,786 to 10,919, in the same period. 
These figures outstrip the number of fires in the Amazon biome as a whole, which grew by 42% for the period January to September 2019.
Understanding the Amazon
The Amazon biome contains the Amazon river basin and its adjacent tropical rainforest. It is smaller than the Legal Amazon, which is an administrative term for the nine Brazilian states that make up the Amazon region, but which also includes some parts of the Cerrado, a tropical savanna in south and central Brazil.
While the total number of outbreaks does not necessarily represent the total number of fires – large fires can register on a satellite image as multiple outbreaks – it does give an idea of the scale of the problem.
The pattern was similar countrywide. Fires in Indigenous reserves throughout Brazil doubled this year to the end of September, to 15,093 outbreaks from last year's 7,455. The number of fires in national and state conservation areas jumped 68% to 19,047 from 11,313 in the same period, INPE data shows. 
By comparison, fire hotspots in Brazil as a whole during the same period also increased, but at a slower rate of 51%.
According to an analysis by Greenpeace Brazil, 63% of hotspots in the Amazon between January and August were in areas that were still forested in 2017.
Land grabbing
The majority of Brazil's protected Indigenous regions are located in the Amazon rainforest though fires are also burning in Indian territories in the Cerrado and other regions. 
Burning is used as an agricultural technique on land that has already been cleared, but also as a way to deforest land after the valuable trees have been logged. INPE data showed an estimated 2,254km sq of the Amazon, an area almost the size of Dorset, was lost – logged, burned or both – in July of this year alone, representing a 278% jump on the same month in 2018. 
Brazil's environmental agencies, Ibama and ICMBio, told Unearthed last month that they were being defanged and undermined by Bolsonaro's rightwing government. Earlier this year environment minister Ricardo Salles froze large chunks of Ibama's and ICMBio's budgets.   
Meanwhile, Bolsonaro has twice attempted, unsuccessfully, to transfer Funai's (National Indian Foundation) power to demarcate land to the Ministry of Agriculture. He recently appointed a new Funai director who has called the demarcation of Indigenous lands "absurd."
The pressure to open up Indigenous lands to development has been growing for a few years, alongside Brazil's economic malaise. Still, said Jeane Bellini, national coordinator of Brazilian human rights NGO Comissão Pastoral da Terra (CPT), there was a clear link between the acceleration in fires and invasions, and Bolsonaro. 
"Bolsonaro's discourse and decrees have given a green light to everybody who wants to get first dibs on land that's still hasn't been claimed by others, whether it is conservation units or Indigenous territories, or quilombos that haven't been demarcated yet," she said. 
In October, just before the presidential runoff, hundreds of families stormed and occupied Floresta Nacional (Flona) do Bom Futuro, in Rondonia state, telling reporters that they were "certain" Bolsonaro would subsequently give them the rights to the land.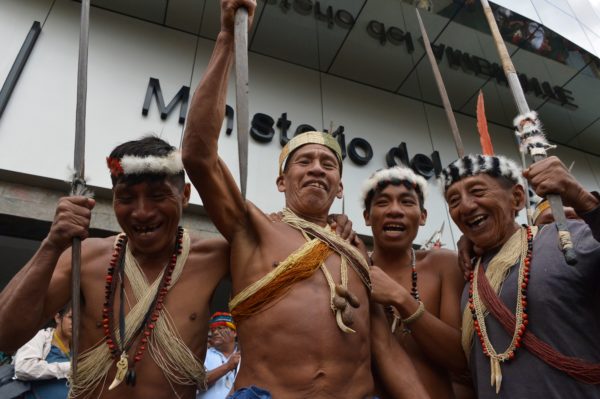 A couple of months before Bolsonaro made a campaign visit to the state and said it had too many protected areas. 
The number of fire outbreaks in Flona do Bom Futuro has soared by 239% this year compared to the same period last year, from 41 to 139. 
In other cases, conservation units that were already under significant pressure from encroaching agriculture have suffered intensified attacks. 
Fire spots in APA (environmental protection area) Triunfo do Xingu in the state of Pará more than tripled, to 2,585 this year so far, from 835 in the same period in 2018. 
This huge national park of some 1.7million hectares – home to endangered species like the white-faced spider monkey, large blue macaw and jaguar – has been a target for deforestation for years, thanks in large part to its accessibility by road.
The park straddles two municipalities; Altamira and São Félix do Xingu. These two municipalities have had more blazes this year than any others in the Amazon.
Pará state has topped the deforestation leaderboard for more than a decade, and this park is one of the main targets of illegal deforestation in the state. INPE figures show 333.6km sq of the conservation unit was deforested in 2018 alone. This year's figures are not out yet but with triple the number of fire spots they are unlikely to show good news.
In August, Repórter Brasil found that São Félix do Xingu has the largest cattle herd in Brazil, with 2.2m head of cattle, and that major Brazilian meatpackers Marfrig had earlier this year bought cattle from an illegally deforested area within the conservation unit. 
Antenor Vaz, a former Funai employee and consultant on isolated Indigenous peoples said that Bolsonaro's "hate speech" towards Indigenous people had combined with his intentional dismantling of those agencies meant to protect them to create an extremely risky situation for these vulnerable groups.
Preliminary data from the Missionary Council for Indigenous Peoples (CIMI) released last week bears out the correlation, showing a steep increase in the number of Indigenous land invasions in the first nine months of the year to 160, from 111 in the whole of 2018, and 96 in 2017.

Uncontacted Tribes
Of particular concern, said Vaz, are the fires that are approaching uncontacted tribes. Vaz told Unearthed that there are records of 114 isolated Indigenous groups, but only 28 have been "confirmed" by Funai, and thus afforded protections. 
"For the 86 groups not confirmed by Funai, the situation is extremely vulnerable, especially in the face of this wave of fires," Vaz said. "Many of these communities may have already disappeared without our knowledge."
One such group lives on Bananal Island in Tocantins, a large island in the Araguaia river where the landscape shifts from Amazon to Cerrado. According to Vaz this uncontacted tribe depend exclusively on the forest flora and fauna to survive. The entire island is protected either as national park or Indigenous territory; as a whole it saw 2,438 fire outbreaks so far this year.
Another uncontacted tribe, hunter-gatherers the Awá – called the world's most threatened tribe by Survival International – live in the indigenous territory of Araribóia, in Maranhão. There have been 95 fires so far this year in their reserve, up from just 11 last year. 
These northeastern reaches of the Amazon are already heavily degraded and Survival International says that in the past heavily-armed loggers have tried to obstruct firefighters' attempts to put out fires in the area.