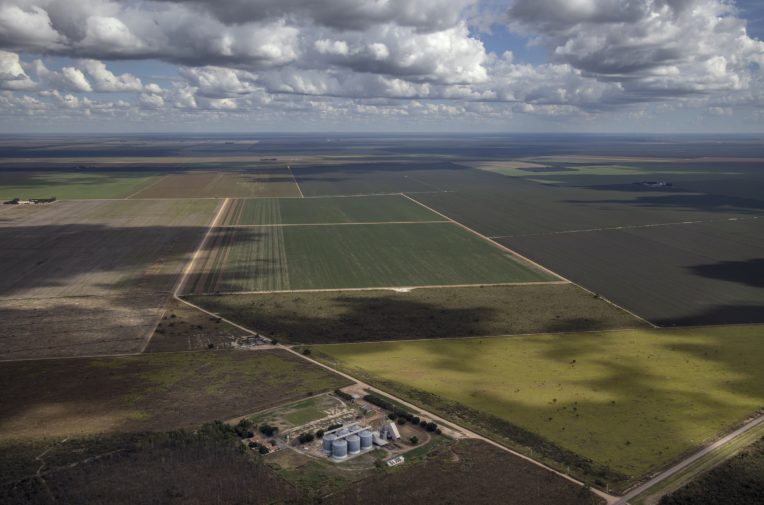 Soy production has exploded in the Cerrado region in recent decades. Photo: Marizilda Cruppe/Greenpeace
Soy traders going 'deforestation-free' still fuelling destruction of Brazil's Cerrado
Bunge and Cargill still exporting soy from most deforested municipality within Brazil's tropical savannah
Soy traders going 'deforestation-free' still fuelling destruction of Brazil's Cerrado
Bunge and Cargill still exporting soy from most deforested municipality within Brazil's tropical savannah
Soy production has exploded in the Cerrado region in recent decades. Photo: Marizilda Cruppe/Greenpeace
Mega-traders Bunge and Cargill are continuing to export soy from the most deforested municipality in Brazil's highly threatened Cerrado, despite pledges to end deforestation in their supply chains and reports of a violent land conflict in the region, research from Greenpeace Brazil has established. 
The Cerrado is the world's most biodiverse savannah and has already lost roughly half of its native vegetation to agribusiness. 
Deforestation in the region is focused in 25 'high-risk' municipalities where land clearing takes place both legally and without permission, often driven by huge mega-farms whose soy is exported to Asia and the EU. 
Agronegócio Estrondo is one such agricultural estate comprising 24 producers across 305,000 hectares, twice the size of Greater London. It is located in the 'high-risk' municipality Formosa do Rio Preto, in remote Western Bahia, the heart of the soya deforestation frontier in the Cerrado. 
It is also home to some 62 families of "geraizeiros" – traditional Cerrado communities descended from slaves and indigenous people – who claim Agronegócio Estrondo is systematically, and at times violently, pushing them off the land they have occupied peacefully for over a century. 
INPE data shows Formosa do Río Preto has seen the most deforestation of any municipality in the region, with almost 450,000 hectares (ha) of forest lost between 2001 and 2018.  In 2017, the municipality produced more than 1.3 million tonnes of soy, making it the third highest producer in the country.
Unlike in the Amazon – which benefits from a moratorium on trading soy grown in newly deforested areas of the rainforest – with a license, up to 80% of a Cerrado property can be legally deforested for soy farming. 
Publicly available documents show that Bahia's Institute of Environment and Water Resources (INEMA) has granted and renewed a deforestation permit for nearly 25,000 ha within the Estrondo estate, most recently in May 2019. The area licensed for clearance covers virtually all the remaining lowland natural vegetation within the estate's boundaries. 
Cargill and Bunge continue to export soy from silos within the estate. In 2017, according to supply chain tracking group Trase, Bunge sourced 343,000 tonnes of soy from this municipality – its third most important sourcing region in Brazil – and Cargill exported 73,000 tonnes. Bunge exported Estrondo's soy to the EU as recently as August 2019, according to export documents. 
Bunge told Unearthed it was "committed to a deforestation-free supply chain worldwide," and that their global non-deforest policy "aimed at a deforestation-free supply chain by 2025." 
"As a result, Bunge achieved over 90% traceability of direct supply in deforestation risk areas throughout the region of Cerrado, and 99% of the volume of soy originated in Formosa do Rio Preto comes from direct purchases." Bunge did not comment directly on the deforestation permit. 
In an email to Unearthed, Cargill said that Agronegócio Condomínio Cachoeira do Estrondo did not directly supply soy to Cargill, nor did it have direct commercial relations with any of the four holding companies that, according to 2018 Bahia court documents, own the land: Delfin Rio S/A Crédito Imobiliário, Cia Melhoramentos do Oeste da Bahia, Colina Paulista S/A and União de Construtoras S/A. 
However, it conceded that it did buy from "tenant producers" on the estate and operates a grain warehouse in the Estrondo region.  
The Estrondo group did not reply to a request for comment. 
Cargill also said that while it was "committed to ending deforestation in our supply chains" it would not support a Cerrado soy moratorium which "prohibits farmers from earning a living or exercising their legal land rights."
About two-thirds of the world's soy goes to feed animals, and these traders supply some of the world's biggest mult-national fast-food chains, including Burger King, KFC and McDonald's, according to a report by Greenpeace Brazil. 
McDonalds did not respond to a question about whether it is supplied by Bunge, Cargill, or other mega-traders, or whether their supply chain included soy from the Cerrado. But an emailed response noted the company is a signatory to the New York Declaration on Forests, and planned to "eliminate deforestation from our global supply chains by 2030". Burger King and KFC did not respond to a request for comment. 
The Brazilian soy trade is dominated by a few mega-traders. Trase data shows in 2017 Bunge, Cargill, ADM, Louis Dreyfus, COFCO International and Amaggi accounted for 58% of Brazilian soy exports. According to Trase's analysis, deforestation risk linked to soy is concentrated in the Cerrado, and in the ten years to 2016, the supply chains of those six traders were associated with two-thirds of that risk.
In 2018 Brazil's environmental agency, Ibama, fined five traders including Bunge and Cargill for trading soy from illegally deforested areas in Matopiba – the new frontier of agribusiness, straddling the states of Maranhão, Tocantins, Piauí and Bahia. 
Data suggests that as well as the deforestation permitted by Inema, there has been plenty of recent "unauthorised" deforestation in the Estrondo region. From August 2018 to May 2019 MapBiomas shows that there were 60 deforestation alerts in Formosa do Rio Preto, for an area totalling 15,549 hectares. None of them was authorised.  
Transformation of a biome
With its acidic soil and lack of navigable rivers, the Cerrado was for many years considered too difficult to farm at scale. That changed in the 1970s when government scientists, seeking new frontiers to feed a growing population, created new fertilisers and bred hardy soybeans suited to the Cerrado's climate and terroir.  
As demand for meat from Asia has risen, the Cerrado has since been rapidly converted into cattle ranches and plantations. 
Today, Brazil is the world's largest soy producer, according to industry group Abiove. At least 40% of Brazilian soy came from the Cerrado in 2017, of which 60% was exported, data from supply-chain tracking NGO Trase shows. Most of it went to China, but Europe imported 12% of Cerrado soy in 2017  about 5.4 million tonnes. 
Annual deforestation across the biome has been holding steady at around 7,000 square kms over the past few years, but, as in the Amazon, there was an increase in fires this year. 
More than 123,000 square kms of vegetation were burned in the first nine months of 2019, 44% more than during all 2018, data from Brazil's space agency (INPE) shows. 
Not all the fires are on virgin land, but almost all are man-made. Farmers set fire to grasslands to prompt growth, many then spread out of control. In other cases vegetation is deliberately burned to create new pastures. 
All taken together, Cerrado's burned area outpaced that of the Amazon during every month of the dry season this year. In September 63.5% of all land burned in Brazil was in the Cerrado, compared to 17.5% in the Amazon.
The latest monthly unofficial data shows deforestation alerts for 4,391 square kms in the Cerrado so far this year to the end of October. 
Licensed deforestation in the Cerrado is permitted. But of the deforestation alerts from August 2018 to May 2019, 97% were unauthorised, MapBiomas data showed, suggesting farmers are taking advantage of a climate of impunity to clear land illegally. 
"If this pace is maintained, we will soon have very little of the Cerrado," said Mercedes Bustamante, professor of ecology at the University of Brasilia told Unearthed. 
Land conflicts 
As well as its unique ecology, rapid expansion of agribusiness in the Cerrado has come at the expense of its traditional communities. In the Estrondo region, the local geraizeiros estimate their families have lived on the Rio Preto foraging and grazing animals since the end of the 19th century.
The grassy plateaus where they once grazed their cattle are now dusty soy fields; the riverine valleys where they live are criss-crossed with fences and ditches. Community members must show identification at check-points.
"It is a clear strategy of intimidation," Martin Mayr, coordinator of local NGO 10envolvimento told Unearthed. "All these measures to restrict their lives, until they give up and leave." 
In January, the land dispute flared into violence. Private security guards employed by Estrondo seized Jossone Lopes Leite's cows then shot him in the leg when he asked for them back.  
The rights of 62 geraizeiro families to 43,000 ha of the estate were legally recognised in 2017, and affirmed by a state court last year. But lawyers for the community say that the harassment has intensified. A second community leader, Fernando Ferreira Lima, was shot and wounded in August. 
"The situation is very tense," Mauricio Correia of the Association of Rural Workers Lawyers, told Unearthed.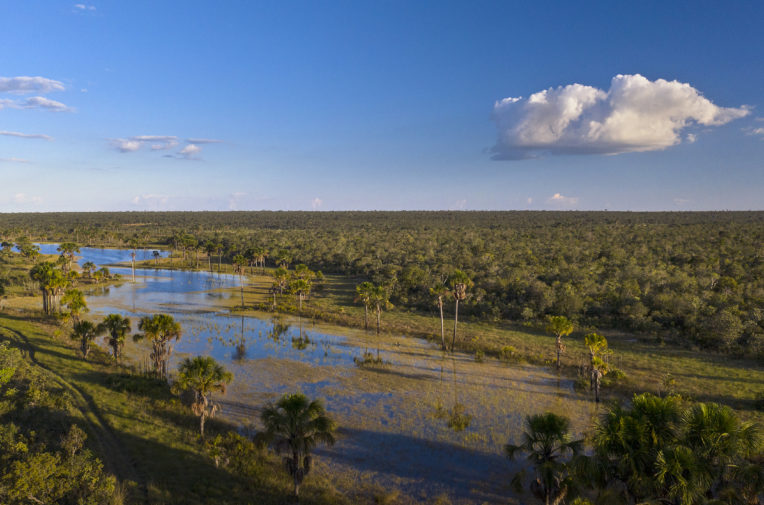 In 1999 Brazil's land reform agency, INCRA, suggested Estrondo's original purchase in 1978 was suspect–if so, the estate would be founded on the largest land-grab in Bahian history.
Later, in 2005, the mega-farm was caught using labourers in slave-like conditions, and it has been investigated multiple times for illegal land clearing. 
Bunge said it condemned any violence and illegal activities, and had "no records of current direct suppliers engaging in such practices in the Estrondo region."
Ecological disaster
Ecologically, it is hard to overstate the importance of the Cerrado, Bustamante, who has studied the biome for more than two decades, told Unearthed. The biome is extraordinarily biodiverse: 12 thousand plants, 45% of which are found nowhere else in the world. Nearly a thousand species of birds, and 300 mammals, including big-ticket species like endangered jaguars and maned wolves, with legs so long and spindly they look like canine supermodels.
But degradation of the Cerrado has consequences beyond its species; it is a huge carbon sink, stabilizes the regional climate and is critical for eight of Brazil's 12 river basins.  Because 80% of Brazil's electricity comes from hydroelectric power plants on rivers beginning in the Cerrado, it is also critical to energy security, Bustamante said.
"If you imagine Brazil as an umbrella the Cerrado is the highest part and it is draining the water to all the different regions in Brazil," Bustamante said. 
The clay soil of the Cerrado acts like a sponge, and its native plants grow deep roots that drain water slowly back underground. Shallow-rooted soy crops will simply not be able to replenish the aquifers deep underground, Bustamante said, causing longer dry seasons and more frequent and intense droughts. 
Deep roots also store significantly more carbon, making the destruction of native vegetation that much more damaging–as much as 70% of Cerrado plants' biomass is underground.
Demand for soy is showing no signs of slowing down, and Brazil predicts that by 2028 Matopiba will be producing 29 million tonnes of soybeans, an increase of 6.5 million tonnes, or 22%, from current production. 
What is particularly frustrating, said Bustamante, is that plenty of degraded land in the Cerrado could be regenerated, given the political will.
"But," she added, "conservation is simply not part of the current national agenda."