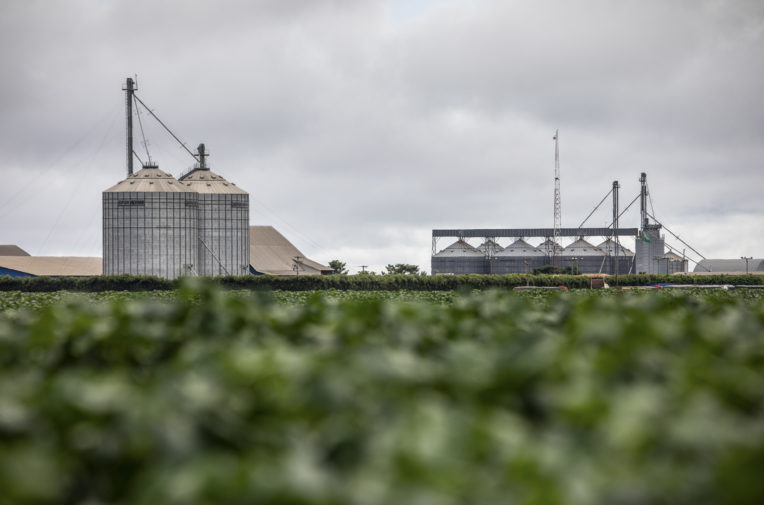 A soya silo in the "Ring of Soy", a stretch of plantations, processing facilities and distribution centres in Bahia state, in Brazil's Cerrado region. Photo: Victor Moriyama / Greenpeace
Soya, corn and cotton make Brazil world leader for hazardous pesticides
Investigation reveals almost two thirds of country's highly hazardous pesticide sales driven by soya for animal feed, amid health fears and mass bee deaths
Soya, corn and cotton make Brazil world leader for hazardous pesticides
Investigation reveals almost two thirds of country's highly hazardous pesticide sales driven by soya for animal feed, amid health fears and mass bee deaths
A soya silo in the "Ring of Soy", a stretch of plantations, processing facilities and distribution centres in Bahia state, in Brazil's Cerrado region. Photo: Victor Moriyama / Greenpeace
Brazil's vast plantations of soya beans, corn and cotton have turned it into the world's most important market for highly hazardous pesticides, a joint investigation by Unearthed and the Swiss NGO Public Eye has found.
This was a key finding from an analysis of more than $20bn of agrochemical sales data, covering purchases across more than 40 countries of leading products in the most valuable pesticide markets. 
The analysis of 2018 sales found Brazil – home to as much as 20% of the world's remaining biodiversity – to be the biggest consumer of pesticides classed as seriously hazardous to health or the environment. These hazards included acute toxicity to humans, chronic exposure risks like cancer or reproductive failure, high persistence in the environment, and high toxicity to bees. 
Almost two-thirds of this Brazilian highly hazardous pesticide (HHP) spending went on the country's sprawling soya plantations, grown to service a global demand for animal feed for chickens, pigs, cows and fish.
'Catastrophic wave'
The findings come after a recent UN special rapporteur's visit to Brazil warned of an "epidemic of poisonings by pesticides" in the country, and accused its government of unleashing "a catastrophic wave of toxic pesticides, deforestation and mining that will poison generations". 
In his first year in office, Brazil's far-right agribusiness-friendly president Jair Bolsonaro has pushed forward with moves to relax its already weak pesticide controls and presided over a sharp increase in deforestation of the Amazon rainforest.
Earlier this month, Nobel prize nominee and world-renowned Brazilian indigenous leader Chief Raoni Metuktire called on the UK government to impose tough trade rules on imports of soya for animal feed. 
In a meeting with international environment and forests minister Zac Goldsmith, Chief Raoni warned that Brazilian soya cultivation had expanded rapidly in the past year with the Bolsonaro government's encouragement – all of it using "huge amounts of agro-toxins", and a "large part" of it on indigenous reserves.
A briefing document for the meeting seen by Unearthed called on the UK to "apply tariffs and strong trade rules regarding pesticides on soya from the Amazon region" and to "ban soya grown illegally in Indigenous territories". 
In 2018 the UK imported 449,867 tonnes of soya beans from Brazil, and 59,104 tonnes of crushed soya meal, according to the Roundtable on Sustainable Soya.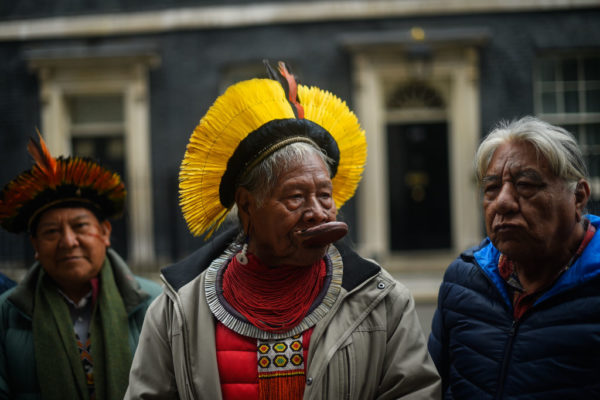 CropLife in Brazil
Public Eye, an NGO that investigates human rights abuses by Swiss companies, and Unearthed worked together to scour a huge dataset of $23.3bn agrochemical sales for sales of highly hazardous pesticides (HHPs).
The analysis, of data obtained from leading agribusiness intelligence firm Phillips McDougall, identified $9.9bn sales of pesticides listed on the Pesticide Action Network's 2019 HHP list. 
More than a fifth of these HHP sales – $2.2bn – were in Brazil alone, making it the biggest consumer of hazardous pesticides in the data. The Phillips McDougall data covers less than half of Brazil's total agrochemicals market, so the real dollar value of Brazil's HHP trade is likely to be more than twice that figure. 
The world's five biggest agrochemical companies – Syngenta, Bayer, BASF, Corteva, and FMC – accounted for four-fifths of all Brazil pesticide sales in the database, and three-quarters of the country's highly hazardous pesticide sales. 
Many of these companies' top-selling HHPs in Brazil are banned in their home countries. 
They include Bayer and Syngenta's neonicotinoid insecticides, permanently banned for outdoor use in the European Union in 2018 because of their toxicity to bees. 
They also include Syngenta's paraquat, one of the most acutely toxic pesticides in the world and a suspected cause of Parkinson's disease. 
These agrochemical giants comprise the bulk of the membership of Croplife International, a powerful and well-funded lobby group. The organisation argues that its members only leave HHPs on the market in locations where the risk can be managed. 
But the United Nations' special rapporteur on toxics, Baskut Tuncak, rejected the idea it was possible to use hazardous pesticides safely in Brazil. 
"The stark reality is that Brazil has neither the governance systems nor the financial and technical capacity at present to provide a reasonable assurance they will be used safely," he told Unearthed and Public Eye. 
"The government simply cannot monitor what happens on hundreds of thousands of agricultural properties.  
"And rather than elevating standards of governance to prevent human exposure and biodiversity collapse, the government has made the situation more difficult with recent changes and recurrent proposals would make it even worse."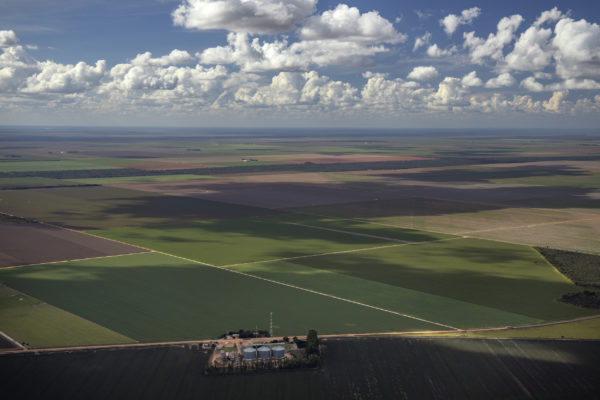 Tuncak, an independent UN expert on human rights and hazardous substances, issued preliminary findings from his visit to Brazil in December.
He told Unearthed and Public Eye that health impacts from Brazillian pesticide use were "prevalent".  "For example, communities are being exposed regularly to pesticides by aerial spraying, including homes and schools, suffering symptoms of acute poisoning and undoubtedly chronic effects for many as well."
He added that a "large number of those affected" appeared to be "minority afro-Brazilian and Indigenous communities". 
Larissa Bombardi, a professor of geography at University of Sao Paulo, told Unearthed that the enormous amount spent on pesticides and HHPs for soya was partly driven by the enormous amount of land turned over to this monoculture. 
Brazil now has more land turned over to soya than the surface area of Germany. In the past year its soya plantations have spread by a million hectares to a record 36.9m hectares, according to the United States Department of Agriculture. Brazil is expected to overtake the US this year as the world's leading soya producer.
Added  to this, professor Bombardi said, more than 90% of the soya grown had been genetically modified to be resistant to herbicides like glyphosate, allowing them to be sprayed more intensively without damaging the crop.
Glyphosate, which was labelled a "probable human carcinogen" by the International Agency for Research on Cancer (IARC) in 2015, was by far the CropLife group's biggest selling HHP in Brazil, with sales by Bayer and Syngenta accounting for around 24% of CropLife's HHP leading product sales. 
Bayer Crop Science, which has come to dominate the global glyphosate market with its 2018 takeover of Monsanto, denies the chemical is carcinogenic.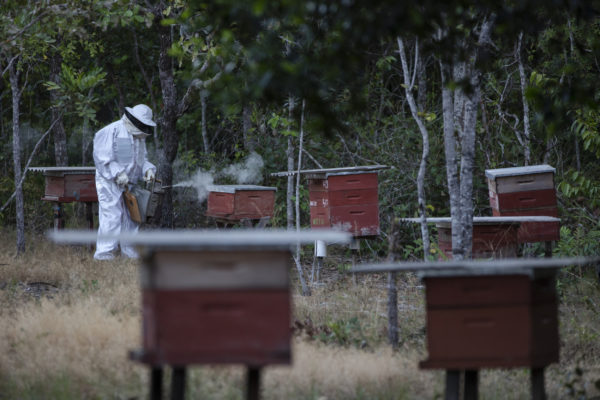 The CropLife companies' second biggest HHP in Brazil was Switzerland-based Syngenta's thiamethoxam, a neonicotinoid insecticide that was permanently banned from outdoor use in the EU in 2018.
A 2019 publication by the World Health Organisation and the Food and Agriculture Organisation on HHPs warned that there was a "rapidly growing body of evidence" that "existing levels of environmental contamination" by neonicotinoids "are causing large-scale adverse effects on bees and other beneficial insects". 
Professor Bombardi said it was "very worrying" that the Bolsonaro government had authorised new neonicotinoid products even as they were banned elsewhere. Bees, she said, acted a "thermometer" to measure the health of other insect populations, because the "economic activity" of honey production meant we kept better track of bee deaths. 
"Biodiversity depends on the existence of insects. So if the bees are dying, so are the other pollinating insects. So there is a tremendous risk for the decrease in biodiversity."
Around three-quarters of the world's food crops depend at least in part on pollination by insects. Scientists warn that growing numbers of pollinator species are being driven towards extinction.
Last year, mass bee deaths in Brazil made global headlines, with beekeepers reporting the deaths of more than half a billion bees in three months. 
In addition to the neonicotinoids thiamethoxam and imidacloprid, manufactured by Syngenta and Bayer respectively, the investigation found at least 17 other chemicals sold by CropLife companies in Brazil that are classified as highly toxic to bees by the US Environmental Protection Agency. 
Among them were chlorfenapyr and fipronil – another chemical that has been linked to mass bee deaths – manufactured by the German chemicals giant BASF. 
$10bn a year
The total global market for agricultural pesticides in 2018 is estimated at around $57.6bn. 
The Phillips McDougall data obtained by Public Eye and Unearthed covers $23.3bn of global sales, or around 40% of the total. The share of those sales attributable to Brazil is $4.2bn, which again is around 40% of the country's real market. Total pesticide sales in Brazil are estimated to be well above $10bn a year, making it the world's biggest spender on agrochemicals.
The data is gathered by breaking down the country's pesticide market by crops and types of pest, and identifying all "segments" of the market that are worth more than $10m. Market researchers for Phillips McDougall then gather sales data on the top-selling products in these segments. 
This means the data does not cover smaller crops – such as citrus fruits – and it does not cover total pesticide spend for any crop. However, it shows in detail the leading agrochemicals for the crops that are the biggest pesticide markets.
Analysing this data on Brazil's leading pesticide products revealed that more than half the spend ($2.2bn) went to highly hazardous pesticides. 
Soya bean plantations were the destination for the vast majority of these toxic or environmentally damaging pesticides, accounting for almost two thirds ($1.3bn) of the HHP spend. The next biggest Brazilian markets for HHPs were corn, at $372m (17%), followed by cotton at $223m (10%). 
Virtually none of this intensive hazardous pesticide use directly produced food for Brazilians. Globally, around three quarters of soya beans are used as animal feed. Likewise, only about 2% of Brazil's maize is used for human consumption, with the vast majority used as domestic animal feed or exported.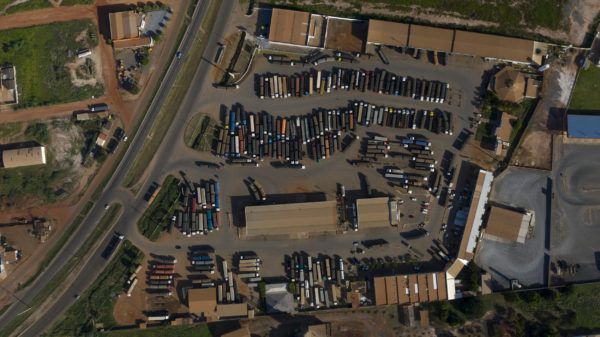 Three quarters of all Brazillian hazardous pesticide spend identified in the investigation – $1.6bn – went to the CropLife International top five companies. 
We identified 38 different HHPs sold in Brazil by these companies – all based in Europe or the USA – in 2018. Among the group's top sellers were Syngenta's atrazine – a herbicide long-banned in the EU that has been found to "wreak havoc on the sex lives of frogs" – and cyproconazole, classed by the EU as a category 1b reproductive toxin, presumed capable of causing birth defects in unborn children. 
A spokesman for Bayer Crop Science, now a major supplier of glyphosate in Brazil and globally, said the herbicide should not be classed as a highly hazardous pesticide simply on the strength of its IARC classification as a "probable human carcinogen". 
He added that "leading health regulators around the world" – including the US Environmental Protection Agency and the European Food Safety Authority – had "repeatedly concluded that our glyphosate-based products can be used safely as directed and that glyphosate is not carcinogenic". 
Asked how Bayer could justify earning so much from the sale of chemicals that are banned or restricted in the EU, he replied that "agriculture is very different from region to region due to different climates, pests, diseases and crops". 
"In Brazil for example farmers must manage pests such as Asian soybean rust or insect pressure which don't exist in Europe," he continued. "As an innovation company, Bayer is committed to develop specific products that both fulfill our high safety standards and the needs of farmers."
CropLife International's director of international regulatory affairs, Christoph Neumann, told Unearthed that some of the active ingredients on PAN International's highly hazardous pesticides list had been included based on criteria that did not meet FAO and WHO guidelines. "The criteria cited by PAN are often environmental criteria that are not agreed or yet endorsed by the FAO/WHO Joint Meeting on Pesticide Management (JMPM)," he said. "CropLife International members recognise environmental risk in their assessment of all pesticides."
He added that among the 19 top-selling CropLife HHPs identified in Unearthed and Public Eye's investigation, all were registered for use in "at least one OECD country" and 12 were registered for use in the EU. 
Additional reporting by Lucy Jordan