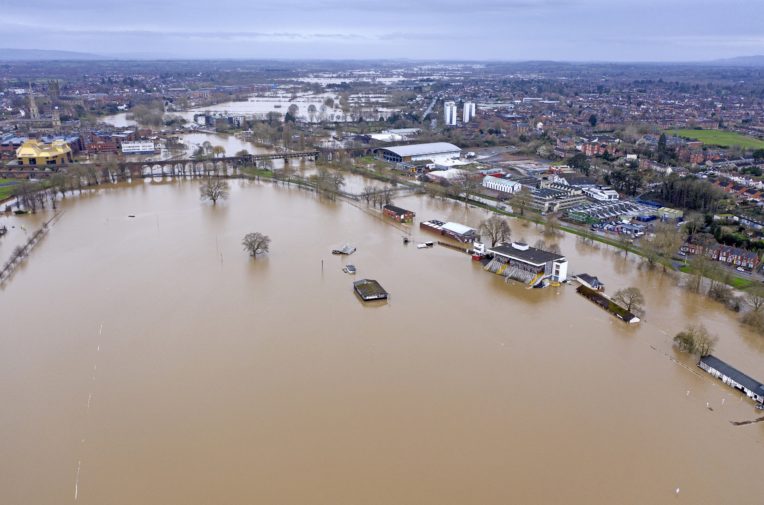 Flooding last week in Worcester, where 135 homes are set to be built in flood-prone areas. Photo: Christopher Furlong / Getty Images
Councils hit by storms plan for thousands of new homes in flood-prone areas
Analysis shows the next five years will see thousands more homes in areas at risk of flooding
Councils hit by storms plan for thousands of new homes in flood-prone areas
Analysis shows the next five years will see thousands more homes in areas at risk of flooding
Flooding last week in Worcester, where 135 homes are set to be built in flood-prone areas. Photo: Christopher Furlong / Getty Images
The councils hit hardest by this winter's floods are planning for 11,410 new homes in flood-prone areas, Unearthed can reveal.
As the North of England braces for further flooding, Unearthed and the Guardian conducted a joint analysis of housebuilding plans for the next five years in those areas already affected.
In the past few weeks, storms Ciara and Dennis have seen the Severn, Great Britain's longest river, burst its banks, reaching near-record levels.
Parts of the West Midlands have been devastated by the resulting floods. Whole areas of Shrewsbury were left underwater, with villages and towns affected all along the Welsh border.
Local plans for Worcester, Shropshire and Herefordshire councils, which were badly affected, show they are planning for 1,224 homes to be built over the next five years in medium and high-risk flood areas.
In Herefordshire alone, 325 homes are set to be built in flood-prone areas. Some of this land has already been left under water by Storm Dennis and other new developments had caused problems downstream for older homes that had never flooded before, said the Herefordshire council leader David Hitchiner.
John Harrington, the council's cabinet member for infrastructure, described the government's housing policy as "completely and utterly flawed" and that it was forcing local authorities to approve "idiotic" developments on floodplains so they can meet demands from Whitehall.
"Central government just say 'There's a housing target, now go do it'. It's really quite stupid. It's devolving responsibility without giving the authority any power or money to deal with the situation. It is absolutely unacceptable," he said.
Calderdale in West Yorkshire, meanwhile, reportedly saw around 1,200 homes and businesses flooded during Storm Ciara. Its local plan shows that it is set to see another 255 new homes built in medium and high-risk flood areas.
Last November, a previous Unearthed investigation into housebuilding in flood-risk areas included analysis of plans in Lincolnshire to build 4,260 homes in medium and high-risk flood areas.
It also looked at local plans for Doncaster and Sheffield, which suffered severe flooding before Christmas. These two areas are set to see 5,671 homes built in medium and high-risk flood areas over the next five years.
Combining these figures with the fresh analysis by Unearthed and the Guardian gives a total of 11,410 homes set to be built in flood-prone areas.
Medium and high-risk areas are defined by the Environment Agency as having a risk of flooding of 1% or greater, although experts predict this will rise due to climate change.
Figures from the Ministry of Housing, Communities and Local Government (MHCLG) show that one in 10 of all new homes in England since 2013 were built on land with at least a 1% level of risk.
The number of new homes built on land with this risk has risen from 9,500 in 2013 to 20,000 in 2017/18.
Those figures are based on the Environment Agency's national flood zones. The analysis by Unearthed and the Guardian is based on the Environment Agency's flood-risk map, which is more accurate because it takes into account the effects of flood defences.
Tim Swift, leader of Calderdale Council, said the council's plan had been assessed for flood risk and some sites had been removed as a result. He added that those homes that are planned for flood-risk areas would be built with "measures in place to ensure that they are safe".
Doncaster Council's assistant director for development, Scott Cardwell, said all housing sites in flood-risk areas had "mitigation agreed in conjunction with the Environment Agency and lead local flood authority".
But Mark Shepherd, assistant director, head of general insurance at the Association of British Insurers, argued there should be "a stricter approach to ensure that developers cannot find ways round planning restrictions and a system of checks, balances and sanction to ensure zero tolerance".
Soon after Unearthed's investigation last year, Boris Johnson called for an end to building homes in "areas which are vulnerable to flooding". He has yet to bring forward more detailed proposals.
An MHCLG spokesperson said: "Local authorities have a responsibility to assess the number of homes their communities need and our planning policy is clear that housing should be located in the areas at least risk of flooding.
"Where development in a risk area is absolutely necessary, sufficient measures should be taken to make sure homes are safe, resilient and protected from flooding."
A version of this story also appeared in the Guardian