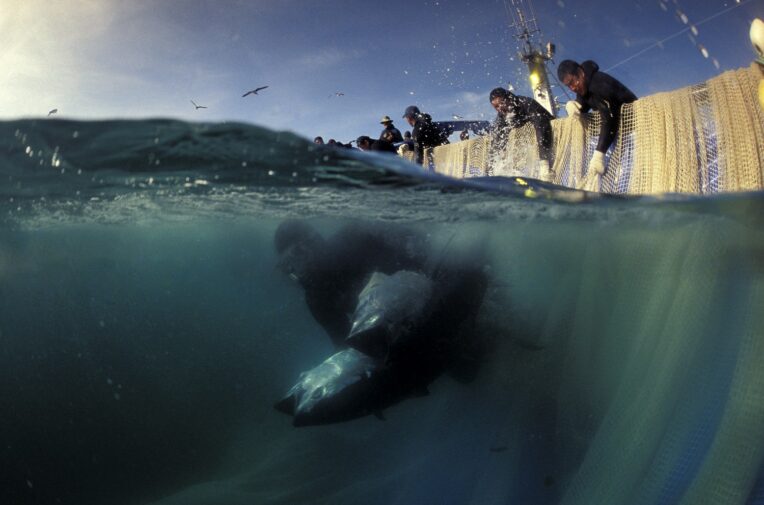 Pacific Bluefin Tuna, a species at 5% of its historic biomass, is being driven to collapse. Picture: Mark Conlin/VW PICS/UIG via Getty Image
Western banks provide billions in backing for firms driving tuna species to collapse
New York-based Citi has provided more financial support in loans and bond underwriting to firms with at-risk tuna in their supply chains than any other bank
Western banks provide billions in backing for firms driving tuna species to collapse
New York-based Citi has provided more financial support in loans and bond underwriting to firms with at-risk tuna in their supply chains than any other bank
Pacific Bluefin Tuna, a species at 5% of its historic biomass, is being driven to collapse. Picture: Mark Conlin/VW PICS/UIG via Getty Image
Western banks are providing billions of dollars in financial support to companies responsible for the overfishing of at-risk species of tuna, Unearthed can reveal.
Across the world's oceans, some tuna populations are at risk of collapsing as large fishing corporations seek to produce greater and greater yields to feed wealthy consumers.
The threat to tuna has been widely reported. But in the last 10 years, Western banks have supported companies targeting these populations with loans and bond underwriting worth billions of dollars, according to financial data analysed by Unearthed.
They provided this financial support to five large companies with at-risk tuna in their supply chains: Mitsubishi Corporation, Marubeni Corporation, Dongwon Industries, Nutreco and Thai Union Group.
These companies are involved in fishing for at-risk tuna and the ranching industry for young tuna caught in the wild.
The funding raises concerns over whether banks are signed up to, and enforce, robust sustainability principles and codes of practice. 
Rashid Sumaila, professor of ocean and fisheries economics at the University of British Columbia, told Unearthed: "Banks need to have principles. Norgesbank, the Norwegian central bank, has developed principles for lending that they go by, taking care of ocean sustainability. These kinds of examples are slowly coming forward but we need to speed that up."
Sumaila also revealed that he resigned from the stakeholder council at the Marine Stewardship Council (MSC), a body whose recommendations banks often use to guide them, because he didn't believe its promises were being delivered on the ground.
Banks need to have principles… we need to speed that up
Despite commitments to improved financial transparency, there is little clarity as to where the money provided by the banks goes. Many of the companies involved have multiple different divisions operating in different sectors. When contacted by Unearthed the banks declined to specify where their loans went.
But any financial support to a firm will – directly or indirectly – benefit the full range of its operations. In particular it will support the divisions of these firms which are most directly complicit in the mass overfishing of threatened species. 
So to illustrate the scale of the funding for divisions linked to tuna, Unearthed divided the total financial support provided by a given bank to a company by the share of its earnings that the firm received from its relevant division. 
Using this methodology, we can estimate western banks provided around $4.1bn in support to the fishing divisions of companies with threatened tuna populations in their supply chains. Banks based in Thailand, Japan and Korea also provided $4.4bn to these companies over the same period. Of all the banks providing support, the New York-based bank Citi was the most generous, providing financial support worth almost $2bn.
Whilst many of the loans are comparatively small for the banks involved they provide significant benefits to the receiving firms.
Citi's sustainability strategy acknowledges the risk that worldwide pressure on biodiversity presents to its clients. The bank also claims to recognise the importance of protecting "areas of significant biodiversity" in its Environmental and Social Policy Framework.
When contacted by Unearthed, a spokesperson for Citi declined to comment on this story.
One of the companies it supported was Mitsubishi Corporation, Japan's largest trading company. It has been called the biggest purchaser of Bluefin tuna in the world.
Citi has provided the company with $7bn total financial support in the last 10 years, but Unearthed counted only 9% of this – because that is the percentage of earnings the group expects to make from food in 2020 – leaving $634m.
On this methodology, fellow American institution Morgan Stanley has provided support worth $485m, JP Morgan has provided $142m and Bank of America $11m. Mitsubishi has also been backed by the Japanese banks Mizuho Financial, Mitsubishi UFJ and Sumitomo Mitsui, which provided support worth $460m between them.
Japan consumes 80% of all Bluefin tuna caught around the world and much of it is sold by Mitsubishi. The company sources Pacific Bluefin, Atlantic Bluefin and Southern Bluefin.
The International Union for Conservation of Nature considers these three species to be vulnerable, endangered and critically endangered, respectively. Multiple experts told Unearthed that Bluefin stocks all over the world are in serious trouble.
A spokesperson for Mitsubishi said the company "is committed to sourcing all of its tuna products in a sustainable manner and to supporting marine biodiversity conservation based on sound science and responsible fishery management".
'Ranches' in the sea
As wild stocks of Bluefin tuna have fallen, some companies have turned to so-called 'farmed Bluefin'. They still catch the fish in the wild, but they then keep them in pens and grow them.
Some of the finance in this story goes to support companies providing feed specifically designed to support this industry. Experts also consider this 'aquaculture' problematic because the fish, in almost all cases, are still caught in the wild.
Marubeni Corporation, which is also Japanese, provides fishmeal for 'farmed' Pacific Bluefin tuna.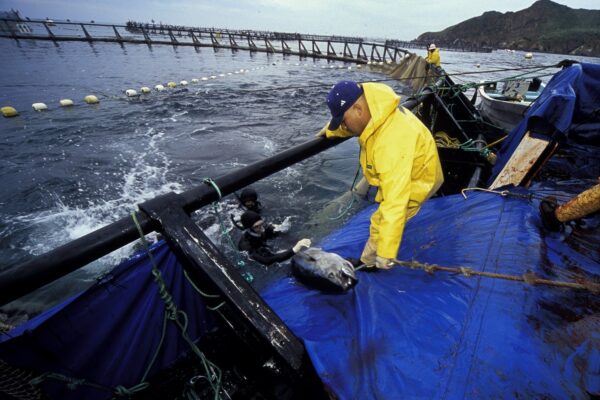 Grantly Galland, an officer on global tuna conservation for The Pew Charitable Trusts, said Pacific Bluefin is at "less than about 5% of its historic biomass and still experiencing overfishing".
He added: "It's difficult to imagine any real recovery for that stock in the near term. That's one that really should be viewed with caution with respect to continued fishing or at least continued fishing at the current levels."
Citi has provided financial support to Marubeni worth $1.2bn, making it second only to the Japanese bank Mizuho Financial, which has supported it with loans and bond underwriting worth $1.4bn.
Those two have made up the vast majority of Marubeni's financial backing in the last 10 years. But various other Japanese banks have also provided support to Marubeni. From the West, the French bank Crédit Agricole has provided support worth $152m, Morgan Stanley has provided $132m, JP Morgan has provided $71m, Bank of America $41m and Goldman Sachs $20m.
A spokesperson for Marubeni confirmed that it provides fishmeal for Bluefin but declined to comment further.
It's difficult to imagine any real recovery for Pacific Bluefin in the near term
One of the largest seafood companies in the world, the Dutch firm Nutreco, provides feed for Pacific Bluefin tuna in Asia and Southern Bluefin in Australia and New Zealand.
Professor Jessica Meeuwig, director of the Centre for Marine Futures at the University of Western Australia, said that the "high-end Japanese market" has brought huge pressure to ranch Southern Bluefin.
"Australia is allocated a quota for Southern Bluefin tuna which is largely composed of juveniles," she said. "The juveniles are put in pens and they fatten them, grow them out. It's ranching, it's not aquaculture. And these animals never have a chance to reproduce in the wild and contribute to the next generation."
Meeuwig says this process does not help to reduce pressure on the critically endangered Southern Bluefin species.
Nutreco, which provides feed for this "ranching", is owned by the holding company SHV. The large Dutch banks ING, ABN Amro and Rabobank have provided SHV with $209m, $194m and $15m in financial support, respectively. Citi and the German Commerzbank have each provided it with support worth $78m, BNP Paribas has provided it with $63m and Natwest has provided $15m.
A spokesperson for Nutreco said the company "supports governmental regulation and responsible fishery management for the sustainable protection of wild tuna stocks".
They added: "We believe that aquaculture can play a role in reducing part of the commercial demand but both responsible fishery management and responsible aquaculture are necessary for a healthy ocean future."  
The spokesperson went on to defend Nutreco's record, saying that the company has developed a type of feed that doesn't use wild fish, reducing pressure on wild fish populations that way. They said that Nutreco also provides feed for 'closed cycle' populations of Pacific Bluefin, where the fish are all born in hatcheries, as well as for the 'ranches'.
Hatcheries like this are far more sustainable, but make up just 3% of the Pacific Bluefin industry and even less of the Southern Bluefin industry.
A spokesperson for ING told Unearthed: "Farmed fish brings a solution to reduce overfishing, although more research is required to do this in a truly sustainable way."
They said ING engages with its clients "to promote environmental and social improvements".
A spokesperson for Natwest said the bank's lending policies "reflect adherence to national and international laws and regulations, wherever they apply".
A spokesperson for Commerzbank pointed to the bank's sustainable development goals but said: "The topic is not a particular focus of Commerzbank due to the lack of reference to the core business of the bank and its customers."
'The Wild West'
Unearthed also looked at the banks financing companies sourcing yellowfin tuna from vulnerable populations.
In the east Pacific, the species is generally considered healthy. But yellowfin in the Indian Ocean is "overfished and at risk of collapse", according to a report published last year by Blue Marine Foundation.
We are seeing unsustainable levels of fishing mortality in the Indian Ocean for species such as yellowfin tuna
Meeuwig told Unearthed the Indian Ocean is "the Wild West of the oceans".
She added: "Generally, we are seeing unsustainable levels of fishing mortality in the Indian Ocean for species such as yellowfin tuna. Too many people are chasing too few fish and not enough respect is given to issues of sovereignty and being able to have food security in national waters."
Yellowfin tuna in the Indian Ocean is in "serious trouble", Galland agreed. "That's the stock that's in the most clearly bad shape."
A transparency report produced by Thai Union, the world's largest maker of canned tuna, reveals that 60% of the yellowfin tuna it sells in Europe is sourced from the Indian Ocean.
According to Bloomberg's data, HSBC, which has its headquarters in the UK, has provided $485m of financial backing to Thai Union in the last 10 years, making it the most generous Western bank to have done so.
A spokesperson for HSBC told Unearthed the bank "actively engages with clients to understand and improve their environmental and sustainability strategies".
Thai Union has also received backing from five other banks based in Thailand.
A spokesperson said the company is "committed" to engaging with scientific advice, organisations and governments "to ensure that fisheries are protected and can remain healthy for generations to come". 
That's the stock that's in the most clearly bad shape
They added: "Thai Union requires its suppliers to adhere to all catch quotas and best practices, including EU, Seychelles and RFMO [Regional Fishery Management Organisations] requirements, and is aware of the dangers of overfishing and the need to prevent stock collapse."
South Korea's largest fishing company, Dongwon Industries, also sources yellowfin tuna from the Indian Ocean. The company owns the US tuna brand StarKist and this year, it started selling yellowfin to European supermarkets.
Unearthed asked all the fishing companies mentioned in the story for figures on the volume of at-risk tuna in their supply chains. Dongwon was the only one to provide these, revealing that in 2019, it caught 602,000 tonnes of yellowfin from the Indian Ocean, as well as 74,250 tonnes of Atlantic Bluefin and 344,000 tonnes of Southern Bluefin.
Figures on overall tuna consumption are difficult to come by. But to contextualise these figures, the UN estimates that in 2017, the world produced around 35m tonnes of pelagic fish for consumption, 16m of which was produced in Asia. Tuna is one type of pelagic fish.
Dongwon has received relatively little support from banks, with bond underwriting worth an estimated $44m from two Korean banks.
A spokesperson for Dongwon provided a long statement, first pointing out that the company has reduced its fishing levels, in line with measures adopted by the Indian Ocean Tuna Commission (IOTC).
But Meeuwig said: "There seems to be a significant lack of action from the IOTC."
She pointed out that the IOTC has put off reducing quotas further until countries on the Indian Ocean do the same in their own waters, adding: "That's like saying, as long as you keep stealing my toys, I don't need to be honest either. It's unbelievable logic."
The Dongwon spokesperson also said that some of the company's fisheries are certified by the Marine Stewardship Council (MSC), which, they said, "ensures seafood sustainability, traceability and transparency".
The MSC aims to assess fisheries on various criteria, including good stock management.
Sumaila, however, who used to sit on the MSC's stakeholder council, said he has "a complicated relationship with" the organisation because in theory it is on a sound footing but in practice things are not so clear. 
He revealed that he resigned from the council "partly because of too much work and partly because I was finding it difficult to believe that the promise the MSC was giving could actually be felt on the ground".
The Dongwon spokesperson added: "We would like to emphasize our efforts towards marine species' sustainability and towards continual improvement in this regard and which remains an ongoing priority in our company."
Unsustainable fisheries are being made to seem sustainable
Charles Clover, executive director of the Blue Marine Foundation, commented: "International corporations are fishing down the world's top predators to a fraction of their original spawning stocks, with very little accountability or transparency. A Japanese fishery is on its way to becoming the first to achieve MSC certification for the historically overfished bluefin tuna, which we oppose. 
"Unsustainable fisheries are being made to seem sustainable, observers on fishing boats are being killed with impunity in some oceans of the world, regional fisheries management organisations are using Covid-19 as an excuse to delay agreeing on recovery plans, and these resources are being trashed."
Unearthed has contacted all companies mentioned for comment. Those whose comments do not appear in the story either declined to comment or failed to do so before publication.
Methodology
The methodology for this investigation is loosely modelled on that of the Rainforest Action Network's 'Banking on Climate Change' report. We used the LEAG function on the Bloomberg terminal. It pulls together lending and underwriting (of share and bond issuances) led by a given bank. According to Bloomberg's methodology, the total value of a deal is split among the banks leading the transaction.
Each transaction is adjusted based on the particular company's involvement in the relevant sector i.e. Unearthed divided the total financial support provided by a given bank to a company by the share of earnings that firm received from its relevant division.
For example, Citi provided a total of $7bn of support to Mitsubishi. Unearthed counted only 9% of this – because that is the percentage of earnings the group expects to make from food in 2020 – leaving $634m.
The different companies divide their earnings in different ways. Mitsubishi's food business includes a number of products that are not fish. But Dongwon and Marubeni report the specific percentage of earnings they make from their fishing businesses, meaning those figures are more specifically applicable to fishing. In the case of Nutreco, the company accounts for 33% of SHV's revenue.
Unless stated otherwise, all financial figures given in this article have been adjusted in this way.
The five companies were chosen on the basis that they all have at-risk tuna populations in their supply chains and they have all received loans and/or underwriting from the banking sector. Unearthed looked at other companies that are responsible for the overfishing of tuna but Bloomberg held no data on support they might have received from banks.